Daniel Kernkraut brought to my attention yesterday the existence of a group of people in England who refer to themselves as
The 92 Club
. Apparently this is a group of men who have made it a point to see every stadium in the Premier and Football League in England and Wales, a total of clubs that works out to -- yep, you guessed it -- 92 teams. Apparently the club was started after England's sole World Cup win in 1966 and as of four years ago it boasted approximately 1,100 members. It even has an
unofficial website
.
Now, I know this is not exactly the same journey as the one I'm forcing myself irrationally to pursue, but these are men after my own heart nonetheless. My trip will have some 30 more teams to visit -- barring future expansion, which is always possible -- but at some point I might contact these people or try to start a similar organization on my side of the pond.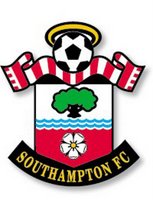 The tricky thing about the 92 Club is that the English system of promotion and relegation means that teams in the top Leagues will often change over time, moving up and down depending on their club's fortunes. This also happens to be why my Southampton FC is mired in the third tier of English Football following hard times over the past few years and a recent series of financial troubles. And to think, they were in the top half of the Premier League just seven years ago.
Lastly, I'm sure almost none of you were watching the Devils-Maple Leafs game last night because a) it was Friday and b) it was hockey. As is the case in so many of these things, this was all your loss, as the Devils managed to pull off one of the most remarkable comebacks I've ever seen in a hockey game.
Yes, New Jersey trailed by two goals with just over three minutes to play and then scored twice in the final 44 seconds to steal a remarkable win against Toronto. It was almost as remarkable as the
preview for tonight's Blackhawks-Blues game
I'm not silent in the newsroom, but rarely do I jump up like this.
The coworker who sits next to me that roots for the Leafs? Well, he was less than enthused.
And in case you were wondering, new acquisition Ilya Kovalchuk had two assists.