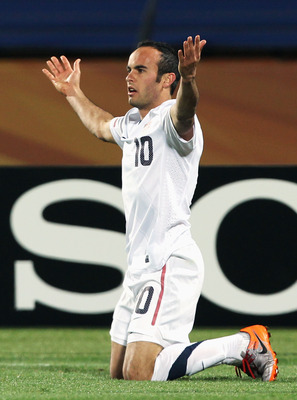 As I've now had three days to cope with the U.S.'s untimely ouster in South Africa, I'm slowly coming to grips with once again dealing with this "The U.S. will never care as much about soccer" nonsense. I'm not naive enough to think that the United States is actually on par with teams like Brazil or Germany, but as I've tried to explain to people, they don't
have
to be. The toughest part of the World Cup for a non-elite team is getting out of its group. Once you're in the knockout phase, all bets are off and the best team either overall or just that day, doesn't always win.
Well, the U.S. did that. We got out of our group, winning it for the first time in decades, but in the end, two home run balls, an incorrectly played bounce and a slew of missed opportunities in the final minutes of regular time were enough to bounce the Yanks from the World's greatest sporting event in the round of 16 against Ghana Saturday.
This is a frustrating end to a Cup that started out with so much promise, gave the U.S.
an oustandingly favorable draw
in the knockout stage the likes of which we may never see again, and perhaps
the single greatest moment
in the history of U.S. Soccer. It is hard not to leave disappointed, but that disappointment may very well be a good sign for the future. The only comparable moment in my life for this came in the U.S.'s loss to Germany in the 2002 World Cup quarterfinals. That was indeed disappointing, but that disappointment came because they had come so close to achieving something so unexpected and special that we wished we could have had it.
That's not the case in 2010. This time we're disappointed because there was so much more available for the taking and we
should
have had it. That's not to say Ghana's victory was a fluke. Obviously, they are a strong side and the very fact that
they eliminated the U.S. four years ago
as well is evidence to their consistency -- albeit bitter evidence. Still, the United States were the prohibitive favorite going into Saturday's match, and with a relatively weak quarterfinal matchup laying ahead, the prospect of suddenly having as easy a walk as the U.S. could ever have it into the semifinals was staring Bob Bradley's men in the face.
They dropped the ball. And they know it. But this, too, is a good thing.