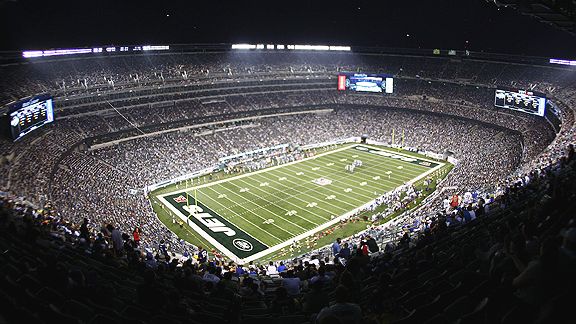 Alright kids, if you can pull yourselves away from that
awesome Blackhawks-Predators preview
you're reading, I've got two things I'd like to talk to you about. The first one has to deal with that oh so irritating presence of thunder and lightning at the Meadowlands. I'm not sure if you've noticed, but the Jets have been on national TV twice this year and both times they had to put off their start times
because of weather
.
Now, for a sport that prides itself on playing in the elements this has raised some irritation both over the decision not to build a roof at the New Meadowlands Stadium and the concern over lightning. These complaints are silly. Lets point out a few things.
A) Retractable roofs are nice, but watching football outside is nicer. As someone who has seen football under a retractable roof just one month ago in Indianapolis, I can attest to the fact that the feeling of being connected to the elements simply isn't there even with the roof open. Also, weren't those images of the Vikings and Jets playing through a rainstorm totally awesome to see in HD?
B) You may want to go to bed and the fans may have places to go so they can be at work in the morning hours, but you can't play through lightning. Why? Well,
it's pretty damn dangerous
. No that's not a joke. An entire soccer team was
killed by lightning
in a match in the Congo 12 years ago.
I think it's ok to delay the kickoff. You'll all be a little tired in the morning, but that's the price you pay for being a fan sometimes.
Elsewhere some of you might have noticed
this baseball game last night
. I was always aware of the fact that the Texas Rangers were one of only three teams to have never appeared in the World Series, along with Washington/Montreal and Seattle, but until last night I hadn't realized that Texas was the only franchise to never even win a postseason series.
In a 40-year history that has included Nolan Ryan, Rafael Palmiero, Juan Gonzalez and Alex Rodriguez, you've got to wonder how on Earth that happened. Particularly since the franchise has been
run by such able people
for large swaths of its history. Apparently all the team really needed was other-worldly ace Cliff Lee and a delightful curly-haired Jewish boy named Ian Kinsler to finally pull off the task against a Rays team that
I had winning the World Series
until
Sports Illustrated got their messy hands involved
.
Not that I'm bitter.
It should be interesting to see if Lee can repeat his magic in the next round against his maybe-future teammates in the ALCS, but considering Texas has been to the postseason three times before this year and lost each time -- to the Yankees -- the fates may be against them. The bigger question is just who am I going to be rooting for for the rest of the postseason. And since I've been looking for ways to ignore
the Devils' poor start
, I've been spending a lot of my free time pondering just that. Though I should note,
the Giants and their No. 1-ranked defense
have been helping with that.
Well, I will obviously be rooting for the Giants over the Phillies in the NLCS, with little hesitation. As for the AL, I'm pretty ambivalent about this one after discarding my Yankee hatred for a girlfriend five years ago. Let's say I'm rotting for Texas for variety's sake, though I'm sure the Yankees will find some way to win, since they always do. Everyone seems to think we're headed for a Yankees-Phillies World Series again -- and they're probably right, but I'm holding out hope.
Giants-Rangers it is. Oh and hell, let's say the Giants take it in six. At least then I'll have gotten one of my pennant winners right.