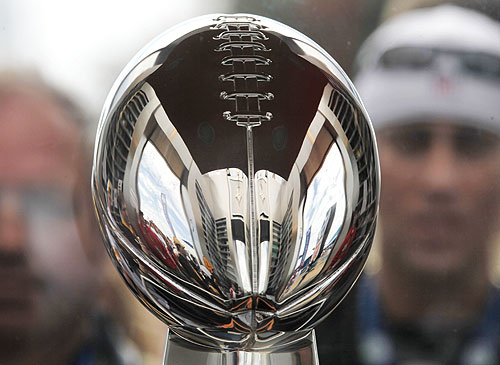 Ok, that's a lie. I knew. Still more than a little bummed about the tragic second annual collapse of my Giants, I've done a fair bit of ignoring the passage of time and the football games it will bring tomorrow afternoon, but who am I kidding. I love football. I love the playoffs. I'm not actually going to miss any of it. That would be silly.
Unfortunately, with the Giants out I'm kind of stuck in a malaise with no team to root for or care about -- an unusual place for me considering that at least one of my teams is usually competitive at any given time. But here we are. The Giants' place
is obvious
. The Devils are in the midst, unexpectedly, of
the worst season they've had
in my lifetime. Pitchers and catchers don't report for the Mets for five weeks, and I'm not sure that'll even be a good thing. Northwestern just
lost its eighth bowl game in a row
in heartbreaking fashion. Northwestern Basketball is slowly
starting to fritter away a promising season
due to an injury to John Shurna and general ineptitude. And the Knicks are, well, the Knicks.
Wait, what's that? The Knicks are
suddenly awesome
?
Yes, I was shocked, too, but on Tuesday night I decided to go to my first Knicks game in at least two years, and I experienced something
unlike anything I had ever seen
before in the Garden. That'll happen with a decade that makes mediocrity seem palatable. But here I was, watching the 'Bockers put up 72 first-half points against the League's premiere defensive team of the past decade and seeing MSG rock in a way I had yet to really experience. It was exciting. It was intense. It was
fun
.
Apparently, this is what Knicks basketball is supposed to be like.
Now, I obviously don't harbor any silly beliefs that New York is destined to hoist its first
Larry O'Brien Trophy
in almost 40 years this June, but for the first time in a long time, there's hope that it might at some point in the plausible future before I die. And it's fun to watch along the way. I will say that while I expected Donnie Walsh to help turn the Knicks' fortunes around, I didn't expect them to be competitive this quickly, nor did I have any idea what it would seem like. This is a team that has seemed almost a nonentity for a decade. Now they're worth watching and I don't quite know what to do, but I do know that it's a refreshing distraction from the fact that, sports-wise, nothing else really seems to be going right for me these days.
Of course, while the Knicks may give me some joy it is, of course, foolish to think that I will actually
not
watch the NFL playoffs when they kick off in Seattle tomorrow afternoon. And even more foolish to think won't try some ridiculous prediction of the postseason's outcome. I will be honest and admit that, no, I don't actually think the Chiefs and Seahawks will be meeting in the Super Bowl
like I predicted last week
. Nor will it be the Colts-Packers matchup I predicted in my
NFL season preview
, though I am proud that those two teams are in the mix considering I only got one of the eight teams playing on Wild Card weekend right and only two of my Wild Card weekend teams made the playoffs at all. Ironically, I got the Giants' record exactly right, though I also had them making the playoffs. I also expect I will get some of these games wrong so I will readjust my picks next week. Some of you might find this to be a cop out.
Oh well. Let's make some predictions.
NFC
(4) Seattle over (5) New Orleans - Saturday, 4:30
Haha, just kidding. Caught you confused for a second didn't I? No, don't worry, the undeserving 7-9 Seahawks are going get waxed pretty thoroughly by the Aints tomorrow afternoon, to the point that it's almost not fair. Frankly, regardless of where the game is being played, I'm kind of shocked New Orleans is only an 11-point favorite.
(6) Green Bay over (3) Philadelphia - Sunday, 4:30
I get the feeling Michael Vick is beat up, the Packers' defense is playing well and that Green Bay is about to crest in a big way. Call it a hunch, or maybe wishful thinking, but Green Bay is a lot better than its No. 6 seed, and I think there will be a lot of disappointed people in Philadelphia at the end of this weekend.
AFC
(5) Baltimore over (4) Kansas City - Sunday, 1:00
I actually think the Chiefs are an underrated team with a fairly decent chance of defending their home field, but when you get down to brass tacks, K.C. is young and inexperienced and Baltimore just might be the best Wild Card team we've seen in a long while. Put this team in any division in the League other than the AFC East and its own and they're probably winning it in a walk.
(6) NY Jets over (3) Indianapolis - Saturday, 8:00
One could fall on the trite idea that there's a revenge factor at play and the the Jets are going to take care of business left unsettled since their loss to the Colts in last season's AFC Championship Game, but that seems silly to me. Really it's a case of the Jets playing well and the Colts being so injured that they're a shell of their defending conference champion selves, even with Peyton Manning.
And now for the resultant later round matchups which are sure to change once this week proves me wrong:
NFC
(1) Atlanta over (6) Green Bay
(5) New Orleans over (2) Chicago
NFC Championship
(1) Atlanta over (5) New Orleans
AFC
(6) NY Jets over (1) New England
(2) Pittsburgh over (5) Baltimore
AFC Championship
(6) NY Jets over (2) Pittsburgh
Super Bowl XLV
(1) Atlanta over (6) NY Jets
And there you have it! I guarantee you 100% no frills that the Falcons will defeat the Jets in Super Bowl XLV. No way is that prediction not coming true. NO WAY.
Get your ass to Vegas. You've got money to win.