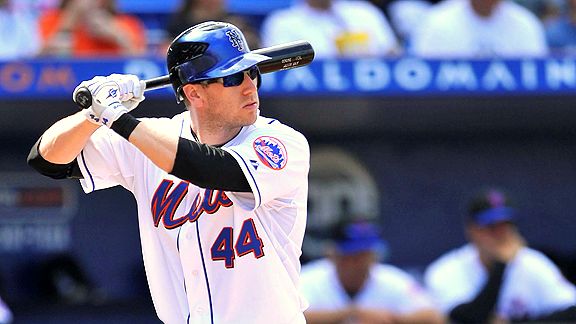 If being a Mets fan has made anything clear it's that I, apparently, have an insatiable lust for pain. Yesterday I realized that hadn't changed when I got an e-mail from the team offering five-game flex ticket packs for the upcoming season. Typically, I ignore these e-mails because the tickets are too damn expensive, but I was blinded by a huge segment of block text said "NO ORDERING FEES".
You know those things: the transaction fees that enable teams to needlessly add five bucks onto every ticket, but in actuality are complete nonsense.
So I, foolishly assuming I was about to get a deal, promptly bought a Mets flex package for this season, a season that is sure to be disappointing just like they all are. For any evidence of that, look no further than yesterday's spring training opener against Atlanta that
ended in a 5-5 tie
.
Yes, a tie. In baseball.
Sister kissing is an unusual phenomenon in this sport, which,
as we've seen
, could theoretically go on forever in a regular season game, but in the spring training no one really has the patience, which means when a game is tied after nine innings, the managers debate whether or not they really care to bake out in the sun much longer. In this case, Terry Collins and Fredi Gonzalez decided that 10 innings would be enough, and it seemed like it would be for Atlanta after they took a 5-3 lead in the top of the inning. Of course, then former-Met killer Willie Harris, who was signed this offseason with the apparent idea of "even if he sucks he won't kill us anymore",
smacked a two-run homer
to tie the game in the bottom of the 10th, and that was how it would stand. Were it not for my discovery that my supermarket now sells Sunset Wheat, this would have been the highlight of my week.
Considering that this was the second rally by the Mets to tie the game I'm pretty sure Saturday's tie marks the high point of New York's 2011 season. It's all downhill from here.