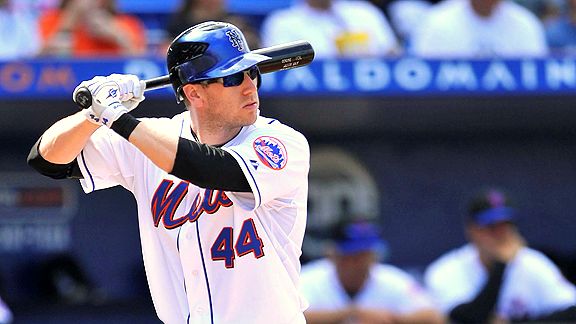 If being a Mets fan has made anything clear it's that I, apparently, have an insatiable lust for pain. Yesterday I realized that hadn't changed when I got an e-mail from the team offering five-game flex ticket packs for the upcoming season. Typically, I ignore these e-mails because the tickets are too damn expensive, but I was blinded by a huge segment of block text said "NO ORDERING FEES".
You know those things: the transaction fees that enable teams to needlessly add five bucks onto every ticket, but in actuality are complete nonsense.
So I, foolishly assuming I was about to get a deal, promptly bought a Mets flex package for this season, a season that is sure to be disappointing just like they all are. For any evidence of that, look no further than yesterday's spring training opener against Atlanta that
ended in a 5-5 tie
.
Yes, a tie. In baseball.
Sister kissing is an unusual phenomenon in this sport, which,
as we've seen
, could theoretically go on forever in a regular season game, but in the spring training no one really has the patience, which means when a game is tied after nine innings, the managers debate whether or not they really care to bake out in the sun much longer. In this case, Terry Collins and Fredi Gonzalez decided that 10 innings would be enough, and it seemed like it would be for Atlanta after they took a 5-3 lead in the top of the inning. Of course, then former-Met killer Willie Harris, who was signed this offseason with the apparent idea of "even if he sucks he won't kill us anymore",
smacked a two-run homer
to tie the game in the bottom of the 10th, and that was how it would stand. Were it not for my discovery that my supermarket now sells Sunset Wheat, this would have been the highlight of my week.
Considering that this was the second rally by the Mets to tie the game I'm pretty sure Saturday's tie marks the high point of New York's 2011 season. It's all downhill from here.
And when it goes downhill, I'll be there to watch six times. I made a point to pick games in my plan, since it gives you the option of choosing, that were generally in the first half of the season so that my delusions of the Mets still having a chance wouldn't have been shattered yet. Highlights include the Subway Series opener the first weekend of July, a meeting with the defending-champion Giants and Ike Davis bobblehead day on July 19th against St. Louis.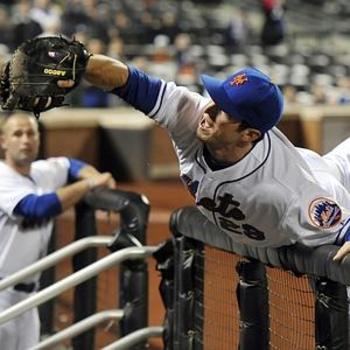 Now comes the hard part. Finding six people dumb enough to go to each game with me.
In other news, some of you might have noticed that the Oscars are tonight and I, something of an Oscar junkie as you can see from
some of my zanier columns
in the past, am as excited as always even though I somehow managed not to see half the Best Picture nominees this year. I bring this up because I came across a rather startling discovery this afternoon involving one of my favorite films of all time,
L.A. Confidential
. For those of you who have seen L.A. Confidential you know that it is, well, incredible in every way. As such, it is a constant reminder to me that the Oscars are total bunk since L.A. Confidential
lost Best Picture in 1997
to
some boat movie
.
Either way, what I did not realize is that one of the stars of the film, Guy Pearce, who so deftly pulled off a turn as the film's protagonist Lieutenant Edmund Exley, is also a tremendous sports fan. This I should have assumed because he's also Australian and Australians love their sports. And most importantly, they love their footy.
And Guy Pearce loves his footy.
But almost more important than the fact that Guy Pearce loves his footy is that he loves one footy team in particular. And
it's the right one
. I was entirely unaware that Pearce grew up on his mother's deer farm in Geelong, where he endured a rough 40 years of his life before he finally saw the Cats get their first championship since four years before he was born. As far as Geelong fans go, apparently Pearce is one of the more famous ones, something that the club has
noted on its own website
for no apparent reason other than to say "We have a celebrity that roots for us."
Pearce is apparently such a big fan of the club that he was the no-brainer choice to narrate a special video segment on
the most crucial moment
of Geelong's
2009 Grand Final victory over St. Kilda
.
It makes one wonder if Pearce had a bet on the match with Eric Bana,
a diehard St. Kilda fan
who was
shown on TV in the crowd of the Grand Final
that day
about every four seconds or so
.
In any event, it's nice to know that the main man of one of my favorite films shares a bizarre team in kind with me. Unfortunately, Pearce isn't up for any Oscars tonight, nor did L.A. Confidential take home the big prize 14 years ago, but the 2007 and 2009 Grand Final victories are far more meaningful anyway.
Besides, it could be worse. He could have been duped into buying Mets tickets.