Ladies and gentleman, I am a Mets fan. You know this. I don't keep it a secret even though perhaps I should. But being a Mets fan means I have seen a lot of bizarre things, both in person and on TV. But all that said, I'm pretty sure I've never, ever, ever seen a baseball game end
the way it did last night
.
Yeah, you read it right.
The Mets defeated the A's -- and their totally awesome yellow jerseys -- when, with the bases loaded, Justin Turner fashioned the Amazins' first walk-off win of the year with a
bases loaded hit by pitch
.
Sometimes
you just can't make these things up
.
That is, I suppose, the beauty and wonder of baseball. It is nearly impossible to predict everything that will happen and there is always a bizarre chance that something totally unusual like this will happen. Of course, in a sport where, as we've found elsewhere last night,
even the mascots are as tough as they come
, it doesn't seem so crazy that a man would be willing to surrender his body for the good of the team. In fact, sometimes I
wish they'd do it more often
.
Still, this was a most peculiar way for this, or any game to end, even if it
apparently has happened before
with the Mets
falling on both sides of the ledger
. However, keep in mind that this was already a pretty odd night at the ol' ballpark. For starters, the game was delayed an hour by a fairly unrepentant rain storm that swept through and left puddles through a stadium that has shockingly uneven concrete for a building that's only in its third season of use. Also note that Mets starter R.A. Dickey was utterly brilliant for eight innings, at one point making us furious that a dropped ball by center fielder Jerry Hairston Jr. in the second inning had already put the kibosh on a potential no-no.
Add into that that with both Dickey and A's starter Gio Gonzalez throwing pills all night, the Mets were in line for a 2-1 win courtesy of Jose Reyes' eighth-inning triple and Justin Turner's single afterward that set Francisco Rodriguez up for a save -- a save that almost sent us home in a relatively lightning quick two hours and 20 minutes.
Almost.
Instead, what proceeded to happen was a comedy of errors that stretched on for two more hours and didn't end until Turner's utterly heroic HBP in the bottom of the 13th. I stuck it out through all of the poor hitting and
zany outs
. Doing so meant that last night's crazy outing tied for the longest game I've ever attended in person to go with a Mother's Day clash
between the Mets and Rockies in 2002
in which New York lost -- shockingly not because Steve Trachsel was starting.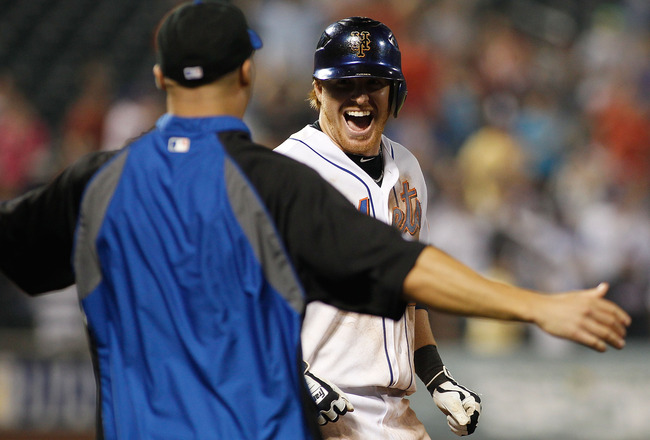 I was glad to get home when I finally did, but my friend Frankie and I were still somewhat disappointed we didn't get to experience that rare moment known as a
14th inning stretch
. Then again, I suppose I should be thankful I've never experienced a
21st inning stretch
like the Rockies and Padres did in 2008 at Petco Park.
Then again, these days I'm just thankful I'm not
a lesbian in Nigeria
or a minority partner for the Mavericks
making an utter fool of myself
.
So yeah. That baseball game happened. Amazingly, the Mets and A's are going to be back at it in about 30 minutes for the finale of their three-game set. I'm going to be mighty impressed if these two teams actually have the energy to, you know, play baseball today -- or if they are willing to show their faces after last night's outing, which was, frankly, a terribly played baseball game.
My guess is they'll be on the field. Unfortunately for all of us, however, they probably won't find an ending that's quite as interesting.