Yeah, I know. The NFL preseason actually started two days ago and whether or not you consider preseason football to actually be "football" is a debatable concept.
Whatever.
The New York Giants are strapping on their helmets tonight in Charlotte, North Carolina to play the Carolina Panthers and for at least seven minutes of game action or so, there will be an actual NFL football-like substance on the TV, and after going eight months without seeing Big Blue on the tube, I'm pretty excited. Not break out my jersey for the occasion excited, but excited nonetheless.
Tonight will be a spectacular 7 minutes in which some of the Giants' starters will sort of play halfheartedly against a Panthers team that is doing the same thing despite being sort of a minor league outfit to begin with. The final score will be irrelevant and the last 50 minutes or so of game play will feature people that won't even be on the roster come opening day, but it's still professional NFL football, damnit. No one can take it away from me.
The Giants do have some interesting things tonight such as get their first looks at a few players in new positions, namely Mathias Kiwanuka, who is moving back to linebacker. Linval Joseph and Jason Pierre-Paul will also be getting some time on the defensive line that should be worth noting, but on the whole, yes, this game will be utterly meaningless and less than entertaining. But if the Giants want to hear Barack Obama
make subtle jabs at the debt ceiling negotiations next summer
at the White House, this is where it all starts.
At least at the White House, we can probably comfortably assume the Giants players
would all know who the chief executive is
.
The other big excitement comes from the first brush with NFL football for rookie linebacker Mark Herzlich, who the Giants signed as an undrafted free agent out of Boston College this summer. Most undrafted free agents aren't particularly noteworthy and the ones that are don't become so until they've defied the odds and become a significant NFL player, such as former Redskins and Giants linebacker
Antonio Pierce
. Herzlich overcame odds to make it to the NFL, but rather simply being undrafted he also
had to beat bone cancer
.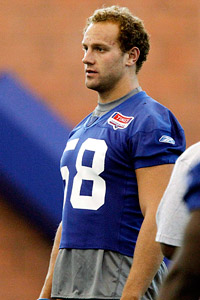 Regardless of where you're coming from, those are some pretty significant odds to overcome. Many people have concluded that Herzlich would have been a high-round pick had he not had a run-in with cancer, but now that he's on the field, it'll be interesting if he can play at an NFL-caliber level. Doing so as a mere mortal is difficult enough. Doing so as a cancer survivor exponentially so.
Of course, beyond Herzlich's debut and a few other players getting some time on the field, there is little else of interest going on in tonight's game and I, personally, am unlikely to watch the entire thing, but I will be watching from the beginning. And then possibly into the second quarter. Maybe.
Then again, if the
Giants' official twitter feed
is to be believed, all of the photos being tweeted must indicate that this is the most important football game ever played. So there's that.
Lastly, in a bit of irony, the Giants' first preseason game happens to start on the opening date of the British Premier League. I'm not sure just how many of you take a keen interest in the other kind of football across the pond, but with ESPN's premier league contract and Fox Soccer Channel, it's almost as if you have as much access to British soccer in the U.S. now as you do of, say, basketball. That's a good thing. Of course, the Premier League may have just started today, but the tier right below it, the Npower Championship, has been going on for a week. And with two games played,
look at who's atop the table
.
That's right. It's those awesome Southampton Saints. With any luck they'll still be near the top come May. And with some more luck, maybe they won't be the only football team of mine at the top of the standings this season.