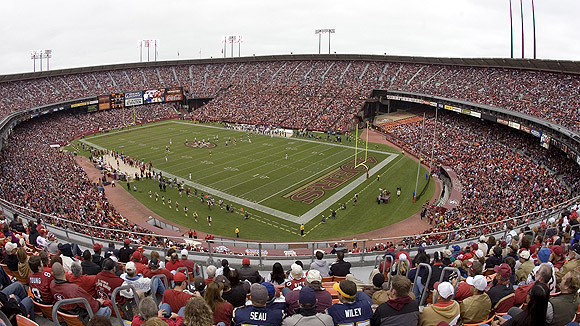 For the first time in a long time I haven't spent chunks of the summer following the Mets around the country, which means two things. The first is that 2011 is likely to be the first year I haven't seen a Major League Baseball game outside of New York in, oh, 11 years or so. The second is that it's been a surprisingly long hiatus for me without seeing a sporting event of any kind outside of the New York Metro area. Since April, in fact.
Now that doesn't mean I haven't traveled at all. Most of you know that I spent nearly three weeks traipsing around Europe. But something has been lacking in the sports travel department since I saw the Red Wings host the Blackhawks at Joe Louis Arena on April 8. My goal is to make up for all of that this fall with several jaunts to see pro teams around the country -- and by several I mean three.
Putting all of that together is still up in the air, but I know that one of those trips isn't because I managed to book myself a flight to San Francisco for the second weekend of November this year, which puts me squarely in the stands for a showdown between the Coyotes and Sharks on Saturday, November 12 and even more excitingly for me, the Giants and 49ers on November 13 at Candlestick Park. I rather enjoy trips to the Bay Area where I have several friends and at this point know that city at least mildly well, but I'm particularly intrigued to see my Football Giants and the building that stole away the baseball variety.
But what makes this even better? Part of the trick to doing this whole cockammamie thing is finding ways to cut costs, preeminently the need double up sporting events in the same trip and if possible stay with friends for free. I'll have both of those taken care of but the last crucial fixture is to get transport as cheaply as you can do it, and managing that trick on a cross country flight is not the easiest thing.
Generally if you can get from east coast to west coast and back for $400 or so you're shooting par, so when I found that I could make my way from Newark to San Francisco for the grand sum of $253, I knew I had won. It make require a transfer in Atlanta on the way there and a stopover in Detroit following a redeye on the way back, but every little penny counts. I can stand one day of work with sleep deprivation in the name of pushing the journey forward.
Also, given that I spent most of this weekend cooped up in my sister's apartment courtesy of "hurricane" Irene, it would really feel good just to go, well, anywhere. I will be the first to say that I was fortunate in that Hurricane Irene did not affect me in nearly as dramatic a way as it has others -- my hometown of
Millburn, NJ
for one
took on some pretty major flooding
-- but I did have to evacuate my apartment for, what proved to be, no reason, and it also through a major kibosh into that most sanctified of all pre-fall activities, the fantasy football draft.
Initial my keeper league had scheduled a date to select players six months in advance because we knew getting all of our schedules coordinated would be a trial. The date we settled on just happened to be when a hurricane was barreling into town. A live draft turned into an online draft and even that was nearly not thrown together in time. It's amazing that I experienced a hurricane and an earthquake in the same week and the rain was the one that caused me the most logistical issues.
Hopefully there won't be some natural disaster that causes issues for me when I head to the bay area or when I go on my next sports-centric trip this weekend. What trip is that, you ask? Well, you probably didn't ask, but I'm going to tell you anyway. College football, at long last, will be back in five days, and when it is, I will be in Boston to see Northwestern open up its season in Chestnut Hill against B.C. This is a big season for Northwestern with all of us hoping that Heisman hopeful Dan Persa leads the Cats on an impressive, potentially Rose Bowl-worthy campaign. That's all likely a pipe dream, but at least it's a dream I can still have for now, and it all starts on Saturday in Boston.
I will be there. I will be in purple. I will be excited.
Hopefully it doesn't rain.