As I wait patiently for the Giants' next preseason game to come around -- and it's still five days away -- there is very little to hold my interest. At least not with the Mets' season being pretty much done midway through August, although they did have some exciting news this week. More on that later.
Because of the dearth of interesting stuff going on I struggle from time to time to focus on all that the world of sports is presenting me with, though the impending start of Northwestern's football season, which is just 17 short days away, does give me something to get excited about. Unfortunately, though, that's pretty much all of it. Or so I thought.
Thank the lord for Jeremy Roenick.
Roenick is one of the greatest American-born hockey players of all time and a man who is known for his
emotion
, honesty and,
I can assure you
, a pretty good quote just about any time you talk to him. Also, he was really good. And in video games
he was really good
. Anyone who wants to get an idea of just how good Roenick was in NHL '93 need only troll around on YouTube for any number of clips of his electronic prowess. But more than his abilities on the ice, his abilities in the virtual world are immortalized by two phrases:
"It's not even so much me as it's Roenick.
He's
good."
And:
"There it is, Mikey. Check it out, his head's bleeding."
Both of these of course come from the indie film classic
Swingers
, starring the underrated Jon Favreau and an
astonishingly thin Vince Vaughn
. One of the
most famous scenes
from the film involves the main characters playing NHL '93 and after Vaughn displays Roenick's electronic prowess, he then checks Wayne Gretzky from behind to make him bleed on the ice.
So why bring this up now?
Well, as you all saw last week when
I talked about Zach Parise's very silly commercial
, I love when athletes show some personality. I should note, this is
not simply limited to hockey
. But in this case, hockey does it again as Roenick shows a good sense of humor -- and some pretty decent acting ability -- in
this bit right here
.
Yeah, that's the exact same scene from Swingers updated with Roenick himself in the mix and, amazingly, not playing as Roenick, though he does make a few amusing references to how great a human being Jeremy Roenick happens to be. This is great and there needs to be more of it. Sure there was no real reason why this video had to happen, but it did.
And we're all better off for it.
Lastly, if I can take it back to the Mets for a few minutes, because really, why keep this happy, they had the best news this week that they've had all season when it came out that
there will be changes to the uniform set
next year. As someone who owns, roughly, 10 or so Mets jerseys from the current set, this is a bit angst-inducing as I have hundreds of dollars worth of clothing that's about to be out of date -- some of them already are -- but it seems the changes to the home uniforms are coming mostly for the franchise's 50th anniversary and thus may not be permanent.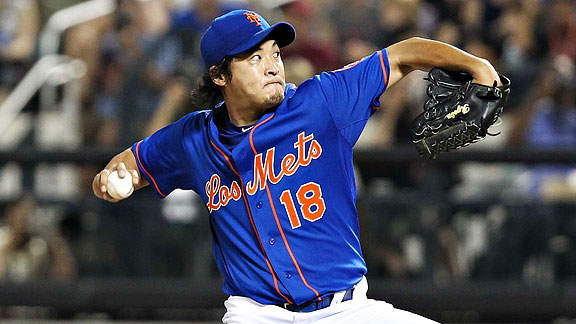 That's all well and good, but the coolest thing, by far, is that the Mets may be introducing a standardized version of their all blue Los Mets jerseys from this year's Hispanic Heritage Night. The blue and orange duds can't be the official alternate this coming season due to deadlines for submitting uniform changes, but they're likely to be broken out a handful of times and will probably assume the full-time alternate duty in 2013. They are crisp, they are clean, they are the franchise's traditional colors and they are beautiful.
Bizarrely, I cannot wait to spend $250 on one of them. Granted, it's not so much money that it will change my life. As Roenick knows, though, it just might be enough money to make my head bleed.