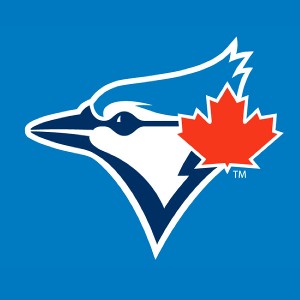 Surely five or six of you read
my long screed yesterday
about the disastrous new Marlins logo that was leaked this week. It is with cognizance of that catastrophe that we get a breath of fresh air as another leaked logo came out today that is about as brilliant a recognition of a team's roots as the Marlins switch isn't. This morning it got out that the Toronto Blue Jays, who have struggled over the past decade or so with forging a brand identity (just look at
all the different word marks
), are going to be
returning to a slightly modified version
of their classic pre-1997 logo. It hasn't yet been announced what the uniforms will look like -- or even that this is in fact the new logo, though there are strong indications that it is -- but with a return to this
slightly more stylized version
of the Jays' old logo, one would have to assume that some variation on their
early 1990s home unis
and maybe the
1980s powder blue road unis
that were brought back as alternates a few seasons ago might be in the mix.
Unlike our friends in Florida, who, really,
can never seem to get anything important right
anyway, this is a tremendous job by the Jays to bring back a logo that is not only aesthetically pleasing and universally loved, but also brings with it the weight of history and accomplishment as it presided over Toronto's two
World
Series
Championships
in the early 1990s. This is how it's supposed to be done.
On a side note, Joe Carter's walk-off home run to win the 1993 World Series, since you were wondering, is the earliest baseball moment that I vividly remember watching.
A return to this logo just might be the most exciting thing to happen in the Rogers Centre (nee SkyDome) since Carter touched 'em all, although there have been some other highlights like Jose Bautista's power stroke, Roger Clemens' Cy Young seasons or the numerous times some couple "accidentally" had sex in the outfield hotel without realizing they could be seen inflagrante delicto by about 55,000 people, which are artfully recounted, along with whether or not the Jays actually won the game,
here
.
This is phenomenal news on the whole and it brings with it even more phenomenal news in that we're almost at the weekend, and that means what? Yeah. Football. Now, granted, this Saturday's college bonanza will be less exciting for me than usual, because a) I'll be working and b) Northwestern has its bye this week. Now that could be good news considering it gives an extra week of rest before what appears to, at long last, be the
impending return of quarterback Dan Persa
, but it also allows Northwestern to stew for a bit and think about what it did last weekend when my highly anticipated
Sailgate to West Point
went, uh,
not as planned
.
Sure the Wildcats took a tremendous blow to their season and reputation when they took a stunning loss at Army to a team they should have probably beaten by two touchdowns or so, a loss I would place entirely on the shoulders of defensive coordinator Mike Hankwitz who refused to move away from the 3-4 and start blitzing against Army's triple option even if they gained 200 yards on the ground
in the first half
. Seriously, when a team is 1-for-7 passing
for the entire game
I think you ought to clog the line of scrimmage and make the team throw the ball.
But I guess I'm not a coach for a reason or something.
In any event, the experience was still great despite the unfortunate result. For starters, you know,
I got to drink on a boat at 8 a.m.
, and there really is not breakfast better than an everything bagel with cream cheese and a Blue Moon 22 oz. tall boy. The day also brought
a splendid infusion of purple
to Army's campus, an up close and personal look at the
young cadets in action
during roll call, one of the most bucolic settings for a sporting venue I've ever seen in
Michie Stadium
, which sits in the middle of the gorgeous, reservoir-like West Point campus, and perhaps most importantly, the glorious return of Shea Stadium.
It's back
!
All in all, it was a great day and a great experience, even if it left a sour taste in the Wildcats' mouths for the next two weeks. And while I don't get to watch these Cats this weekend, at least I get to see
my other Cats
in what is really the biggest football match of the weekend.
AUSSIE RULES FOOTBALL ALERT.
After watching
Collingwood rally past Hawthorn
in a ripper in this morning's Preliminary Final, Geelong will take on West Coast at 12:30 a.m. Saturday morning ET for the right to face the Magpies in the 2011 AFL Grand Final, which is next Saturday. Collingwood's comeback victory was so draining that even coach Mick Malthouse, who would have been coaching his last game had the Pies not rallied,
was unbelievably emotional
at the game's conclusion.
Of course, I'm not fan of the Pies. I'm a Geelong supporter, which I admit is somewhat odd since two of my favorite teams are nicknamed "the Cats", an animal I'm highly allergic to. Regardless, I will be pretty excited for the game tonight, and while
the Cats are considered favorites to get past the West Coast Eagles
and get to their fourth Grand Final in five years, one can never take these things for granted. I certainly won't having too many years of rooting for the Mets and Giants in my system.
And speaking of the Giants, they play this weekend, too, in a pretty big divisional showdown with the Eagles who
may or may not be starting Mike Vick
, depending on who you ask. While it almost certainly would be better for the Giants not to face Vick, if he sits out he will likely be replaced by
Mike Kafka
, who looked admirable in the few minutes he played last week against Atlanta and also, you know, is a graduate of
Northwestern University
.
I have been asked by many friends if my loyalties would be torn seeing my college quarterback against my professional team. The answer to this is, of course, absolutely not. I heart Kafka and wish him nothing but the best -- so long as it's in another uniform -- but let's be serious. The Giants are my team and have been for two decades. My loyalties aren't going to be divided in any sense, even if it could be a bit awkward if he engineers so thrilling victory for the Iggles. Heaven forbid. Still, I will not be confused or uncomfortable.
I mean, come on.
He's no Brett Basanez
.
Of course Basanez isn't playing professional football right now. He'll be watching like the rest of us. And when he does watch, here's who I think will win.
Last week: 8-8-0
Season: 13-17-2
NY Giants (+5) over PHILADELPHIA
New England (-9) over BUFFALO
CINCINNATI (-3) over San Francisco
CLEVELAND (-3) over Miami
Denver (+7) over TENNESSEE
MINNESOTA (+4) over Detroit
NEW ORLEANS (-4) over Houston
CAROLINA (-4) over Jacksonville
NY Jets (-4) over OAKLAND
Baltimore (-4) over ST. LOUIS
SAN DIEGO (-15) over Kansas City
Green Bay (-4) over CHICAGO
SEATTLE (+4) over Arizona
Atlanta (+1) over TAMPA BAY
Pittsburgh (-11) over INDIANAPOLIS
DALLAS (even) over Washington
There you have it. Have a good weekend everyone. Go Cats.