Suffice it to say that I did not make it any secret that I was pretty excited about
going to New England this weekend to see the Giants face the Pats
. It's a game I had been looking forward to for about four years and not only did it cross a team off my list of 122, but it wound up being of pivotal importance for both New York and New England. It would have been high demands to expect this game to deliver on absolutely every way that you would want it to, and it certainly couldn't live up to the
last time these two played a serious game of football
, but I had high expectations.
Unfortunately, the scheduling of this weekend's game came with one unfortunate catch. Saturday was the first time ever that Northwestern would be visiting it's recently anointed Big Ten brethren in Nebraska, and I was oh so interested in watching -- and possibly attending -- the game. But these two games being on the same weekend presented some challenges. For one, attending a football game in Nebraska and then immediately flying from Lincoln to Boston before heading back to New York would be exhausting. For another, it would be crazy expensive. As a result, I resolved that a reasonable solution could be worked where I simply stayed in New York to watch NU vs. NU with my friends before taking a bus to Boston either Saturday evening or Sunday morning.
But then the New York marathon just had to happen on the exact same weekend. And NU-NU had to be put in the afternoon time slot. Grumbles all around. In the end I accepted that the best answer was to take an early bus on Saturday with my friend Frankie, who would be attending the game with me, and simply watch Northwestern at a sports bar or Frankie's friend's apartment upon arriving in Boston. This was scuttled when Frankie and his friends wanted Chinese food and his friend didn't have cable.
After a flurry of text messaging and ESPN iPhone app reloading, I made it abundantly clear that not only was Northwestern somehow leading No. 10 Nebraska on the road but that I needed to find some way to watch somehow. Eventually, an online stream filled the void, and while I was wistful that I wasn't there in person or watching at a bar with any NU alums, I was bouncing off the walls most of Saturday night after the
Wildcats stunned the Huskers
28-25 in their first ever conference visit to Lincoln. It was a hell of a start to the trip, and all I could think to myself was, "I don't know that this could really get better."
Silly me.
I'll have to do a full and complete update on my weekend trip to Boston when I write the chapter out for the book, but to put it simply, I never thought I could see a football game in person that was everything I could have hoped for and more.
Despite some slight anxiety about where to check our bags or where Frankie and I could sit together (to keep costs down we had bought singles in different sections), we managed to not only find a place to sit, but also find a tremendous view. And despite a first half that was just an extended punt-a-thon that resulted in an utterly shocking 0-0 halftime tie, the second half presented some of the most exciting football I've ever seen period.
Really.
Putting aside even the fact that the Giants won the game, what I got to witness in the final five minutes was akin to when
John Elway and Joe Montana had their legendary showdown at Mile High Stadium
on Monday Night Football in 1994. It was two of the top quarterbacks in the NFL going toe-to-toe, trading blows to see who would be the last standing when the clock hit zero.
I had relocated to the end zone standing room section for the final few minutes and was in a frenzied crowd both for Brady's remarkable drive to
put the Patriots back in front
, and Eli's thrilling last second
touchdown pass to Jake Ballard
in the corner of the end zone, a moment earlier similar to his Super Bowl-winning throw to Plaxico Burress in Arizona -- one of many
eerie similarities
. Burress may not have been there -- though some
tried their best to mimic him
-- but the win was still a rich one for a Giants fan.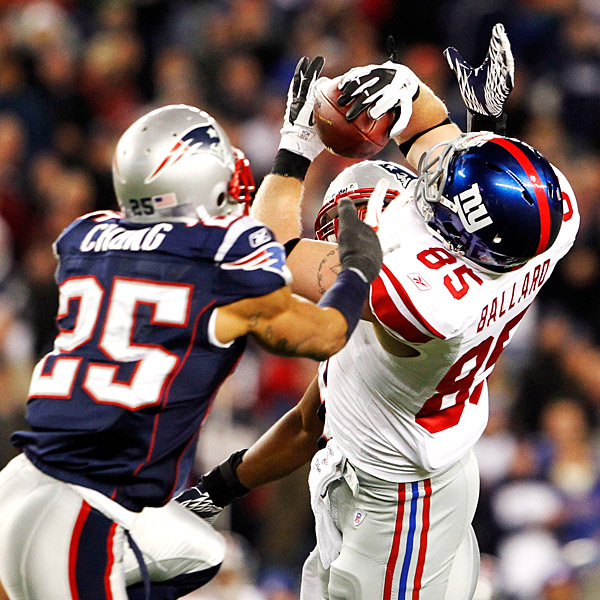 Oh,
and former Giants players
, too.
It was in no uncertain terms the greatest game I've ever been witness to in person, one I'll remember until I die or suffer from dementia. As I left the stadium I felt like my feet were nowhere near the ground and I high-fived every Giants fan I passed through the exits. I typically tend to avoid trying to be obnoxious, particularly in the other team's barn, but after a game this good, in a game this hyped, with players this talented -- not to mention the Pats fan who started mocking me after the Patriots took the lead with 1:35 to go -- it was hard to control.
This was about
as sweet a win
as I've ever witnessed.
Not only was the win so exciting that I was bouncing the entire trip back to New York, but it was so draining that I spent most of Monday just looking wistfully toward my bed in Queens. A potential program-altering win like the one Northwestern had Saturday and a stunning, thrilling, in-person win like the Giants had over New England a day later made this one of the best trips I've taken in a long while -- and maybe ever.
Doubtlessly, it will be a tough one to top. Fortunately, it won't take long for me to see if it can be since I'll be headed west Friday morning for the Giants' upcoming showdown with the 49ers. We'll see if San Francisco has the mettle. Three days and counting.