I've seen the New York Giants play many big and important football games in my day. Those games include countless playoff games, countless de facto playoff games in the regular season, two NFC Championship Games and two Super Bowls. The results, generally, have been positive. I have had my heartbroken by the Giants on numerous occasions, but overall, I'd have to say that my fandom has been rewarded in the 18 or so years that I've followed to team intimately. I must admit that my outlook would probably be significantly different were it not for the wondrous night that was
Super Bowl XLII
, but given what some fan bases have to deal with, in particular
ones in this same city
, I have hard time complaining when I take in the long view.
In the course of my years as a fan, however, I don't think I've ever come across a game in which I'm less certain of what to expect than the game that will kick off at 6:30 p.m. Sunday night. As the Giants get ready to take on the 49ers in San Francisco in the NFC Championship Game, I have anxiously oscillated between complete confidence and utter uncertainty. The one thing I know for certain is that I cannot wait for Sunday and that's more or less been the case since the Giants capped off their impressive upset of the Packers last weekend.
Really.
I don't think 10 minutes have gone by since Sunday night that I haven't gone over the various matchups, positives, negatives, historical implications or weather reports in my head. I'm trying to distract myself for two hours right now by watching
The King's Speech
finally, but since I'm writing this blog entry, it's clearly not taking. I'm still far more interested in Jake Ballard's knee than
George VI's
voice, and there's really not a whole lot that will change that before Sunday. Or ever, frankly, but especially this week.
Having seen the Giants already play in San Francisco this season --
in person no less
-- I have spent most of the week feeling cautiously optimistic for a few reasons, even though the Giants lost that game. For 1) New York's defense is far healthier, and better than it was then. 2) Ahmad Bradshaw and Osi Umenyiora were among several regulars that did not play in that game. 3) Eli Manning is playing football right now at a higher level than he has ever played in his entire career. 4) Statistically, the Giants dominated that last game anyway with more yards, first downs and time of possession. 5) Were it not for a flukish interception that resulted in two Niners touchdowns in a span of 61 seconds in the fourth quarter, New York probably would have won the game. 6) The Giants very nearly tied the game anyway, getting down to the San Francisco 10-yardline before a fourth down pass was batted down in the final minute. 7) This came after Mario Manningham dropped a game-tying touchdown catch seconds earlier.
So for all these reasons, I'm feeling good. But there's a caveat.
The Niners are playing better, too. And their defense is looking as good as the Giants' offense. Oh and
the weather is supposed to be awful
. So those things, one would think, all play in the 49ers favor, although a potential mud bowl of a game, it has been pointed out, could potentially slow down the San Francisco pass rush and put their defensive backs at a severe disadvantage when trying to mirror routes and cuts made by Hakeem Nicks, Victor Cruz and Mario Manningham.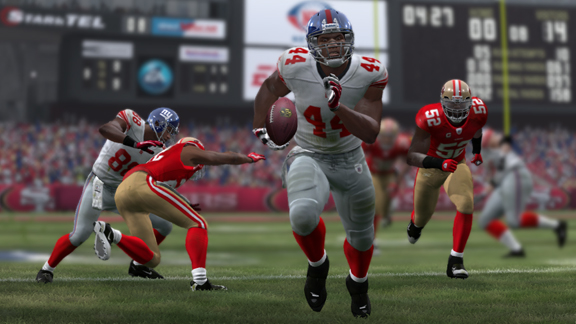 But all that said, I might still feel far more comfortable if the weather were nice. And frankly, I'm not even sure that would make me feel the least bit comfortable at all. As I followed the twists and turns of the past week I've simply come across one more cause of worry after another, like
WHAT WILL THE GIANTS DO IF ELI HAS A COLD
? Or the flu?! Oh, and then there was
this fucking thing
. Essentially, I'm just a big ball of anxiety. Moreover, seeing that many prognosticators are starting to fall
on the Giants' side of the ball
isn't making me feel much better about things. Even video games
are conspiring against me
.
So yeah. I'm nervous. If that wasn't clear. Let's take a look at my picks.
AFC Championship Game
(2) Baltimore (+9) over (1) NEW ENGLAND
I know. The Pats' offense looks really phenomenal. And I know, they went 13-3 and were generally dominant throughout the regular season. But this is a game I actually am less certain about the outcome of than I am about the NFC -- I'm just significantly less invested in it. And the reasons I'm less certain of it are the following ones. Baltimore's defense is phenomenal. It's offense is mediocre, but Ray Rice can control a game if he's given a chance. And as good as New England's offense is -- and it is
that
good -- its defense is that bad. The Patriots
gave up the second most yards in the League
this season. They
gave up the most first downs per game
this season. And even after being berated by a New England fan at work this season that the Patriots have improved significantly since the early part of the season, a look at their scehdule doesn't really back the claim up, as they gave up 24 points to the Colts, 27 points to the Redskins and 24 points to the Dolphins over the season's final five weeks. They
gave up 353 yards passing to Dan Orlovsky
, whose greatest claim to fame is quarterbacking the 0-16 2008 Detroit Lions. They
gave up 463 total yards to the Redskins
. They
surrendered three touchdown passes to Matt Moore
. Oh, and speaking of their schedule, New England has still not beaten a team with a winning record this season. Really.
Not one
. So I might be going out on a limb here. Call my crazy. But the facts are there. I'm taking the Ravens. With no confidence at all.
NFC Championship Game
(4) NY Giants (+3) over (2) SAN FRANCISCO
I have already hashed, and re-hashed, and re-hashed for you and myself in my brain just about every permutation this game can take on. If I do it anymore I think my head might explode. Just know that I am, cautiously, taking my Giants. After all, I've picked them in every game so far this season out of sheer ignorance and bias. It's worked so far. Why stop now?
See you all next week. If I make it to Monday morning, that is.