I know. I know. I know.
I know.
I know what you're thinking right now. "Dave, why are we bothering to talk about this football game when the biggest, most hallowed sports championship of them all
was already decided
this weekend?" Don't worry, I have no intention of denigrating Takeru Kobayashi, one of the greatest athletes of our time, in arguably. But call me crazy, I'm a little more interested in this Super Bowl thing we've got going on on Sunday.
I'm sure, given the participants and the logistics, you can probably guess why, and when someone has a team in the Super Bowl like I do this year, it's nearly impossible a) maintain mental stability, b) get through the outrageously angst inducing two weeks before the game and c) not read
every
stupid
,
ridiculous
,
ludicrous
prediction known to man.
Of course, I should point out that these predictions, really, in the grand scheme, are utterly, and completely meaningless. No one really knows what will happen, and a lot of the predictions, I've noticed, lack any real sort of intellectual gravity. For one thing, the celebrities asked for their picks are hardly the authorities for this sort of thing, though I do have a soft spot for Maya Angelou's choice. But of all things, I've noticed that that most of the predictions taking the Giants have revolved around some sort of logical reasoning based in facts, namely that Eli Manning will torch New England's patchwork secondary, that Rob Gronkowski's ankle injury will limit him or that the Giants' pass rush will make Tom Brady uncomfortable. Most picks taking the Pats are grounded in the idea that "Tom Brady is an awesome legend and he will prevail!". In fact,
only one person
I've seen picking the Patriots did so with a well-thought out reasoned argument. Don't people know that they could always talk about the versatile offense, the 10 straight wins or the 13-3 regular season record? At least they've got that going for them, right?
But predictions aside, and I'll get to my worthless one later, if nothing else, while this week has riddled me with discomfort and anxiety, I have gotten a sense of the fact that my Giants are a well-run, overachieving, class organization.
And just how did I get this epiphany?
Well, I am always impressed by New York's general manager Jerry Reese, who regularly has insisted that the roster he had put together was ready to compete for the playoffs and ultimately a championship. He appears to be right considering what the Giants are on the brink of. But it's not just my football team's success that has reminded me of how good and bad a team can be. It's the juxtaposition of my Giants, going for their second title in five years, against my other favorite team, the Mets, who are a bankrupt laughingstock of the highest degree.
But Dave, it's not baseball season. Why would this be creeping into your mind right now?
Well this week my mother brought mail from my home in New Jersey that had arrived some time in December, a lovely holiday present from the Amazins, a team that is about to slash $52 million from its payroll, the largest such drop for a team in Major League Baseball history. Despite the need to cut payroll so dramatically and ensure fans of what looks like it's going to be a miserable season in Queens, the Wilpons somehow managed to scrap together the money to send me a blue bag embossed with the 50th anniversary logo, two ticket holding lanyards and a letter detailing my season ticket package. This is lovely, I guess, but it's mostly a worthless dust magnet that I'll probably forget exists in a few weeks. And yes, I understand that it probably was not a particularly expensive package to send out to me, but I'm fairly sure that I wasn't the only lucky fan to get one. I have to imagine that all of the thousands of season ticket holders got these wonderful presents, and I have to imagine that for a team undergoing massive financial issues and experiencing an even more massive inability to get liquid cash infused into the franchise, well, most of the fans would probably have preferred that the front office spared us the space-eating gift bags and spent it on, oh, I don't know, baseball players.
Call me crazy, but I don't see the Giants doing that. Or going broke in the first place.
In any event, I'm going to go back to football. After talking about how stupid all of those predictions were, I'm sure most of you are expecting that I am now going to give a long, detailed explanation, piece by piece, game situation by game situation, as to why I am picking who I am picking, because, really, I value logic over nondescript intangibles -- and even when it comes to intangibles, I still think
the Giants have the clear edge
. This is true even when you take a look at the SI Cover Jinx, which must be in full effect considering the Patriots snagged not just
this week's Super Bowl leadup cover
, but
last week's
as well.
But, and I'm sorry to disappoint. I will not be writing a full length breakdown of the game here, mostly because
I already did it over here
, sort of. Essentially I'll couch it all this way:
Super Bowl XVLI
(4) NY Giants vs. (1) New England
I am constantly caught up between what logic dictates in my head and the anxiety I've got in my heart. That anxiety of course revolves the fact that a) I have no confidence in my team winning comfortably ever, because why would life be that good to me and b) a whole lot of people are picking the Giants, and that makes me nervous.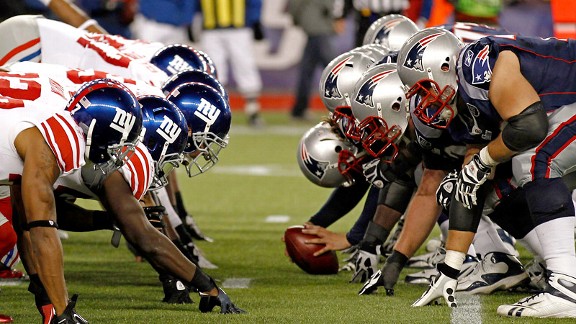 But when I think about this rationally, I see several facts and I'm going to run through most of them. The Giants are playing far better than the Patriots right now, and went through two vastly superior opponents to get to the Super Bowl. The Patriots beat up a mediocre Broncos team and eked past a Ravens team they probably should have lost to, and nearly went to overtime against anyway. The Giants dominated the 15-1 Packers on the road, and then won a battle-hardening, gut-twisting matchup in San Francisco against the 13-3 49ers with one of the best defensive fronts I've seen in years. New York's offense has multiple weapons and Eli Manning has thrived lately. The running game is starting to come around and Ahmad Bradshaw is actually getting healthy and practicing again. The Patriots' offense is also lethal and dangerous, but its running game isn't as solid, it's deep threats aren't particularly scary, and the basis of its offense, tight ends Anthony Hernandez and Rob Gronkowski, while among the most dangerous offensive components in the League this season, is hampered by Gronkowski's ankle sprain that will almost certainly limit him Sunday night.
On the defensive side of the ball, the Giants' defense was not particularly impressive in the regular season, but it also wasn't that healthy either. It is now, the front four is cresting just like it did four years ago, and the linebackers have been outperforming their typical showing from the regular season. The Patriots' defense has little beyond Vince Wilfork, who is probably headed to Canton one day. The secondary is mediocre at best, has given up the second most yards in the League -- and the most of any team to ever reach a Super Bowl -- and last, but certainly not least, in the AFC Championship Game they allowed Joe Flacco to drive down the field effortlessly in the final minutes. And they had Julian Edelman of all people covering Anquan Boldin in the final minutes.
New England is 13-3 and on a 10-game winning streak. This is true. But the Patriots hadn't beaten a team with a winning record until two weeks ago. The Giants beat the top two seeds on the road in the NFC to reach the Super Bowl. They are battled tested, they are confident and they already beat New England once
in New England
and without Hakeem Nicks and Ahmad Bradshaw. And they're a better team now than they were then.
I hate seeming cocky, and being so makes me uncomfortable, but the more I read, the more I write, and the more I think about it, the more clear I think it is. New England could very easily win this game -- I would be disheartened but not surprised if they did. But I don't see it happening. If you've read this blog all season, you know that I, against my better judgment, picked the Giants every week this season. I see no reason to change that now. I see the Giants in front most of the game with a late score to seal it late.
NY Giants 31, New England 21.
I often end this things in self-depricating fashion by telling you all how I'm going to be wrong. But this time around, I really hope against all hope that I'm not. Because if I am, the light at the end of that tunnel in 10 days is the Mets opening up Spring Training.
Heaven help me if that's the light I'm headed toward. See you Sunday.