I know most of New York, the U.S., Taiwan and the Milky Way at large has been swept up in the excitement of Linsanity lately, so much so that SI has even taken the remarkable route of attempting to commandeer his popularity with its own SI-inspired hashtag that it is advertising on the cover this week. That is, of course, ridiculous, as is most of the
LINtacular puns
newspapers have been trotting out lately, so many so that you need some tremendous
LINtestinal fortitude
to be able to survive
LINgesting
it all. In fact, the puns are so overwhelming that they encroached from being
mildly charming
to
potentially quite offensive
.
Then again, what do I know? I'm only part Mongolian (true fact!), and a pretty small part at that. Either way, the whole thing is really a bit nutty, but as a Knicks fan, it's hard for me to argue that I'm not enjoying it a little bit, even if I can sense the irritation when friends of mine who are Asian are asked about Jeremy Lin wherever they are because they must know better than us white folk.
Either way, Lin is making the Garden rock on a nightly basis it seems and that's not the only change the place is experiencing right now, as I found out last night when I went to see the
Blackhawks blitz the Rangers
to snap their nine-game losing streak. As a man who also rather likes the Hawks I was plenty satisfied, but I was also a bit distracted since this was my first visit to MSG since it recently began a massive renovation and, well, this ain't your father's Garden. Most of the seats in the lower bowl have been changed out for nicer, cleaner -- albeit just as narrow -- replacements, and while there will be many changes to the building over the next few years,
some crazier than others
, but the most notable one, easily, was the concourse, which was once as
cramped as a closet
, and in many places is now
positively massive
. The change is so striking that I was completely taken aback as I walked around it for the first time.
For me this was an unusual situation because even though I'm not a Rangers fan, Madison Square Garden was the first hockey arena I had ever been to. In fact, it was the first sports venue I had been to other than a baseball stadium. As a result, the memories are emblazoned in my brain pretty solidly by that first visit and the dozens I've made in the two decades since. Seeing the new concourses was jarring, but easily in a good way. MSG's main bowl has always been one of the most energizing places to watch a sporting event that I've been to, but the rest of the stadium has lacked both aesthetics and practical application.
The changes to the building won't necessarily make it the prettiest venue in the world -- some accidental google imaging has convinced me that that is the utterly breathtaking
Estádio Municipal de Braga
in Braga, Portugal, a soccer stadium that is literally carved out of a rock quarry and overlooks the city. However, while I'd love to see that place some day, I know that even though MSG's reborn self isn't quite on that visual par, these renovations are easily a massive improvement, ones that were highly necessary and also make you wonder how on Earth they have the space to do them.
The highlight for me last night, of course, wasn't the changes in the building necessarily, but the opportunity to see the Blackhawks in person for one of the rare opportunities I get all season. Lucky for me, it won't be the last time this year, as I will also be in Dallas next month to see the Hawks visit the Stars with Nomaan Merchant, the first friend I've ever had living in the state of Texas. That opens up a whole new world of possibilities, this being the first one of two events that I'll be attending that weekend along with the Mavericks-Spurs game the next night. I still need to buy a plane ticket -- and prices are proving testy at the moment -- but
my tickets to the hockey game arrived this week
, so at least in that regard, I'm good to go.
Lastly, but certainly not least, if there's one thing I'll take with me from last night's Rangers-Blackhawks game more than any other, it will likely be the tribute paid during the first period to Gary Carter, who passed away yesterday after a fight with brain tumors. Carter's passing is an odd one for me. I was too young to really remember seeing him play for the Mets, but as a long time diehard fan of the franchise, I am more than aware of how important he was to those who were old enough to see him provide one of the great forces behind the Amazin's last World Series championship.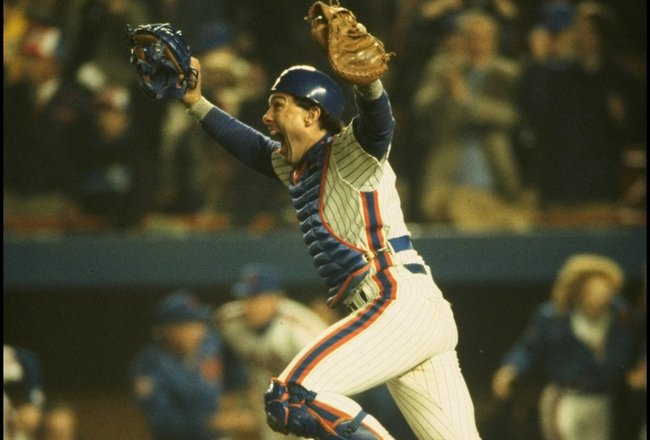 By all accounts, he was not just a great player, but a great person as well, one so beloved by his teammates that
Keith Hernandez broke down in tears
while being interviewed about Carter's passing yesterday. The closest connection I can have that I know of for him is that I was in attendance when Carter was inducted into the Mets Hall of Fame in 2001. Of course, even though I was just one year old when he got the first hit in the bottom of the 10th inning in Game Six of the 1986, rescuing the Mets from oblivion, I know the facts of his place with the franchise well, even if
some of the major news outlets
weren't so sure
.
For years, one of the things I've most sought to add to my collection of Mets paraphernalia is an authentic jersey from the 1986 season, complete with the blue and orange side piping and the franchise's 25th anniversary patch. I've often debated which player to get on the back, shuffling between Carter, Hernandez or perhaps Doc Gooden. For obvious reasons, I'm leaning toward No. 8 now, and maybe it's the right time to dedicate the exorbitant cost the jersey requires. I suppose I'll decide that another day.
Either way, regardless of whether or not you are old enough to remember his prime, it's impossible for any educated Mets fan not to know of how instrumental he was for the franchise as both an icon and a crucial piece of its achieving its greatest glory. Apparently, Carter was quite the religious man, and as a result, he seemed to know where he was going comfortably. I haven't necessarily made up my mind on those things just yet, but wherever Gary Carter has wound up, I hope The Kid is resting easy.