This morning as I left my gym I saw a woman pushing a girl in a stroller and the girl stared at me the entire time. I didn't really feel one way or another about it and I waved hello as I waited for the elevator, at which point her mother told me, since I was wearing a Mets shirt at the time, that the girl, perhaps all of two years old, was also a Mets fan.
"I'm so sorry," I told the girl. "It doesn't get easier, kid."
There are many reasons why most Mets fans walk these days with a sense of woe is me, and there are many men to blame for it, as well, Bernie Madoff, Fred Wilpon and Omar Minaya chief among them. But of all the men on either side of the battle lines that have made life tough to root for this team in my lifetime, the man who stands out most as the greatest nemesis this team has had, certainly in the last 20 years and maybe ever, is Larry Wayne Jones.
Chipper.
In the late 1990s, the Mets experienced a resurgence that saw them oh so close to finally jumping over the hurdle to World Series potential, but on a regular basis the Atlanta Braves stood in the way.
In 1998
, a season-ending sweep by Atlanta of New York knocked the Mets out of the Wild Card chase.
In 1999
, an epic season in which the Mets won 97 games but lost 9 of 12 to Atlanta, including 5 of 6 crucial games in September in the heat of the pennant race. The Mets and Braves would meet again in a positively epic NLCS that season, before the intense rivalry boiled over again
in 2000
. This time the Mets acquitted themselves slightly better, going 6-7 against Atlanta including
a wild win in late June
in which they overcame an 8-1 deficit with a 10-run eighth inning. That season the Mets would earn a trip to the World Series before ultimately losing to the Yankees.
With the almost symbiotic relationship these two teams had for those seasons, and Atlanta's best player being Chipper Jones, it was almost unavoidable that Chipper might be the nemesis that so clearly burned himself into the fabric of a rivalry that for many younger Mets fans, myself included, colored the very nature in which we view the team. For much of my youth and teen years I hated Chipper Jones. He impacted how I view the game in a way few players have managed to match, and when I look back on the Mets and their teams of that era, as much as Mike Piazza, Edgardo Alfonzo, Al Leiter or John Franco have established themselves as influential figures, Chipper Jones will have his place as a part of that group.
It is because of that significant impact, that I reacted with a twinge of sadness when I first saw today that
2012 will be Chipper Jones' last
in Major League Baseball. Yes, he was the player I loved to hate, but in an abstract, unemotional way, it is hard to ignore what was clear greatness -- greatness that will land Jones in the Hall of Fame five years from now. As well, seeing a player become the bane of your team's existence so frequently will also engender a begrudging respect for him and how he plays the game.
Make no mistake, Jones excelled against the Amazins. In 812 career at bats against New York, Jones has hit .318 with 48 home runs and 154 RBI. Only Willie Stargell and Mike Schmidt have bested him against the Mets in either of the last two categories, and those numbers, extrapolated over the course of a full season -- let's say 500 at bats -- would be good for a .318 average, roughly 30 home runs and roughly 95 RBI, all-star numbers at his or any position in any era.
In that 1999 season, he was particularly impressive, putting together a resume that made him a no-brainer as the National League MVP with an astonishing line of .319, 45 home runs, 41 doubles, 126 walks, 110 RBI, 116 runs scored and 25 stolen bases. He is the only person to top all of those numbers in so many statistical categories in one season. True to his form as the Mets' No. 1 enemy, he hit .400 with a .510 on-base percentage, a 1.000 slugging percentage, and seven home runs against them. In the first of those two key September series he hit four home runs and drove in seven RBI to lead the Braves to a sweep.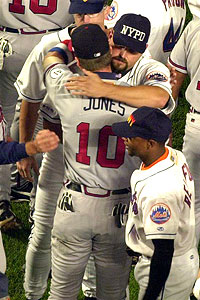 He was in no uncertain terms, the Mets' prime enemy, foil and achilles' heel. And considering that
he named his son Shea
because of his success in New York's home ball park, he knew it. But what is remarkable about Jones is not just how thoroughly he dominated the Mets throughout an otherwise stellar career -- even last season he was an All-Star -- but how he came to understand the psyche of the team he dominated and its fans. With the 10-year anniversary of 9/11 last season, Jones
reflected on how important and meaningful it was for him
to be a part of the healing process for New York ten years earlier, even if it was from the other side.
Jones will play his final game in front of Mets fans on Sept. 9, and I tentatively have plans to be there for what should be, if nothing else, an interesting reaction. My guess is he'll get a warm ovation the last time he comes up to bat in the building, a last sign of, for all the differences and dislike Mets fans have had for him over the years, the respect that was unavoidable for such a competitor.
After all, everyone needs a bad guy when they learn to love baseball. For me and many others, Chipper Jones was just that, but in the end of the day, all of us have come to realize that even if he was the bad guy, he took on the role with impressive aplomb. And more than anything else, Larry did it the right way.