It had always been one of my hopes as a Mets fan that when the law of large numbers and probability finally got together and decided that it was time for the Amazins to toss a no-hitter, I would be in the stands by some mystical bit of luck. Unfortunately, it was not meant to be, but given that I will soon be out of the country for three weeks, I'm just glad Johan's no-no came around when I was in the country and
able to sprint around the East Village
until I found a sports bar that had it on. Last night was the first time I had gone to Citi Field since that game and I suppose it was some small consolation that Santana was honored during the pregame last night -- though I was in line at Blue Smoke at the time -- but then I saw something that
just might have been better
.
Robert Allen Dickey.
Few things are more exciting than a no-hitter and R.A. Dickey was unable to toss one, but my goodness did he come close. When he surrendered a clean single in the fifth inning there was an audible moan of disappointment from the crowd because everyone in the building knew he was fooling hitters well enough that a no-no wasn't out of the question Monday night and sure enough the stat line would prove us right when Dickey didn't give up another hit for the rest of the game -- for the second start in a row. When all was said and done last night Dickey got his MLB-best 11th win of the season off of nine shutout innings in which he surrendered one hit and two walks, struck out a career high 13 batters and even went 1 for 3 at the plate himself.
While part of me is disappointed at how close I came to seeing a no-hitter, it was still the first one-hitter I had ever seen in person and, without a doubt, the most dominant pitching performance I've ever seen in person, remarkable considering Santana had just grabbed that title at the last game I saw on May 26th. But Dickey's performance was as dominant as anything I've ever seen, and amazingly, it hasn't been particularly out of the ordinary lately. The last time Dickey surrendered an earned run was on May 22. Over his last five starts since then Dickey has
surrendered a mere 16 hits
, set a franchise record for consecutive innings without a run, consecutive innings
without giving up a hit
and become the first pitcher in history to go five consecutive starts without allowing an earned run
and striking out at least eight batters
.
In fact, over his last seven starts, as someone like me who lucked out by picking Dickey up off the waiver wire in his fantasy league months ago might tell you, his strikeout totals have been 8, 11, 10, 9, 8, 12 and his 13 last night. The walks he's given up in that stretch? Six. Total. In 54.2 innings. Dickey hasn't even lost a decision since April 18, winning his last night, and his ERA has dropped from 5.71 to a flat 2.00 even in the process. He's now
nipping at the heels of Doc Gooden's club record
of 49.0 innings pitched without giving up an earned run. Last night, Dickey capped -- or maybe simply continued -- his remarkable run by becoming the first pitcher since Dave Stieb in 1988 to toss consecutive one-hitters and the first NL pitcher to turn the trick
since Jim Tobin of the Boston Braves did it 68 years ago
.
Not impressive enough for you? Last night's 13-K, one-hit effort in which he saw just three hitters over the minimum (though I guess that's a downgrade from his previous start June 13th at Tampa Bay in which he only saw two over the minimum) gave Dickey back-to-back starts of complete-game one-hitters with at least 10 strikeouts. If that sounds unusual it's because
Dickey is the first pitcher in Major League Baseball's modern era to do it
. Ever.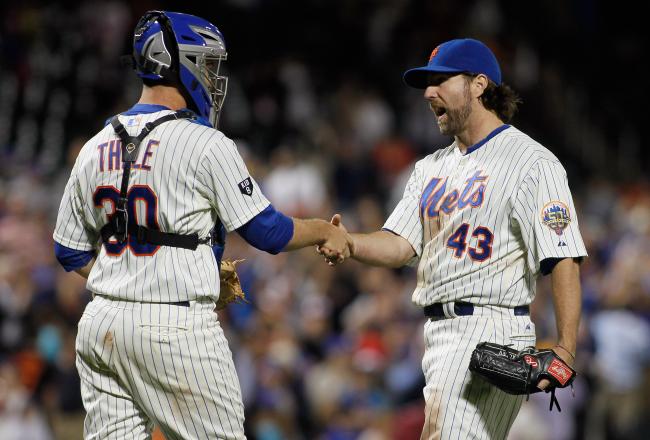 This is a run of complete dominance unlike anything I've seen before certainly from a Mets pitcher and perhaps ever. As the team's beat writers are noting, these performances are
simply defying logic
for anyone who regularly faces Major League hitting be they a perennial Cy Young contender or Dickey,
a career journeyman
who was nearly finished as a Major Leaguer just a few years ago. It's also prompting people to ask the question not of whether or not Dickey might start the All-Star Game for the National League in Kansas City next month -- that debate now appears academic -- but if this the most dominant stretch any Major League starter has had in baseball history. And
that argument is more realistic
than
one might think
. How else can you explain Santana finally throwing the first no-hitter in Mets history and somehow
not being the team's Pitcher of the Month
.
Seeing Dickey come out to the mound and mow down hitters like clockwork now seems even more unlikely considering how unpredictable the pitch that saved his career is. The threat of the
knuckleball
is that it's lack of spin causes the air to push it around in wild and -- above all -- unpredictable ways. The fact that it's unpredictable makes life hell on batters, but it doesn't make it particularly easy for the catcher, umpire or the pitcher either. It is a notoriously difficult pitch to control and few people can manage to do it consistently, often struggling to hit the strike zone with regularity. Somehow, some way, Dickey
seems to have learned how to control the knuckleball
, baffling hitters and varying speeds without managing to baffle himself.
Given his knack for controlling the knuckleball and the rubber-armed career-extending nature of the pitch, it doesn't seem unreasonable to assume that if Dickey has cracked the code of consistently throwing strikes with the knuckler, he could continue to pitch like this for a while and that makes his starts appointment viewing -- or maybe even appointment attending. In a month when Santana finally ended the drought of all droughts for the Mets with a no-hitter, Dickey's dominance has some fans thinking that after 8,019 games without seeing a no-no, it may just be 15 or 20 until we get to see another one.
After last night's close call, maybe this time I'll get to see it.