This has been a weekend of revelations and redemption for me and my baseball past. The shocking thing is that when I woke up Saturday, I had little thought that I would discover something so profound or amazing that it would shake the very foundation on which I base my fandom and my sports identity. No, I thought when this weekend began the only baseball moment that would occur of note for me -- particularly since very little of note is occurring with the Mets these days -- was that after 10 years of strenuous, angst-inducing, gut-twisting waiting, Jon Weg and I would finally get our hands on a stadium giveaway Mike Piazza bobblehead doll.
For those who know me, you know that sports-related tchotchkies and nick-nacks are often my stock-in-trade when it comes to being a collector. How else could you explain my irrational excitement this week when I came into possession of nine brand new very awesome and very ridiculous
NHL thematic garden gnomes
. The Mike Piazza bobblehead had always eluded me, however, mostly dating back to
April 28, 2002
, when Weg and I attended in hopes of acquiring our own bobbles only to find that because we were over 12 years of age, we were not eligible despite the fact that we would be infinitely more appreciative of it than a six-year-old. Despite our finer efforts to get one -- which included yelling at gate attendants and at one point hiding a stray bobble among our Krispy Kreme donuts -- we left empty handed and a thorn was left in our sides for a decade.
This Saturday however, redemption came. In honor of their 50th anniversary -- and because no one on the roster that hasn't gotten the bobblehead treatment is worth giving it to, unless you
really
love Kirk Nieuwenhuis -- the Mets instead did five bobblehead giveaways of team legends and fan favorites:
Tom Seaver
,
Rusty Staub
,
Keith Hernandez
,
Edgardo Alfonzo
and, most importantly,
Mike Piazza
. And this time around the rules had changed. There were no age limits, only numerical ones. The first 25,000 fans in attendance got their bobblehead, and since the Mets rarely get 25,000 people to the park these days, the end result -- and the ultimate redemption --
was a fait accompli
. Incidentally,
the Mets won 3-1
to snap a six-game losing streak against the absolute dregs of the NL, but given their record at this point of the season, all of that is fairly immaterial. Instead I was far more preoccupied with my long-sought and finally-acquired bobblehead doll which has taken
its rightful place among my collection
, but last night when I attended a
fairly surprising Yankees loss
with my father, the topic came up of how my father, a Yankees fan, raised a son a Mets fan because he made the foolish decision of making a Mets game the very first game I ever saw.
So what, though? The first game doesn't necessarily have to make the home team
your
team. After all, fandom is a devotion that develops after years of conditioning, but this one came with an extra bit of incentive. As the game had been near my birthday,
my father got my name put on the scoreboard
, a photograph was taken, and I woke up every morning to the sight of my name in Shea Stadium -- a sight I still wake up to today after taking the photograph to my current apartment. This is the only evidence I have of my first game, and for whatever reason I had long assumed this was a game against the Cincinnati Reds, mostly likely
June 17, 1991
. However, last night as we watched the Yankees fall apart in the 11th inning, my father dropped a bombshell in that he insisted the game was actually in 1990 when I would have been approaching my fifth birthday. That was the moment when it hit me.
I was completely wrong about when my first baseball game was.
For one fairly obvious note, the photograph was clearly taken in the afternoon, and a quick glance at a calendar from 1991 shows that
June 17 was a Monday
when they would almost certainly have been playing at night. The most glaring error that I somehow never noticed, however, was that looking at the opposition lineup, it clearly says "PHILS", meaning the Mets weren't even playing Cincinnati that day, but rather Philadelphia.
To say that this realization rocked my world would be an understatement. It's almost as jarring as the idea of offering a birthday Budweiser to a five-year-old, which the scoreboard also does.
Fortunately, however, the scoreboard provides every piece of pivotal information I could need to snoop out the game in question, including lineups, the score in the fifth inning when the photograph was taken and the out of town scores that day in both leagues. Matching up the details, albeit time consuming, isn't an impossible feat, and so this morning I set off onto
Baseball-Almanac.com
and
Baseball-Reference.com
to sift through schedules and box scores and discover a piece of myself I could not imagine feeling whole without.
In the summer of 1990,
the Mets had two series at home against Philadelphia
that seemed likely candidates, the first being a three game set played on June 22th, 23th and 24th, and the other being on August 7th, 8th and 9th. That first series seemed reasonable since
it was a Friday to Sunday series
with your classic getaway game, but the stretch in August was mid-week, meaning it almost certainly wasn't the winner. It was at this point that I had to rely on the following details, all of which were prevalent in the picture:
-- This was a day game at Shea Stadium between the Mets and the Phillies
-- In the fifth inning, the Phillies held a 5-3 lead
-- Unless their numbers had changed at some point, the Mets lineup included Howard Johnson, Dave Magadan, Howard Jeffries, Darryl Strawberry and Kevin McReynolds while Bobby Ojeda took the mound. The Phillies, meanwhile, had a center fielder wearing No. 4 leading off, which
if I know my tax evasion artists
, had to be Lenny Dykstra, who incidentally had been on
the cover of Sports Illustrated
just three weeks earlier.
-- According to the out of town scoreboard that day, the other matchups in the National League were Pittsburgh at Montreal, San Diego at Atlanta, St. Louis at Chicago, San Francisco at Houston and Los Angeles at Cincinnati
The most obvious way to narrow it down is the fact that the Phillies had a 5-3 lead at one point in the game, meaning that June 22nd's game,
a 5-1 Mets win
, and June 23rd's,
a 3-0 Mets win
were both out of the running. June 24th, however, was a different matter. As a Sunday it was almost certainly an afternoon game, although
ESPN's Sunday Night Baseball did start that season
. Still, only one MLB game would be held at night that day, meaning the odds were good, and as a glance at the stat line on June 24, 1990 shows, while it was a 6-5 Mets win,
the Phillies did have a 5-3 lead in the fifth inning
that day. What's more,
the lineups clearly match up
that day to what's on the scoreboard, right down to No. 47
Wally Whitehurst
pitching in relief of Ojeda at the time the photograph was taken.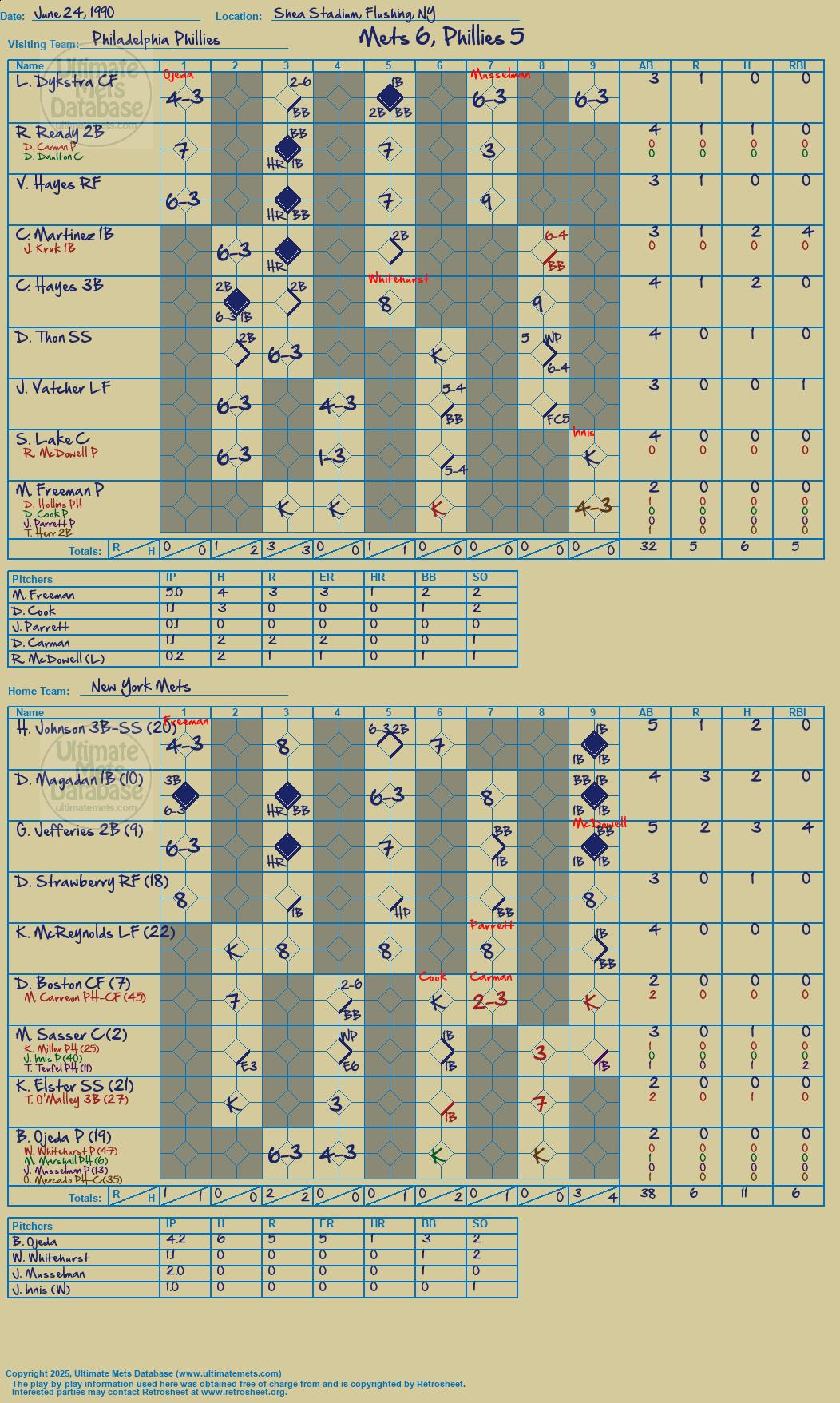 The last piece of the puzzle seemed to be the out of town scoreboard, and sure enough,
according to the Baseball Reference
, Pittsburgh played Montreal, San Diego played Atlanta, St. Louis played Chicago, San Francisco played Houston and Los Angeles played Cincinnati. That the impetus for determining all of this came from attending a Blue Jays-Yankees game with my father is particularly appropriate because, while we weren't at the Sky Dome, on the day I attended my first ever baseball game,
the Yankees were facing Toronto
.
Apparently, if I could have picked a day to make my first visit to a baseball game -- and this might be why I got pulled in with this sad sack of a franchise -- I picked a pretty exciting one. Granted, it's nothing like
seeing two perfect games before your second birthday
, but it was pretty good.
According to Met Wiki
, that day the Mets trailed 5-3 all the way into the ninth before a Gregg Jeffries single brought in HoJo to pull New York within one run, and a bases-loaded two-out single to center by Tim Teufel brought in the winning runs to cap a sweep of the Phillies. An exhilarating win, my name on the scoreboard
and
Mike Winters and Joe West in the umpire crew
? How could I not be pulled in and become a Mets fan for life that day?
Few can hope for an entry into baseball that exciting, even if they were convinced their entrance was on a completely different day for two decades. But misconceptions about the past are bygones now. After a morning of research and an incidental conversation, I've gotten to the root of my baseball past and figured out how, exactly, my Mets fandom (or masochism) was birthed into this world. When you wrap yourself up in this team as much as I do, this is a founding moment that helps you discover and understand just a little bit more about yourself. In the end, something that revelatory doesn't just sit in line with your Mets bobbleheads. Discovering where your fandom came from -- and the truth that comes with it -- can put a photograph like the one on my wall taken 22 years ago in a category all its own.
Now, at long last, I know where I come from.