During my sophomore year of college I lived next door to two men who represented very different cities. Of course, if you want to be really specific about it, Evan and Alan weren't from San Francisco and Detroit so much as they were from Piedmont, California (which has had
its own fun bit of news recently
) and Farmington Hills, Michigan, but there was no doubting the metropolitan areas and sports teams with which they identified. Their annual Madden franchise seasons would often end with their San Francisco 49ers and Detroit Lions facing off in the NFC title game and a simulated Super Bowl that no one felt the need to play. The real champion had already been decided after all.
Evan and Alan's run-ins with their sports teams have not happened often in real life though. Sure the Red Wings and Sharks have had their fair amount of postseason meetings, but that, as long as they've known each other, has been where the line has ended. Their teams rarely faced off, and have never done so with a championship on the line.
That trend ends tonight.
At the beginning of this year's baseball season,
I made the prediction of a San Francisco-Detroit World Series
, a bit of prognostication I got right for the first time since, well, probably ever, but even then I knew it could mean an unwanted bit of tension between the two former roomies. We time will yet be able to tell if the two manage to remain friends during what is likely to be a bitter, tightly-contested World Series, but in many ways it feels like a strangely appropriate time for these two franchises, which have a combined 30 pennants between them, to
meet in the Fall Classic for the very first time
. That is because when Game 1 starts tonight in San Francisco, we'll be seeing a matchup of two teams I very closely associate with two of my good friends from college, and this weekend just so happens to be my five-year reunion at Northwestern University.
Yes, ladies and gentlemen, it's true. I have been out of college for half a decade now and as I fight through my own pangs of depression due to the fact that I'm aging way quicker than I wanted to, I will be flying out to Chicago tomorrow night for a much-anticipated return to my educational stomping grounds. It has been two whole years since
I last went to the City of Broad Shoulders
and I've got a litany of things on the weekend docket.
The weekend will include many old friends,
Giordano's Pizza
, Saturday's
Northwestern-Iowa game
, the world famous
Chicken Shack of Evanston
, possibly
Buffalo Joe's
hot wings, many awkward booze-lubricated reunions with people I forgot existed and finally on Sunday my long-awaited first trip to the stands of Soldier Field as I watch the
Bears host the Panthers
Sunday afternoon. Now, I know I already have the Chicago Bears listed on the right side of this page as one of the teams I've seen in person, and indeed, I was present when
the Bears beat the utter stinking crap out of the Seattle Seahawks
in 2006, but on that night I was there not as a fan, but as a freelance employee of NBC Sports with the dutifully important responsibility of re-setting the offensive play clock after each down. On a side note, don't ever trust the play clock. In addition to getting yelled at by one particularly high-ranking NBC executive and nearly getting hit by Brian Urlacher when he drove into the parking lot, I spent the duration of the game in NBC's production truck, which meant I saw pretty much nothing going on in
the NFL's oldest stadium
.
So, really, while I've been at a live Bears game I was not watching it from the stands and as such, the need to return to Soldier Field is a necessary one. Some of you may find that ridiculous, but I'm pretty sure neither marking that discrepancy nor making a point to eat at as many artery-clogging establishments as I can this weekend are
the most ridiculous things to happen this week
. My total of 48 different sports teams has always been, in some way, not entirely truthful or whole to me, but that will be rectified this weekend. The Bears will be an official, complete part of this list and I will officially be back in Evanston and Chicago for a solid 72 hours.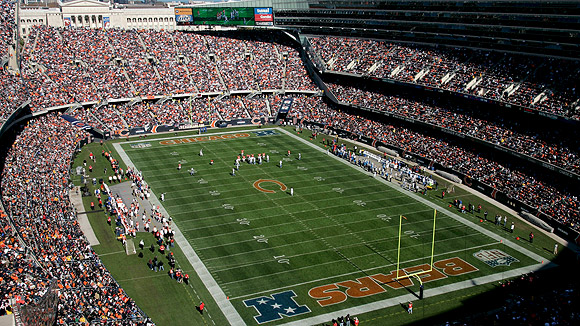 All in all, it should be a fun weekend of reminiscing and trying to forget that this year's group of Freshmen comprise Northwestern's Class of 2016 even if only one of the two people who will be most on my mind during this World Series will be in Chicago this weekend.
Oh right, the World Series. I guess that brings us back to the beginning. Evan has already harped on me to come up quickly with my prediction for the series. Of course, I picked Detroit to win the Series in my original blog post at the beginning of this season, and frankly, it's hard to argue that the reasons I chose aren't still valid. Jason Verlander, arguably the best pitcher in the game right now, leads a solid staff for the Tigers and their offense, with Prince Fielder and a triple crown winner wedged right in the middle is kind of hard to ignore. One would seem to think the Tigers have the Giants outmatched on both fronts.
But there is something about this San Francisco team. Not only is the Giants' pitching comparable to the Tigers' staff, but the offense has managed to strike when needed throughout the playoffs. Add to that the fact that San Francisco has faced elimination an absurd
six times
in this postseason and somehow is still here, and it seems like something special is happening by the Bay. Then, of course, there's momentum. Detroit may be rested and it will have the opportunity to set up its rotation how it wishes, but the Tigers will have gone nearly a week without playing when Barry Zito throws the first pitch tonight. The Giants will have gone less than 48 hours, and will do so hot off rallying from 3-1 down in the NLCS to win their 19th pennant. The last time the Tigers reached the Fall Classic they had an enormous break before the series started while their opponent was coming off an emotional seven-game series with little rest, and it was Detroit that appeared rusty throughout
a five-game defeat
.
To me that looms large, and despite that everything in my head, not to mention my season preview, says Detroit, my gut says San Francisco. In six.
Of course, what I think is pretty much meaningless, but it's probably for the best that Alan and Evan are in separate time zones in 2012 rather than back in room no. 2012 in
Allison Hall
. I may try to sneak my way into the old dorm this weekend to see where they lived and where my college experience all started just down the hall, but I can't yet decide whether or not this will really make me feel old or if it will instead make me feel like I did when I first moved in on Sept. 18, 2003.
After all, just like then, as far as my life is concerned, it still feels like it's only the beginning.
Last week: 5-8-1
Season: 50-51-4
MINNESOTA (-7) over Tampa Bay
CHICAGO (-9) over Carolina
San Diego (-1) over CLEVELAND
SEATTLE (+1) over Detroit
GREEN BAY (-13) over Jacksonville
TENNESSEE (-4) over Indianapolis
New England (-7) over ST. LOUIS
NY JETS (-1) over Miami
Atlanta (+1) over PHILADELPHIA
PITTSBURGH (-5) over Washington
KANSAS CITY (-1) over Oakland
NY GIANTS (-1) over Dallas
New Orleans (+6) over DENVER
San Francisco (-7) over ARIZONA