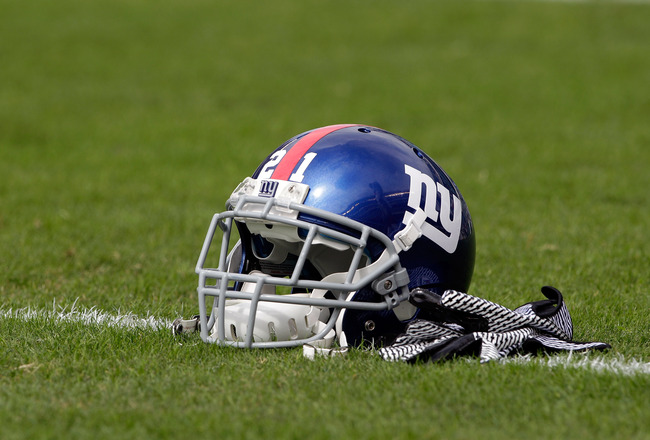 Ok, before we get into the ins and outs of all of this, let's get one thing straight. In all likelihood, the New York Giants will not be making the playoffs this season. Considering this team was in first place as recently as three weeks ago, started the season 6-2, has absolutely beaten the tar out of San Francisco and Green Bay, put up 52 points on New Orleans earlier this month and
won some big game this past February
, this is all kind of a surprise for me. In fact, in the history of my teams blowing big division leads and surefire playoff berths,
which is
,
uh
,
prodigious
, this has quietly become one of the more unexpected ones. After
dominating the Niners
earlier this season and overcoming a mid-season swoon to
completely rock the Packers
last month, most, myself included, seemed to think the Giants were set to coast to another division title.
Apparently, so did the Giants. And they played like it.
New York has taken a total nosedive in losing five of its last seven games and as a result, what once seemed assured is now astonishingly unlikely. Lucky me, I got to be on hand
for two
of
those brutal debacles
. Perhaps the most stunning thing about this whole debacle is not that the Giants are being usurped by a talented-underachieving Dallas team or a Philadelphia outfit that generally is long on expectations if not short on results. It's that the Redskins, heretofore weak link of the NFC East that appeared firmly in a rebuilding year when 2012 started with not one, but two rookie quarterbacks running the offense, are the team poised to take the division title after an unexpected six-game winning streak.
Tomorrow afternoon and night as the NFL sorts out the final spot in the NFC playoffs, a series of tiebreakers and one particularly unlikely upset are going to be required if the Giants are going to somehow land a place in the postseason field. For one, the Giants need to actually win their 1 o'clock game against the Philadelphia Eagles. That in and of itself could be a stiffer challenge than one might think
given how mediocre the Giants have been
the last two months and Philadelphia, regardless of how miserable its season has been, will salivate at the opportunity to close the door on New York's unsuccessful title defense.
But if only it was so easy for the Giants to win and be in. All their opportunities to control their own destiny went out the window in Baltimore last weekend, and now to get a Wild Card berth -- the division is officially out of the question -- New York will also need Chicago to lose to Detroit at 1, Green Bay to defeat Minnesota in the late afternoon and Washington to oust the Cowboys by clinching its first division title since last century (seriously,
look it up
) in the final game of the 2012 NFL regular season Sunday night.