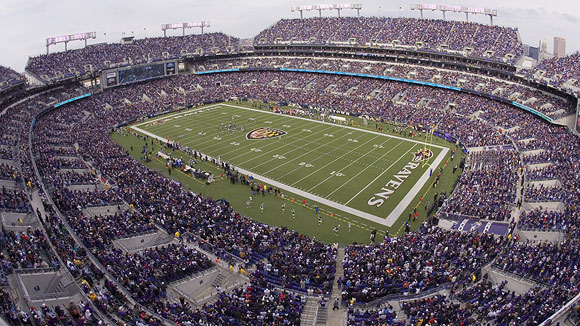 After last week's
totally superb performance
against the Atlanta Falcons, the Giants are somehow still in position to make the playoffs if they simply run the table. Given some of the flops they've had this year I'm probably about as shocked as you are that that's still the case, but I'm not complaining either. This week the epic journey that is the 2012 New York Giants season takes them to Baltimore and, lucky me, after four years of anticipation and not nearly enough planning that was warranted by said anticipation, I will be in the stands tomorrow afternoon.
Assuming I get tickets. That's a complicated ordeal in itself, but we won't get into that.
The Baltimore Ravens will be the 50th different team I'll have seen in person at their home stadium, and while I still hold a grudge against them for
some game almost 12 years ago
, I'm still excited, if for no other reason than that this is a rematch of
the first NFL game I ever attended
back in 1997. I do, of course, hope the outcome is different this time.
Unfortunately, though, as I am on the road and bogarting my friend Lindsay's computer, I'm going to have to make this a quick update, ostensibly to let you all know that I'm going to be at
M&T Bank Stadium
tomorrow and so I can post my NFL picks for the weekend which, I'm sure, you've all been waiting on. At some point next week I will try to pull together a more comprehensive recap of what has happened at the game or why I've had such a doozy of a time getting tickets. I just hope that the recap ends the way I want it to.
And that I end up getting tickets. That part's pretty key.
Last Week: 6-10-0
Season: 107-111-7
Atlanta (-4) over DETROIT
New Orleans (+1) over DALLAS
GREEN BAY (-13) over Tennessee
Indianapolis (-7) over KANSAS CITY
Buffalo (+5) over MIAMI
San Diego (+1) over NY JETS
PHILADELPHIA (+7) over Washington
PITTSBURGH (-3) over Cincinnati
TAMPA BAY (-3) over St. Louis
CAROLINA (-10) over Oakland
New England (-15) over JACKSONVILLE
HOUSTON (-9) over Minnesota
DENVER (-13) over Cleveland
ARIZONA (+6) over Chicago
NY Giants (-1) over BALTIMORE
San Francisco (-1) over SEATTLE