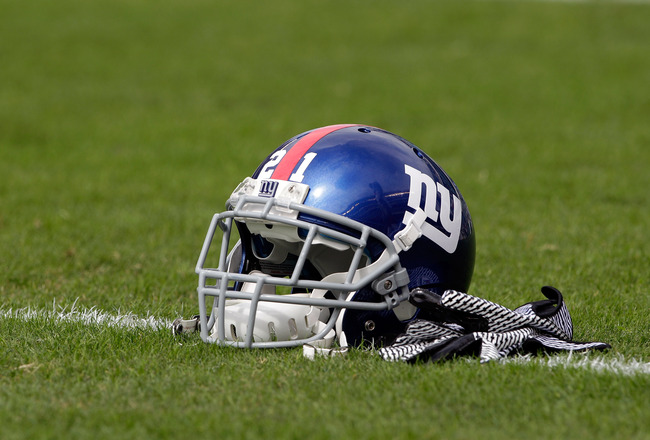 Ok, before we get into the ins and outs of all of this, let's get one thing straight. In all likelihood, the New York Giants will not be making the playoffs this season. Considering this team was in first place as recently as three weeks ago, started the season 6-2, has absolutely beaten the tar out of San Francisco and Green Bay, put up 52 points on New Orleans earlier this month and
won some big game this past February
, this is all kind of a surprise for me. In fact, in the history of my teams blowing big division leads and surefire playoff berths,
which is
,
uh
,
prodigious
, this has quietly become one of the more unexpected ones. After
dominating the Niners
earlier this season and overcoming a mid-season swoon to
completely rock the Packers
last month, most, myself included, seemed to think the Giants were set to coast to another division title.
Apparently, so did the Giants. And they played like it.
New York has taken a total nosedive in losing five of its last seven games and as a result, what once seemed assured is now astonishingly unlikely. Lucky me, I got to be on hand
for two
of
those brutal debacles
. Perhaps the most stunning thing about this whole debacle is not that the Giants are being usurped by a talented-underachieving Dallas team or a Philadelphia outfit that generally is long on expectations if not short on results. It's that the Redskins, heretofore weak link of the NFC East that appeared firmly in a rebuilding year when 2012 started with not one, but two rookie quarterbacks running the offense, are the team poised to take the division title after an unexpected six-game winning streak.
Tomorrow afternoon and night as the NFL sorts out the final spot in the NFC playoffs, a series of tiebreakers and one particularly unlikely upset are going to be required if the Giants are going to somehow land a place in the postseason field. For one, the Giants need to actually win their 1 o'clock game against the Philadelphia Eagles. That in and of itself could be a stiffer challenge than one might think
given how mediocre the Giants have been
the last two months and Philadelphia, regardless of how miserable its season has been, will salivate at the opportunity to close the door on New York's unsuccessful title defense.
But if only it was so easy for the Giants to win and be in. All their opportunities to control their own destiny went out the window in Baltimore last weekend, and now to get a Wild Card berth -- the division is officially out of the question -- New York will also need Chicago to lose to Detroit at 1, Green Bay to defeat Minnesota in the late afternoon and Washington to oust the Cowboys by clinching its first division title since last century (seriously,
look it up
) in the final game of the 2012 NFL regular season Sunday night.
I've managed to do a very good job of convincing myself that none of this will happen and that all the stars will align at the same time, which is a remarkable of
doublethink
on my part, but if we take a look at each game it becomes apparent which ones are and which ones aren't likely to go New York's way.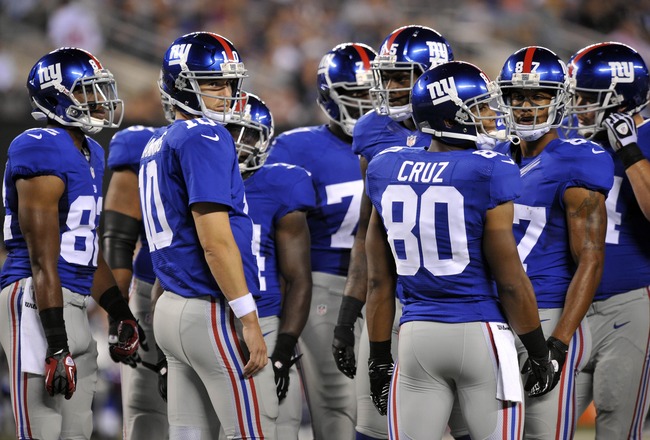 When Green Bay plays the Vikings, the Packers will still have incentive to play their starters as a win would net them a first-round bye. While that
didn't necessarily work out great for them
last year, no team is going to turn away from a potential free pass to the second round, so I suspect Green Bay will actually manage to keep the Vikings at bay. In the night cap, with the Skins playing the best football they've played in, well, a decade, I expect Washington to pull through and end the Cowboys' season.
The Bears on the other hand face a not-so-stiff test in the long-since-moribund Detroit Lions, a team that has been mediocre all season, has a mistake-prone quarterback and absolutely nothing to play for. Now the Lions shouldn't be completely discounted. Detroit coach Jim Schwartz isn't the type to let his team lay down, the offense is fairly potent and with
Calvin Johnson having an historic season
the Lions may want to let him run a little bit more before they close the book on the season. Add into that Chicago's potentially struggling running game if
Matt Forte is affected by his sprained ankle
, and Jay Cutler's periodic lapses in judgment and there's just enough here to make me uncomfortably convince myself that the Giants just might have a chance. The only awkward part about all of this is that if everything falls New York's way in the first three games that matter, I'll actually have to root for the Washington Redskins around 8:30 p.m. tomorrow night, something that, well, feels viscerally wrong.
Of course, knowing my luck, Chicago will actually get upset, the Giants will trounce the Eagles and look like a potentially frightening postseason opponent, Green Bay will handle Minnesota and with all the ducks in a row... the Cowboys will win by 35. That sounds about right.
Here's hoping I'm wrong.
Last week: 6-8-2
Season: 113-119-9
NY GIANTS (-7) over Philadelphia
Tampa Bay (+4) over ATLANTA
BUFFALO (-3) over NY Jets
Baltimore (+1) over CINCINNATI
DETROIT (+3) over Chicago
TENNESSEE (-4) over Jacksonville
Houston (-7) over INDIANAPOLIS
NEW ORLEANS (-5) over Carolina
PITTSBURGH (even) over Cleveland
DENVER (-16) over Kansas City
Green Bay (-3) over MINNESOTA
NEW ENGLAND (-11) over Miami
SAN DIEGO (-8) over Oakland
Arizona (+17) over SAN FRANCISCO
SEATTLE (-11) over St. Louis
WASHINGTON (-3) over Dallas