Bowl games are completely meaningless. For many they are a sign of college football's rich tradition and the greatness of scholar athletes competing simply for the love of the game in sport's purest sport. Those many people are all delusional. College football is a business and the athletes at most major Division-I programs are not for zest of sport nor being particularly challenged academically. The NCAA is a feeder league and a proving ground for the few fortunate ones that will some day play one down in the NFL or any one of a half dozen minor professional leagues. And the bowl game, that concept, is one riddled with farcical awe and manufactured history. The games do not sell out, for all but the national championship game they have virtually no purpose, school's often lose money when their teams earn berths due to an inability to sell their compulsorarily-bought ticket alottements and no one in the world remembers that Central Michigan beat up Middle Tennessee State in the
2006 Motor City Bowl
(since re-named the Little Caesar's Pizza Bowl). The bowl game is a heartless, monetarily-driven racket that uses the facade of rewarding student athletes to bring money into the pockets of sponsors, broadcasters and nonsensical bowl committees and for decades has shamelessly prevented an actual college football playoff that could legitimately determine a national champion by on-field performance rather than a homecoming prom vote.
But as a college football fan, one has to rationally accept these conditions and pretend not to be blinded by them, because all you can really hope for is to see your team do the best it can given the parameters of the system, and in those unlikely seasons when you play for a national title, that means winning a bowl game. I may know rationally in my head that bowls are pointless and that for many the winner of, say, the 2013 Taxslayer.com Gator Bowl will be long forgotten by both, but, as an alum for a program so-maligned as Northwestern, there is no getting around the fact that Northwestern did the best it could given the parameters of the system for the first time since
two years before my father was born
.
And goddamnit
it felt good
.
To understand the reasons a victory in a mid-level bowl game were so satisfying, it is really necessary to understand the psyche of being in a school that because of its focus on academics rather than athletics, is always derided when it comes to the games. Sure, Northwestern has had its moments of triumph in the sports we take pride in but no one else really notices, but college athletics really come down to two beasts: football and basketball, and when it came to either we were marked as the
losingest football program in NCAA history
(a mark we relinquished to Indiana this season), a team with the
longest bowl-losing streak in the country
at nine games, a team that
hadn't so much as won a single bowl game
since the
1949 Rose Bowl
, a team that had the
longest overall losing streak in college football history
and a basketball program that somehow has
never qualified for the NCAA Tournament
.
Sports, for the longest time, were not our strong suit. While Northwestern's academic reputation is as strong as any school in the country save for Harvard or Princeton, it is the intelligent student who knows that it is the student and not the institution that makes an education and that once you have let college, where you went to school, as far as academia is concerned, is largely unimportant except for the most desperate bluebloods leaning on laurels. And so if that's the case, what have you left? What can you use to prove yourself as a noteworthy, relevant institution?
The field. And for more than half a century, we were not competing on the same one as everyone else.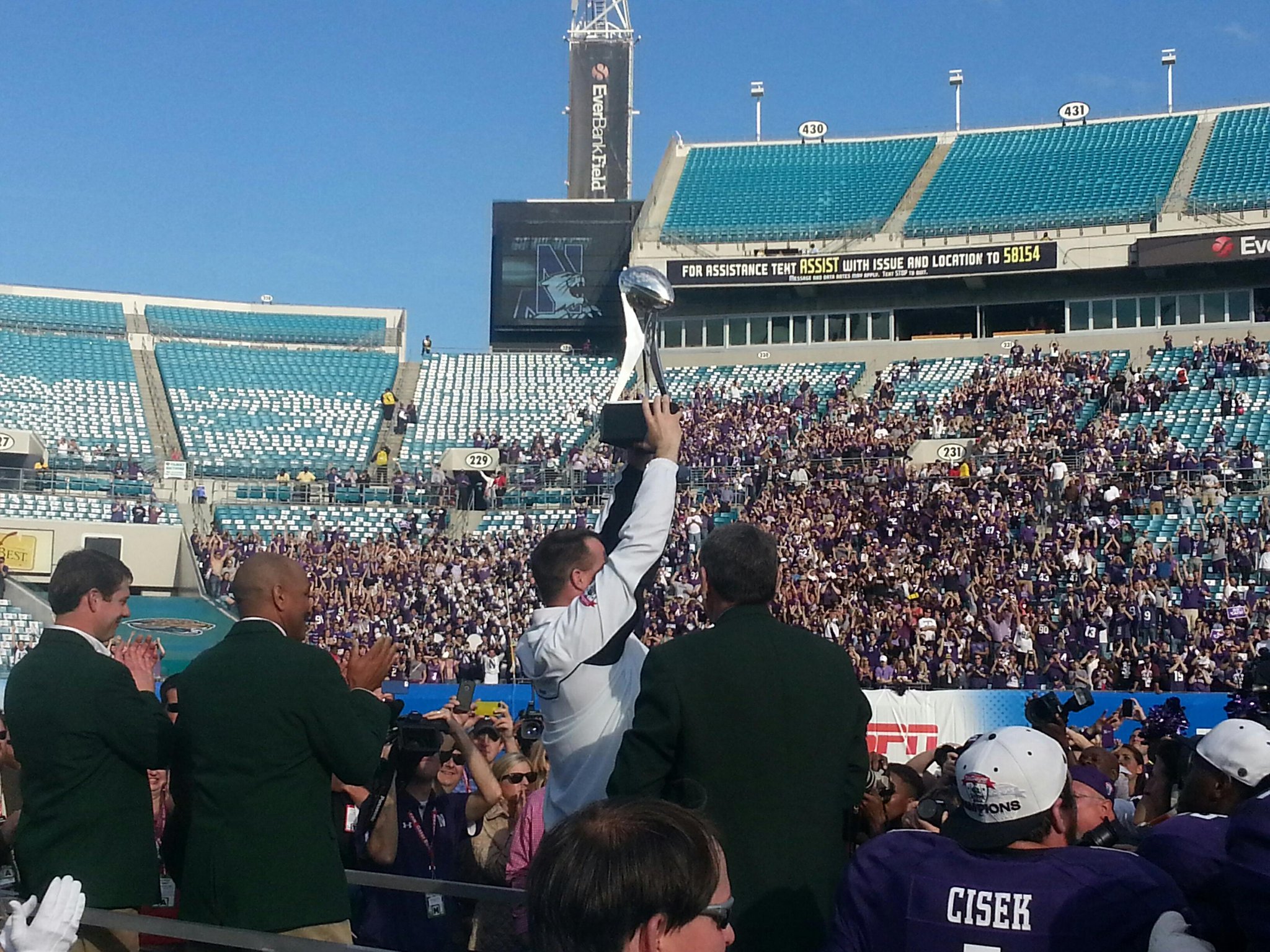 What's more is that a series of heartbreaks over the years have left us all paranoid that no win is safe no matter how much time is left. Earlier this season I was watching Northwestern hold a lead over Michigan with 18 seconds left when a friend ordered a round of victory shots in celebration, against my protests. Moments later the Wildcats were dealt
one of the most difficult losses
I've ever seen the team endure. These are the moments we have come to expect, particularly after a
series
of
brutal
bowl
losses
in recent years. It's why we never feel comfortable in the final minutes and why
an exchange like this
is so common.
We win close games, but we don't win bowl games and we take heartbreak like it's daily medication. Legitimacy in the college football landscape is what we so desire, but it is not our lot in life, and so while I have opined before about how this season will always resonate as one in which
real greatness was possible and left unachieved
, but there is still some kind of significant satisfaction that came with Northwestern's first bowl win in 64 years Tuesday. The Wildcats for years had traveled around with a monkey on their back -- and
not just a figurative one
.
To finally win a bowl game has brought this program and its alums a kind of legitimacy it didn't have; it was a tragic history that left us the regular butt of jokes throughout the college football landscape. We were the nerds who couldn't play. This is not a Rose Bowl and it is not a national championship, but this is still a sign that we are here and that we belong and that with the continued consistent rise of the program, Northwestern's opponents will face
the same fate as the monkey
.
Of course, winning a bowl game against major conference competition is not just a momentous turning point for the program, but also a revealing sign of all the other indicators that Northwestern is a real contender in the Big Ten and in college football at large. This is a team that won 10 games this year. This is a team that a
better record against winning teams in the SEC
than most of the SEC. This is the only Big Ten team to
beat two SEC teams in a season in the BCS era
. This is a team that was three plays away from a perfect season this year as any well-known alum
is all too quick to point out
.
This is a team that after 64 years has arrived at long last. And if you wear purple on Saturdays, you couldn't be happier.
I won't lie and say this is the
most impressive thing a player for one of my teams has done
this week, although I suppose you could make an argument, but I'm used to walking into the office after this team plays its bowl game awaiting mockery amid
something truly embarrassing
, but this year, finally, there was nothing of the sort. This was a moment of pride and vindication unlike anything the program had experienced in the previous half century -- and not for nothing, but a nice lift after the
Giants' season disappointingly came to an end
. Tuesday was a day I never was entirely sure I'd see as a Northwestern fan -- neither was any other Northwestern fan. But it happened. And when it did, I know I wasn't entirely sure how to respond.
In the end, all I could do was smile. There was nothing else to do.
------------------------------------------------------------------------------------------------------------
I should also note that with the NFL playoffs that I no-longer have a horse in (aside from "Not Washington") beginning this week, I should probably update my overall mediocre picks record for the season and open myself up to more criticism with postseason predictions. Here we go:
Last week: 10-6-0
Season: 123-125-9
AFC Wild Card Playoffs
(6) Cincinnati (-5) over (3) HOUSTON
(4) BALTIMORE (-7) over (5) Indianapolis
NFC Wild Card Playoffs
(3) GREEN BAY (-8) over (6) Minnesota
(5) Seattle (-3) over (4) WASHINGTON
Enjoy the football, everyone.