Ladies and gentlemen, if you're like me -- and if you're lucky, you are -- you love playoff football. In fact, when the Giants
decided to go belly up for no real reason whatsoever
this December, part of me was mildly comforted because I was free to watch the NFL playoffs without anxiety or agita. I was simply going to get to sit back and watch some top-tier football for the sheer enjoyment of it. This is a phenomenon I first realized back in 2011 when the Devils, enduring their worst season in nearly two decades,
missed the playoffs for the first time since I was just hitting puberty
, and I realized that watching your team in the Stanley Cup Playoffs is more angst-inducing than fun. Who knew?
However, for me to enjoy this peculiar phenomenon, there is one odd quirk that has to come through for me. The games
actually have to be good
.
Last weekend, the NFL kind of came up short on this one. The Packers
romped over the Vikings
in a game that wasn't nearly as close as the score would indicate -- though it did feature some
hilarious Joe Webb pseudo passes
-- the Ravens
made relatively quick work of the Colts
while ESPN and CBS tried desperately to sell the angle of it being Ray Lewis' last game in Baltimore and then there was the Texans and Bengals. In the game that seemed the closest matchup of the week, Houston got past Cincinnati in a game that was somehow amazingly uninteresting to watch despite
being a one-score game in the final two minutes
. Perhaps it was the fact that neither team is particularly sexy, interesting or a traditionally beloved franchise on par with, say, Green Bay, Philadelphia or Pittsburgh, but good lord, how was this game so boring? I don't get it.
Yes, I acknowledge that the Seattle-Washington game which wrapped up the weekend was actually not half bad since
it did include a double-digit comeback
. After the first quarter, however, Washington looked about as lively as Stephen Hawking at a funeral and by the time the game was over the Seahawks had opened up a 10-point lead and people
were less interested in who was playing than who wasn't
.
So yeah, that was probably the worst opening weekend of playoff football in a long time, so if I'm going to convince myself that watching these games is worthwhile when the Giants aren't playing in any of them, the NFL is going to have to do better. Fortuantely for all of us, I think they're about to this weekend. Yes, as much as I don't really like some of the teams playing (Baltimore, New England) and don't really have an opinion one way or the other about the rest of them, there isn't one matchup this weekend that looks like a dud to me.
To wit: the Saturday 4:30 p.m. slot features Peyton Manning's surprisingly good Denver Broncos as he comes back to the playoffs against the Ravens in what might be Ray Lewis' last game ever, Saturday night features a game between San Francisco and Green Bay, two popular preseason Super Bowl picks that have
a bit of a playoff history
, Sunday afternoon we'll see the NFC's top seed (Atlanta) host a team that might actually have been the best one in football over the last month (Seattle), and then the Texans look to upset the team everyone loves to hate because they have
a coach that actually understands
the evolution of the game and stastical probability.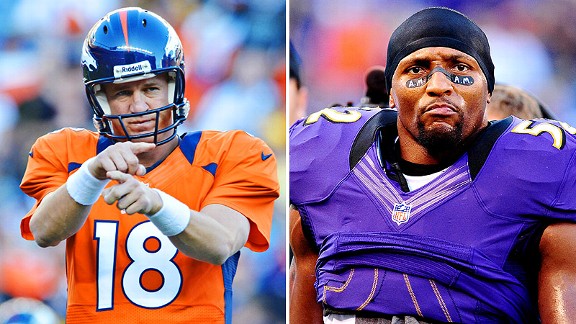 I'm almost giddy.
So basically, I expect this weekend's football to be wildly more entertaining than last weekend because there's really no other option. Last week was a dude. This week shouldn't be. It has star power, schematically intriguing matchups and pairings of teams that are iconic NFL franchises. What more could we want than that?
Well, I guess the Giants in the playoffs would be a start. But for now, I'll take what I can get.
AFC Divisional Playoffs
(4) Baltimore (+10) over (1) DENVER -- Broncos win, Ravens cover
(3) Houston (+10) over (2) NEW ENGLAND -- Pats win, Texans cover, I hope I'm wrong
NFC Divisional Playoffs
(2) SAN FRANCISCO (-3) over (3) Green Bay
(1) ATLANTA (-1) over (5) Seattle