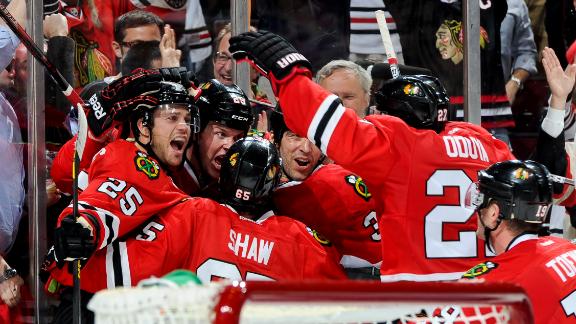 Ladies and gentlemen, at long last, we have reached that most exciting stretch of spring. No, I'm not talking about those magical nights when the New York Mets seemingly invent new
unbelievable ways to lose
to what are essentially minor league teams on
consecutive nights
, though that is typically around this time, too. I am talking about the Stanley Cup Playoffs, two magical months in which athleticism, drama and excitement all coalesce into a display that just about the safest bet to deliver in all of pro sports.
Sure, in the course of a 16-team postseason tournament, every game can't be a gem. But by and large most of them are, and the haphazard zaniness that annually ensues in the first round is unmatched by anything short of the NCAA Men's Basketball Tournament.
Need evidence?
Look no further than last night, when the Chicago Blackhawks and the St. Louis Blues opened the 2013 Stanley Cup Playoffs with
overtime-winners
that happened more or less
simultaneously
. There is almost nothing in any major sport that captures the same kind of edge-of-your-seat tension and punctuated explosion of energy that results from overtime playoff hockey. I am saying this not merely because it pays my bills, but because it is, as anyone who watches sports can tell you, absolutely true. Those moments have littered my own fandom over the years be they produced by journeymen like
Grant Marshall
, entrenched stars like
Jason Arnott
or potential stars of the future like
Adam Henrique
. One of the things that made last season's postseason run by the Devils so exciting -- or perhaps exasperating -- is just
how
many
times
their season had hung on the knife edge. I should note, of course, that my team is
far from the only one
to
experience this
.
While it is a shame the Anaheim Ducks
had to spoil the trend
on the postseason's first night and nip any chances for an overtime hat trick in the bud, if you're a hockey fan this was about as good a start to the playoffs as you could hope for. It was also a nice cap to what had been a surprisingly busy sports weekend for myself.
That all started on Saturday morning when I dragged myself to Rockefeller Center at 10:30 a.m. along with my friend
Mike
so we could catch the third day of the NFL Draft at Radio City Music Hall. Amazingly, in my sports-crossed life this is the first time I've ever actually bothered to go to the Draft, and while I can't say it was the most exhilarating four hours I've ever spent in a Giants jersey, it was certainly an experience worth having. Most of it was composed of sitting in a cushy seat and cracking jokes while waiting for teams to announce a pick every five minutes, which may seem mundane, but for the cost of zero dollars, it's hard to find as much fun as this was in New York City. Plus, attending the third day of the Draft, aside from providing you with opportunities to boo 22-year-old men because they
just got drafted by the Philadelphia Eagles
and talking about how smart certain picks are when you really have no idea at all how they'll turn out, let's you in on many quirky sights. For instance I saw several Chiefs fans wearing
Leon Sandcastle jerseys
, which amazingly made more sense to me than the fan I spotted with an Oakland Raiders Terrelle Pryor jersey on. I also got to see what it looks like to view
a billion Giants logos at once
, and I found out Mel Kiper Jr. and Todd McShay argue
even when they aren't on camera
. These are memories you just can't buy.
On Monday night, I finally completed one of my missions for the year, which was to witness a Brooklyn Nets home game at the Barclays Center finally. I had
already been to the arena once
since it opened to see a Jay-Z concert, but you really can't get the feel of a building until you've seen its main tenant play a game there, and even though I waited until what
might be the Nets' final home game of the season
. Still, it was plenty of fun to watch some playoff basketball for the first time, and in addition to getting a slice of reheated
Spumoni Gardens pizza
(this is
what the original looks like
), I got to see a fist fight break out in my section for the second time in as many visits to the arena.
A new jewel on Flatbush Avenue indeed.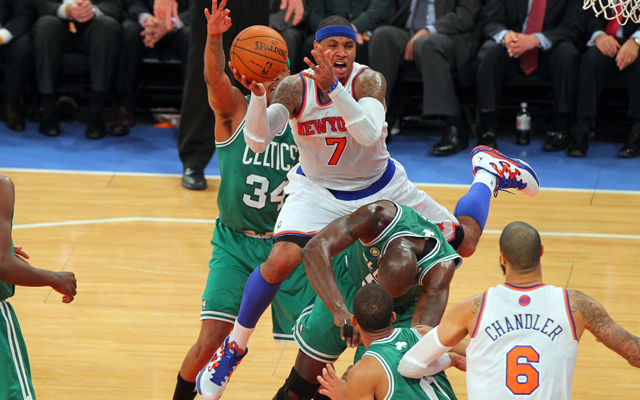 Attending a game in which I had no real emotional investment might have been a bizarre choice when the team
I actually care about
has a chance to win a playoff series tonight for the first time
since I was a freshman in high school
. But this past weekend was basically all an exercise in branching out intended to keep me entertained until last night. Granted, the NHL's postseason won't include the New Jersey Devils this year, which is tragic, but it also means I just might enjoy it. And if nothing else, I'm certainly going to watch most of it.
Speaking of which, in case you were wondering -- and I'm sure you all were -- I think it's high time that I put up my own picks for who is going to be partying with the Stanley Cup in June. I know I have the benefit of already seeing three games played before posting these and that will make some of you skeptical, but if you don't think I'm being honest, look no further than St. Louis and Los Angeles, where I'm picking the Kings despite them already trailing 1-0 in the series. I always post these predictions with the warning that I will almost certainly be wrong, but this year, well, I really don't think so.
Eastern Conference Quarterfinals
(1) Pittsburgh over (8) NY Islanders in five games
(7) Ottawa over (2) Montreal in six games
(3) Washington over (6) NY Rangers in six games
(4) Boston over (5) Toronto in seven games
Eastern Conference Semifinals
(1) Pittsburgh over (7) Ottawa in five games
(3) Washington over (4) Boston in seven games
Eastern Conference Finals
(1) Pittsburgh over (3) Washington in seven games
Western Conference Quarterfinals
(1) Chicago over (8) Minnesota in four games
(2) Anaheim over (7) Detroit in seven games
(3) Vancouver over (6) San Jose in six games
(5) Los Angeles over (4) St. Louis in seven games
Western Conference Semifinals
(1) Chicago over (5) Los Angeles in six games
(3) Vancouver over (2) Anaheim in six games
Western Conference Finals
(1) Chicago over (3) Vancouver in seven games
2013 Stanley Cup Final
(1) Chicago over (1) Pittsburgh in seven games
Yeah, I think the Blackhawks, the team which has been dominant all season long, isn't going to be stopped any time soon, though the Penguins will give them a run for it. This is one of those rare years when two teams are clearly above the rest of their competition, and while the odds of the Blackhawks facing the Penguins isn't good (the Stanley Cup Final hasn't featured both No. 1 seeds in 12 years), I just don't see it shaking out any other way.
Now, if you'll excuse me, I'm going to go sit down and watch.