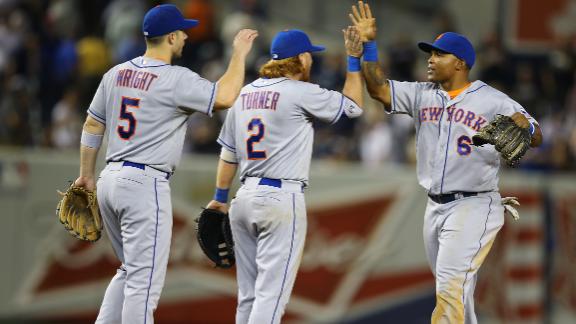 The Mets are not a good baseball team. I don't want anyone that knows me to think I'm under some sort of bizarre illusion regarding just how "competitive" an outfit they are. But there was one thing this team promised when the season started which it hadn't promised the fan base in years.
"
Hope.
"
New York's National League club is a far cry from a contender right now, and probably will remain that way until abou 2015 or so, but after the offseason acquisitions of Travis d'Arnaud and Noah Syndergaard, the buzz surrounded pitching prospect Zack Wheeler and the mildly impressive (and now unbelievably impressive start to Matt Harvey's career we Mets fans are starting to think maybe the light at the end of that tunnel is approaching sooner than we had initally feared.
But even though Harvey has been stellar this season --
and he really has
-- this was still a team with a ludicrously bad bullpen and a sluggish offense that didn't quite know when it was supposed to show up. We had hints the team was on the upswing, but we were without strong evidence. There was no obvious manifestation of the team's improvement.
And then this week,
we got it
.
Now I'm not naive enough to assume this will be the spark plug that completely turns the season around. It won't be. But there is still some vague joy and some unique satisfaction to be found in these ragtag inferior Mets pulling off a feat that
had never been achieved before
against the mighty Yanks. It's an event that could make even the most skeptical and sardonic of Mets fans
burst with just a little more glee than they're used to bursting with
, and even if the Yankees are widely expected to compete for a postseason berth this fall while the Mets are almost certainly going to be playing for 2014 starting, well, three months ago, this is still something extremely positive for the fan base to hang its hat on.
That said, there really is no sound explanation for how, exactly, this happened. After all, the Yankees are certainly not just a better team than the Mets this season, but a
much
better team. The Mets' outfield would have difficulty stacking up against most AAA outfields this season, and their bullpen would probably have even more trouble than that. This is a team that has journeyman
Marlon Byrd
and
LaTroy Hawkins
, who made his Major League debut when I was nine years old, playing significant roles. This is a team with a first baseman
hitting under .200
through May for the second straight season.
The Mets are not good, there is almost no part of their lineup in which the Yankees don't have a significant advantage, and with the possible exception of the game Tuesday night which pitted Harvey against Hiroki Kuroda, the Mets had no discernable advantage to be gained from any of the four pitching matchups. And even when that game appeared to be nearing its end with the legendary Mariano Rivera (who ludicrously
threw out the ceremonial first pitch
that night) on the mound, suddenly
this happened
. And then
this happened
.
There really is no sound explanation for why the Mets were able to do what they did. There are no answers to the unanswerable. Come October, most of this will probably seem like a distant memory and in all likelihood it will be brought up by Mets fans in future generations not because it was so great, but because it was so peculiar.
But this is a team that is expected to go nowhere quickly this season, and a sweep of the Subway Series is probably the most impressive achievement the 2013 Mets were capable of. If that's the case, well, watching them actually turn the trick is a pleasant surprise in a season that is supposed to have few surprises and few pleasantries. In the end that's basically what Mets fans can ask for out of this largely miserable campaign. That, in and of itself, is not a particularly good thing, but for the most rational among us, all we ask is that the 2013 Amazins give us reason to believe more will be possible in the coming years.
If nothing else, for four nights in May, the New York Mets have given us that.