There are a handful of movies that regularly make the rounds of premium channels like STARZ or HBO that, as a result, I've seen approximately a billion times and still refuse to change the channel once I see they're on.
Air Force One
,
The Rock
and
L.A. Confidential
all can lay claim to membership to this exclusive group, but one of the most recent -- and amazingly persistent -- entrants to this class is the 2011 baseball drama
Moneyball
, based on
the Michael Lewis book of the same name
and, well, basically the entire field of
sabermetrics
as we know it. It's about as well-made a sports movie as you'll find, one that is well written, well acted, tightly paced and doesn't dumb down the analytics for the viewer as much as you'd think a roundtable of Hollywood executives might like.
Also,
the ending
is one of the few things in movies that always manages to get me. And for the record, the version of the song sung by Billy Beane's daughter is way better than
the actual version
.
The book, too, is good, and in general way more successful than
Billy Beane
and the actual Oakland A's, though perhaps not considering what material each has been given to work with. But it's one of my dirty secrets that as someone who both loves baseball, loves the San Francisco Bay area and visits it frequently, and really enjoyed this book when I read it 10 years ago, I've never actually been to an Oakland A's game or, speaking of dirty, their delightful home stadium of "Whatever internet company will pay to sponsor this concrete mass" Coliseum (right now:
O.Co
). I say "dirty" because lately this park
has not exactly been among the cleanest or most structural sound in the Majors
, but to appreciate the good one must experience the bad, right? And as I sift around this country going to stadiums, well, that's certainly something I need to keep in mind.
So, I'm not entirely sure why I haven't gotten around to seeing the A's ply their trade at home yet considering I'm in San Francisco at least once every 18 months or so and know a ton of people there, but at long last that drought will be coming to an end this Thursday, when I see Travis Wood and Jarrod Parker duel in a July 4th matinee between the A's and the Chicago Cubs. No, I don't really know who those guys are either, and I'm a little disappointed I won't be witnessing the "Where are they now?" pitching matchup the night before between Matt Garza and Bartolo Colon (He's still pitching!), but it should still be an experience to cross another team off the list.
I had started to wonder when, exactly, I'd finally be making my way to the East Bay, and for years I thought this might be later this summer when I return to the Bay Area to see Northwestern open its season against Cal-Berkeley, but fortunately, my friend Evan (
You all remember Evan, right?
) is getting married this weekend, and he decided for his bachelor party that
we'd be booking one of these
, and that means this is one fantastic way to make another stop on my sports-centric journey. Besides, the wings, sliders and hot dogs are going to be way more satisfying than strippers in the end.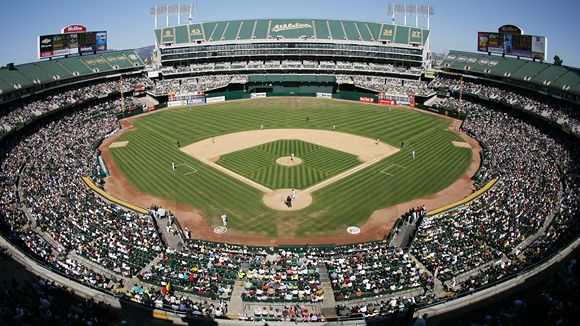 In pictures,
O.co Coliseum
looks like a remarkably mundane building considering it was built to placate the egos of
Al Davis
and
Charlie Finley
, who might have been two of the most insane men ever to own a professional sports franchise in North America. It's also the last building in the U.S. that is the full-time home of both an MLB and NFL team, which is not exactly something in its favor. But I'm still excited nonetheless, even if this
BART strike
isn't helping, because it'll be one step closer down the road and, I'm sure, a fun step to take.
Also, there's a wedding, and I'm a groomsman in it, so that's pretty cool. I guess the only person who might not be excited is Beane considering he still won't have won the last game of the season by the time I'm there.
But if there's anything completely unrelated to baseball that Billy Beane (or at least the movie version that has a close relationship with his daughter) might appreciate, it's what went down with the New Jersey Devils at this past weekend's draft. While much of the League was busy exploring the breathtaking natural wonder of downtown Newark, New Jersey general manager Lou Lamoriello made some moves, shocking the entire League by flipping the ninth overall pick in the draft
for Vancouver Canucks goalie Cory Schneider
.
Now, I know what you're thinking. First of all, "Don't the Devils already have the greatest goalie of all time in Martin Brodeur?" and second of all, "Why would Billy Beane give a shit about that?" These are both solid questions. To answer the first one, yes they do have Martin Brodeur, but he's also 41 years old, and while he has pulled off many remarkable feats in his career, reversing the aging process is not one of them. A major question for the franchise over the past several years has been what kind of succession plan the front office could cook up and up to this point the answer was "Buy lottery tickets." They finally have one in place now, and that's good news for everyone involved, including Brodeur who can now get a decreased workload and hopefully avoid injury.
To answer the second question, unless Beane is a hockey fan or a Devils fan, which is fairly unlikely considering he grew up in Florida, he doesn't give a shit. However, he does value his relationship with his child if the movie
Moneyball
is to be believed. And while Brodeur may or may not have seen
Moneyball
, he did get the opportunity of a lifetime late Sunday night when the Devils, who conveniently were also hosting the draft, traded for a seventh-round pick from the Los Angeles Kings and used it to select Brodeur's son Anthony, a goalie for high school hockey powerhouse Shattuck-St. Mary's, and they
even let Marty do the honors
.
I imagine Billy could appreciate that kind of connection, even if
Anthony looked confused and uninterested
while his father answered questions about the Schneider trade. That's a once in a lifetime opportunity, one that might even be better than winning the last game of the season. I suppose if I run into him in the stands on Thursday I'll ask.
See you in Oakland.