Last weekend after I posted here I noticed a bizarre scheduling quirk that, at least to my knowledge, has never actually happened before. There are two football teams (or rather, two
American
football teams) that I follow, and unless you have never ever
ever
read this blog before (and I can't imagine why you're just starting now if you haven't), you know they are the New York Giants and the Northwestern Wildcats. They are not similar teams in statue or achievement, though ironically the less accomplished one is generally the more consistent, but they both have my unconditional love nonetheless.
Fall weekends for me generally revolve around Saturdays watching Northwestern at the
New York alumni bar
, and then watching the Giants on Sunday in a panic room with padded walls. If you're a Giants fan, you know it's the only way.
This weekend the Giants had a much publicized matchup against the Denver Broncos in which the Giants were definite underdogs and the two teams playing were almost an after thought because it was Manning Bowl III.
I have been to one of these before
when the Giants visited Peyton's then Indianapolis Colts in 2010.
That game
was just about as satisfying to watch as
this one
which is to say, "not very." Curiously, each of those games was played the day after Yom Kippur, but
despite past influences
I'm fairly certain the NFL didn't consult the lunar calendar when planning either of these.
The Giants game was highly unpleasant to watch -- or at least the second half of it -- which really spoiled what I had told my friends was a "weekend Bronco hunt" because at some point Friday afternoon, I realized Northwestern's foe for the weekend, Western Michigan University, also goes by the nickname "Broncos".
How had this not occured to me? How often can this even happen? After all, there are no Buckeyes, Wolverines or Badgers in the NFL. No Gophers or Spartans either. The NCAA FBS is bereft of Steelers and Jets. Cowboys and Redskins are in short supply.This weekend NU does face the Maine Black Bears, which I suppose would lineup nicely if the Giants were playing Chicago this weekend instead of three weeks from now, but even then the match is a stretch at best.
This was it. This was the chance, and the Giants, on more than one occasion, dropped the ball. Of course, that all would have been moot anyway if the Wildcats had failed to do their part a day earlier. Fortunately, that wasn't the case as
the Cats beat up the Broncos
, 38-17. Even that, however, came with more agita than enjoyment. WMU lead for large stretches of the first quarter as Northwestern struggled to look like a cohesive football team against what was supposed to be vastly inferior competition. Hell, Northwestern didn't even manage to cover the spread, which, even for an irrationally blind Northwestern fan, was an astonishingly high 31.5 points at one point.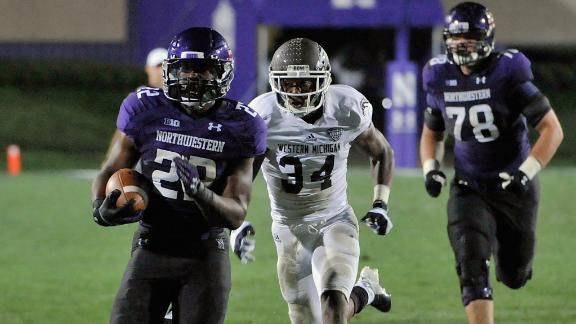 The failed Bronco hunt was so distressing to me that I actually forgot to post picks for this week's NFL games before
Andy Reid's homecoming to Philadelphia
Thursday night. Whoops. Look, if you don't believe that the rational actor in me would have taken the Chiefs based on football knowledge, believe my irrational disdain for the Eagles would have forced my hand. Failing that, I've got my Yahoo! pick'em League to prove it to any naysayers.
At the very least, if I can have a good week in pick'em it might at least blunt the pain of last week's Bronco hunt or the fact that Geelong
blew a 20-point lead in the fourth quarter
of the preliminary final yesterday morning. That is probably quite unlikely, but it would be nice if the Giants actually won a game for once.
Here's hoping.
Last week: 7-8-1
Season: 11-20-1
Kansas City (+3) over PHILADELPHIA
Green Bay (-2.5) over CINCINNATI
DALLAS (-4) over St. Louis
TENNESSEE (-3) over San Diego
MINNESOTA(-6) over Cleveland
NEW ENGLAND (-7) over Tampa Bay
NEW ORLEANS (-7.5) over Arizona
Detroit (+1.5) over WASHINGTON
NY Giants (+1) over CAROLINA
Houston (-2.5) over BALTIMORE
Atlanta (-2) over MIAMI
NY JETS (-2) over Buffalo
SAN FRANCISCO (-10.5) over Indianapolis
Jacksonville (+19) over SEATTLE
Chicago (-2.5) over PITTSBURGH
DENVER (-15) over Oakland