You'll have to excuse me if I make any mistakes in this entry here. I'm a little turned over-- err, hungover. Right, hungover. See, I got turned over six times this weekend. I mean, hung over. Hung over. Whoops. Man, I'm still dizzy. That'll happen when you've had too much to drink, which I assume is what the entirety of the Giants' offense did before their season opener at Dallas this past Sunday.
And why do I think that?
Because how else can you explain their stupendous
six
turnovers Sunday night, tied for their most in a game in the last 26 years, and
three turnovers on their first three possessions of the game.
Two of those turnovers were returned for touchdowns, including Brandon Carr's back-breaking 49-yard pick six to close out the game. Six turnovers is a lot for several games, let alone one, and it becomes particularly glaring when the final margin of victory for Dallas, which thieved the ball away a half dozen times and thus presumably would dominate the course of the game, was ..... five points.
Five.
That's just a crackerjack performance right there, ain't it? It isn't often that I think to myself, "They probably would have won if they only committed five turnovers," but life is all about new experiences, isn't it? And on Sunday night, the Giants gave me one of the more bizarre new ones I had ever had: watching a team almost win when every player that touched the ball had his hands coated in crisco during pregame warmups. That became apparent after a starting first five minutes in which Eli Manning threw an interception on his first play of the season, the Giants then fumbled the ball away after driving from their own 20 to the Dallas 7 yard line, and then the Cowboys intercepted another pass at midfield on the very next possession.
Perhaps more irksome, what was lost in all of this is that the Giants' much-beleagured 31st-ranked in 2012 defense actually played pretty well. After all, when Dallas managed to get three turnovers off New York in the first three drives it managed to turn that bounty of opportunity into... three points. And even that could be chocked up to the fact that Dallas' first possession started at the Giants' 15 yard line, already well within field goal range. In the course of the game, Tony Romo threw for 36 completions, but managed only 263 yards, relatively paltry for that kind of passing success rate. The Cowboys as a whole managed just 331 yards, a mediocre output considering the absurd amount of extra opportunities afforded them by six New York turnovers. Of Dallas' 36 points, 13 of them were scored by the defense. Of the remaining 23 points the Cowboys scored, 10 of them came off drives that began inside New York's 20 yard line. That leaves a grand total of 13 points Dallas scored on real, sustained offensive drives.
As for the Giants' offense, aside from the greased watermelon they chose to play from time to time, they weren't half bad either. Manning finished with 450 yards on 27 completions and four touchdown passes. Victor Cruz, in addition to his gaudy three touchdown catches, finished with more than 100 yards receiving, as did Hakeem Nicks and Rueben Randle. The Giants had 21 first downs in the game to the Cowboys' 22, two of which came courtesy of New York penalties. All this despite being outpossessed by Dallas 37:10-22:50. The one glaring error from the offense, aside from the turnovers, is that on the New York's first drive of the game that didn't end on a turnover, the Giants only managed a field goal themselves after an interception gifted them a drive that began at the Dallas one yard line.
In addition to all this, Brandon Carr's pick-six dagger with just under two minutes left came when the Giants were driving and a mere 50 yards away from the winning score.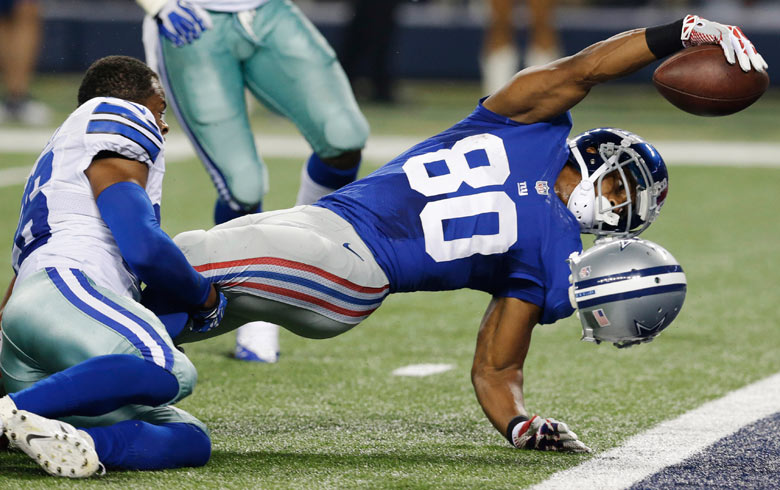 So, basically, what I'm trying to say is, either the Giants would be a great team if they could hold onto the ball or the Cowboys must be
terrible.
I don't really think the Cowboys are particularly good, but I don't think they're terrible either, which leaves me to the delusional conclusion that Big Blue might actually be in for a decent season -- assuming they somehow survive against Denver, which
looked ok
in its opener last Thursday.
The Giants' loss on Sunday night wasn't a particularly good bookend to what had been an eh, football weekend. After all, Geelong
was upset in its first-round postseason game against Fremantle
, leaving its season on the line in
an elimination final against Port Adelaide tomorrow morning
at 5:50 a.m. ET. At least
Northwestern walloped Syracuse
in the middle of it all so I had something to hang my hat on.
My the Giants can somehow change that this weekend against the Broncos. Or maybe, just maybe, they'll at least learn how to hold onto the ball.
Last week: 4-12-0 (Ok, that was a little ugly.)
Season: 4-12-0
NEW ENGLAND (off) over NY Jets
ATLANTA (-7) over St. Louis
BUFFALO (+3) over Carolina
CHICAGO (-6) over Minnesota
GREEN BAY (-7.5) over Washington
INDIANAPOLIS (-2.5) over Miami
Dallas (+3) over KANSAS CITY
San Diego (+7.5) over PHILADELPHIA
BALTIMORE (-6.5) over Cleveland
HOUSTON (-9) over Tennessee
Detroit (-1) over ARIZONA
New Orleans (-3.5) over TAMPA BAY
OAKLAND (-5.5) over Jacksonville
NY GIANTS (+4.5) over Denver
San Francisco (-3) over SEATTLE
CINCINNATI (-7) over Pittsburgh