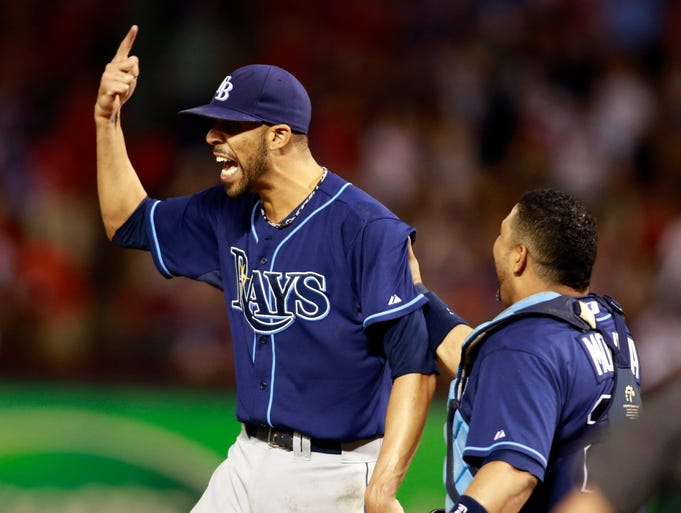 If you're a Mets fan like I am, it may shock you to know that Major League Baseball actually continues its season when the Mets stop playing each fall. In fact, there's a whole tournament of games in October that ends up actually determining whom we consider the champions of North American professional baseball, culminating in what is known as a "World Series." It's ok if you're unfamiliar. I was once unaware myself. It's probably a side effect of living in Queens. Now, however, I'm more than aware and actually excited to see what good baseball looks like. We got our first glance of it last night when David Price, who has both the world's best first name and wears the
world's greatest number
, pitched a seven-hit complete game gem to put Tampa Bay past Texas and into the final Wild Card slot of the 2013 MLB playoffs.
Of course, saying they've earned a playoff berth is kind of silly when last night's game was effectively a playoff already and tomorrow night's win-or-go-home date with Cleveland is basically the same thing, but who am I to tell baseball it can't use whatever taxonomy it thinks will help it sell more merchandise? Nobody, that's who.
What I
can
do, however, is tell you whom I think will be winning this whole shabang when its all said and done. I warn you that these predictions may be slightly biased by disliking other teams or the desire to see a fresh matchup (Who wouldn't find it kind of fun to have a Rays-Pirates World Series? You know, aside from FOX executives.) and I also warn you there is a good chance they will be wrong.
Yes, I know that sounds funny of me to say when my preseason prediction for who would play in the 2012 World Series was
completely spot on
even if I didn't pick the right winner, but I'm willing to admit I'm not perfect. And if you don't believe I'm not perfect, well, you can just take a look at my preseason predictions
for this season
and realize that folks in Toronto have already turned their attention to hockey season (which
starts tonight
, by the way).
Most of you haven't though, so to sate your nonexistent curiosity, here is my prediction for the 2013 MLB Playoffs subject to change as soon as I'm wrong.
Wild Card Playoff
(4) Pittsburgh over (5) Cincinnati
(5) Tampa Bay over (4) Cleveland
NLDS
(4) Pittsburgh over (1) St. Louis in 5
(3) Los Angeles over (2) Atlanta in 4
ALDS
(1) Boston over (5) Tampa Bay in 5
(3) Detroit over (2) Oakland in 4
NLCS
(3) Los Angeles over (4) Pittsburgh in 5
ALCS
(3) Detroit over (1) Boston in 7
2013 World Series
(3) Detroit over (3) Los Angeles in 6
There you have it! My official predictions, which guarantee a Cincinnati-Cleveland World Series -- The Battle for Ohio! Seriously though, folks, the Tigers have been damn good for a while with no championships to show for it and as the defending AL champs, well, they have at least some experience playing deep into October, don't they? I think it's finally going to show this fall, and if it doesn't, well, we'll just go back to football and forget this ever happened. Or hockey. Seriously, hockey is great, you guys.