See if you can all remember back to the heady days of early 2010. It was a wild time to be sure. Barack Obama was the first black President of the United States, we were about to see a franchise win the Super Bowl for the first time in its 40-plus year history, the Middle East and Persian Gulf were in turmoil and the Giants and Mets both missed the playoffs.
It was a different world.
It was around then that I started this here newfangled sportsing blog, which I've found to be a fun outlet though I sometimes wish I had spent the last four years perfecting other, more productive plans for my life as others have
passed me by with their astounding achievements
. Still, this experience has been a not-so-awful use of my time since I wrote
the first entry
in this space more than four years ago. However, if you've been reading this blog from the start -- and if you're a person with actual responsibilities I'd like to hope you haven't -- this was, initially, supposed to serve a very specific purpose.
That purpose was to catalog and track my progress as my set forth on the stupifying mission of seeing 122 different major league sports teams play in their home venues. So far I've done pretty well, seeing 27 new teams in the 49 months since I've started writing about it here, but I've also come to the realization that a sports-related trip once every three months doesn't exactly give you enough regular content to build and sustain a readership. And so, as a result, I've diverged, diversifying my portfolio and the various topics on here to include not just my travels, but the
analytical
, the
quirky
, the
sentimental
and the
just plain bizarre
.
Really, I have no explanation for my theory that Super Bowl XLVIII was a preamble to an impending corporate culture war between China and the NFL with the prize being total global domination. None.
But along the way, because I've been letting my brain fire off into so many different directions at once on here as if my cortex were stuck in
superposition
, I have more than once failed to actually note when I'm traveling for sporting events. If I'm not mistaken -- and since I make the rules here, I'm not -- that was kind of the whole point to begin with.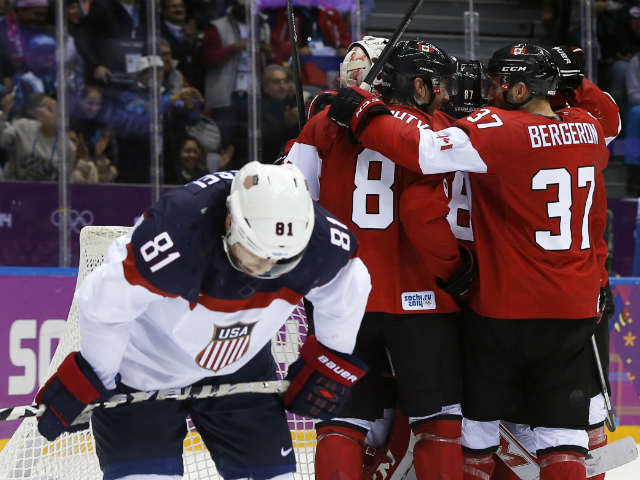 Well, it's time to get back on track. And that's why I'm telling you all about a trip I haven't actually mentioned up here yet. Last week, I discussed my
irrational fear that Canada would upend the United States
in the men's Olympic hockey tournament in Sochi, Russia for no real empirical reason. These fears ended up being
extremely well-founded
, but you know what they say about emotionally tough losses to your top rival on the sport's biggest stage with no shot at revenge for four years: The only way to get over them is to go to the scene of the
previous emotionally tough loss
to your top rival on the sport's biggest stage, particularly if it involves crossing international borders.
Sounds healthy, right?
That, right there, and definitely not because I'm being sent there to work at the
Heritage Classic
, is why I will be flying to Vancouver on Thursday morning for the next stop on my long quixotic journey. I will be up in Vancouver for roughly five days and during that span I will see not one, but two Vancouver Canucks games, allowing me to strike one more team off the list as I inch closer and closer to the halfway point of this crazy journey -- I should hit it sometime this fall.
I am very excited about this for multiple reasons. For one, Vancouver is supposed to be an amazing city and I've never been. For another, the atmosphere at Canucks games is supposedly quite wild. For one more, this will be the first time I've ever seen an NHL game in Canada, which should only increase the excitement, energy, novelty -- whatever word you want to use. I expect it to be a new kind of experience from watching my beloved Devils in Newark all the time.
The other exciting thing is that one of those games will be outside (or "
outside
" depending on who you ask) at BC Place, home of the CFL's BC Lions and sight of the opening ceremonies of the 2010 Winter Olympics. This will not be the first time I've seen a hockey game outside, or even the first time
in the last six weeks
, but it should still be a new kind of experience with its own quirks and intrigue. Also, it should be warmer there than it is here. All of these are good things.
It also might encourage me to get my head on straight and refocus this blog on its original task at hand -- keeping you all up to date on the super exciting details of when irritating stranger I sit next to on the plane or what peculiar architectural aspect of the venue only I will find interesting.
Actually, that's probably a lie. I'm not sure even I'll find it interesting.