I have watched a lot of sporting events in my life, which I'm pretty sure surprises none of you, and many of them can be easily recalled either for reasons of
extreme triumph
or
brutal heartbreak
. My love for the Giants, Mets, Devils, Knicks and Northwestern leave little to surprise as far as which sporting events stick out firmly in my cortex, but it might surprise some of you that of all the games I've watched in my life, one of the most painful and one that has stuck with me the most, just might be the men's ice hockey gold medal game from the
2010 Winter Olympics in Vancouver
.
Seem like an odd choice? Perhaps it is, but follow me here. I love hockey, and despite my tendencies to snark and complain about my government and those who follow the blindest levels of American jingoism, I love my country, too. So naturally, watching the U.S. men's hockey team win the highest honor of the sport on the international level is one thing I sorely want to see and which no one has seen in 34 years, but the more important aspect is that given the randomness of the short Olympic tournament and the fact that the tournament only happens once every four years. This means there are only so many chances to bring home the gold when major hockey nations like Russia, Finland, Sweden, the Czech Republic and, uh, those guys to the north are also gunning for gold.
Canada, for its part, is a perfectly lovely place if I remember it correctly. Of course, I haven't actually been there in nine years so that's hard for me to verify, though am going there next week (more on that next week), but they all seem pretty nice. Except for when they get in the way. Given what I do for a living, I deal with more than my fair share of Canadians, and I've heard more than one of them get all giggly when they talk about the gold medal they won when Sidney Crosby managed to slip the puck past Ryan Miller in overtime four years ago.
My memories
aren't so bright
.
And so, as the U.S. looks to finally recapture gold four years later, and has looked by far like the best damn team in Sochi so far, why am I so nervous to see those pesky Canadians
standing between America and a shot at gold
on Sunday?
Well, that's probably fairly obvious. After all, the
United States' roster
is stocked with fast skating, high-scoring NHL players, but
Canada's roster
has widely been lauded as the most talented in the tournament, and it's hard to disagree. The real concern is less the roster's talent than the fact that it hasn't really performed up to snuff so far.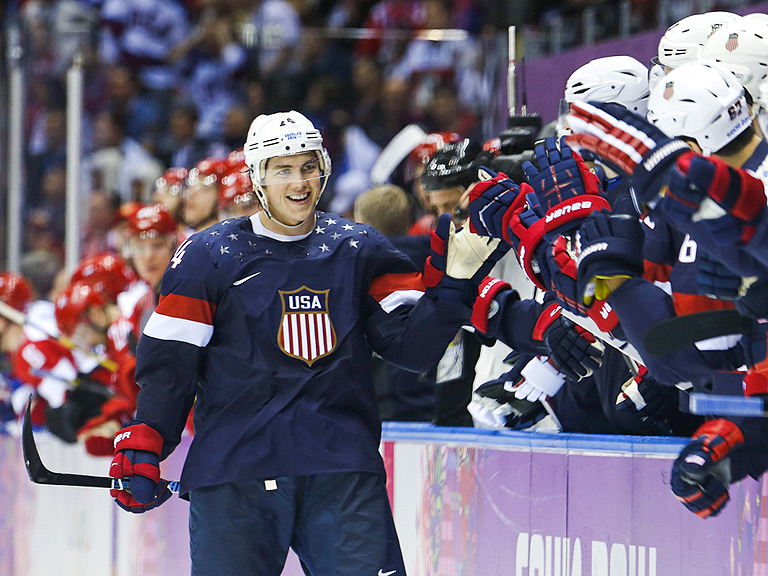 The United States has wowed in Sochi. Beyond the pulse-pounding shootout win against host Russia, the Americans have dominated in its other three games, defeating
Slovakia
,
Slovenia
and the
Czech Republic
by a combined score of 17-4. All intangibles aside, of the final four teams left -- the U.S., Canada, Finland and Sweden -- the U.S. should be the team to beat. The Canadians, on the other hand, have struggled to find their consistency. No, Canada hasn't ended up on the short side yet, but it hasn't exactly been a stellar run either. Canada boasts wins against Finland (in overtime), Autria and Norway with only a 6-0 victory against the far inferior Austrians an impressive one. In the quarterfinals on Wednesday, Canada narrowly edged the 11th-seeded Latvians when Shea Weber finally broke an ever increasingly-tense stalemate in the third period.
The Americans have the appearance of a team running on all cylinders while the Canadians look like a furiously pent up group of horses afraid to let loose its own reins.
What makes me anxious about all of this is that anyone who knows hockey would seem to think it's only a matter of time until those reins break. Canada has to snap out of this malaise at some point, right? They're too talented not to. That's the only thought that makes sense in my mind, and it's why I wanted so badly for Latvia to pull off the impossible yesterday. Despite all rational logic to the contrary considering how well the United States has played, I had no interest whatsoever in seeing the Canadians again before this tournament ended.
Were this a battle of two teams in which I had no emotion whatsoever invested, I probably would be thinking with my brain rather than my gut. But after so many run-ins, so many
promising moments
and so many disappointments, I have been scarred and want absolutely no part of facing Canada again. I simply cannot bring myself to fully believe I'll be smiling at 3 p.m. tomorrow if this is who the U.S. has to run through.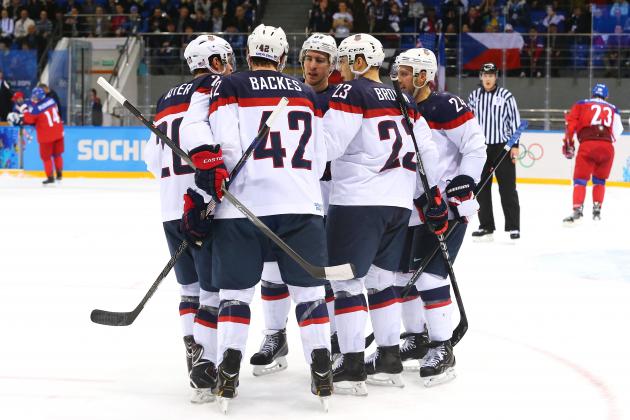 I
didn't think we'd pull it off four years ago
. I don't really think we'll pull it off now.
Of course, as in almost everything else, what I think doesn't really matter. The United States and Canada will play tomorrow and someone will win and someone will lose. Whoever wins will play two days later with a shot at the last Winter Olympics gold medal to be awarded until everyone reconvenes in Pyeongchang in 2018.
All I hope is that I'm wrong.