You guys, the Winter Olympics are officially underway in Sochi, Russia. As you all might remember from four years ago, I'm a big fan of the
Winter Games
, with particular affection for some obscure sports like
curling
and short track speed skating, though there is one sport, in particular, that gets my bull running when it comes to the quadrennial showdown. It
shouldn't be particularly surprising
which.
But the amazing thing as I get amped up to see Team USA maybe take a run at its third ever hockey gold medal is that the Olympics, like they always are, are going to be a political horse and pony show. Russia's Vladimir Putin is doing his best Stalin impression these days as he basically brings the old Soviet security artifice back to life. As much of the world comes to terms with
the games' controversial nature
, the allegations that
the games were bought
,
the cost overruns
, the international community's
tacit approval of Gazprom
by holding the games there without protest, the
human rights violations
in Russia, the
shoddy hotels that $51 billion buys
,
murdering stray dogs
, there is one thing I am noticing about the next 16 daays of competition.
These Winter Olympics are going to be
super gay
.
Seriously. Of all the various potential controversies you could pick to cloud the Sochi Games, none seems to be getting more media attention in the United States than
Russia's persecution of homosexuals
,
spearheaded by the cueball in charge himself
. As a result there is almost certain to be a torrent of protests far and wide, although
probably not from anyone actually near the Olympic Village
by design.
Companies
such as Google
have already started to launch their own clever protests, but the real intrigue will come as people who oppose Russia's homophobic laws reach the podium and have an unfettered moment to mug for the camera with little likelihood they'll be taken away for fear of causing an international incident. People waving rainbow flags or, perhaps,
kissing
while their flags are raised to the rafters could be a real possibility.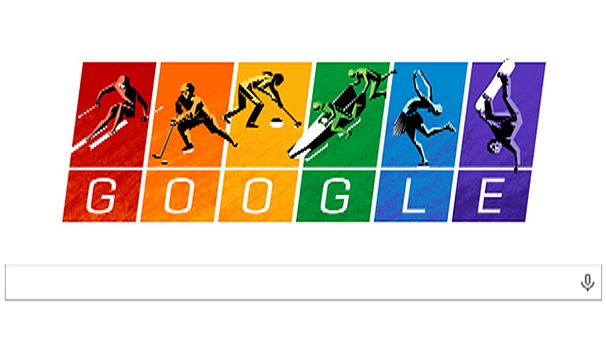 Foreign countries have already fired their first shots over the bow, with President Obama opting not to send a high-ranking official as part of the U.S. delegation, while also
stacking it with famous gay athletes
such as Brian Boitano. Germany meanwhilst issued uniforms for its athletes that honor the 1972 Munich Olympics, but just so happen to be
a broad spectrum of color
at the same time. Other national representatives are sure to have their own messages to send regarding Russia's human rights track record with some statements
coming from the Russian athletes themselves
.
Even the opening ceremonies may have counteracted the homophobic cause
as some have already noted
.
As a liberal American this all makes me pretty happy, and I count on it being a major source of entertainment, but the one thing we can all draw from what seems to be brewing on the coast of the Black Sea is that unlike in any other Olympic Games of years past, the Sochi Games will be
totally flamingly gay
.
Seriously.
Super gay.
It's gonna be fabulous.