Of all the cities in America for me to have something of a second home base or social network, Kansas City is far from the obvious choice. New York is, and almost certainly will always be, my home, but Chicago is the only other metropolitan area in the world in which I've lived. San Francisco is a place I know well and in which I know many people. Hell, even Los Angeles, a place for which I have less than zero fondness is a locale I can map out geographically and have several couches I could crash on if necessary.
I could not draw you a map of how Kansas City is laid out, nor could I explain to you its mass transit in any meaningful sense. But for some reason, as I keep thinking back to it, it is a place that feels like home whenever I'm there.
This all started because 11 years ago I worked at Fairview Lake YMCA with a girl named Susie (because what girl from Kansas City wouldn't be named Susie), who eventually led me on a friendly visit to her hometown that opened the door to an entire group of people in the City of Fountains, a nickname KC
has rightfully earned
. I've now been back to Kansas City three times, once to learn that
I will never be able to dunk on a regulation rim
, once to
experience Real America
in all its glory and once more to see Susie tie the knot. There is a whole handful of people in the city I could happily stay with the next time I'm in KCMO (and there will definitely be a next time because have you had the BBQ?), and each of those people is always welcome to stay with me, which many have done.
Also, need I note that Kansas City is the
birthplace of my beloved New Jersey Devils
?
Needless to say, my feelings for the Paris of the Plains are clear, and it's because of those connections that I've felt a twinge of wistful excitement watching the Kansas City Royals play playoff baseball for the first time
since I was three months old
. We could talk about championship droughts ad nauseum. Hell, the Detroit Tigers, Baltimore Orioles, Pittsburgh Pirates and Washington Nationals are all currently in the postseason this year and each is currently in the midst of a longer wait for a World Series title. But each of those teams has had stretches of competitiveness and near brushes with glory in between. The Tigers have won two pennants in the last decade, while the Orioles, Pirates and Nationals can all claim multiple division titles since the Royals last played meaningful games in October. Even the Chicago Cubs, they of the century-plus wait for a title have reached the NLCS in the past 15 years.
The Royals? They had that mystical 83-win season in 2003, when
Tony Pena
won Manager of the year and the legendary
Angel Berroa
received rookie honors. That campaign was Kansas City's first above-.500 season in ten years. Its next wouldn't come for ten more. Oh, and did we mention the Kansas City Chiefs haven't won a playoff game in 21 years?
But on Tuesday night, playoff baseball was back at The K, and say what you will about the tenuous nature of the institutionalized one-game Wild Card playoff, but those games can be fun to watch. And boy howdy, was it
fun to watch
. A clash of moneyball and small ball, a rally from a
four-run deficit
, three extra innings, a
stunning relief performance from Brandon Finnegan
, who four months ago was pitching in the College World Series, a
ninth-inning rally
, a
12th-inning rally
, a
walk-off hit
and
not one
,
not two
, but
four
lead changes?
This game was so dramatic and entertaining it almost makes you forget the NL Wild Card game between San Francisco and Pittsburgh was a complete dud. That the Royals ended up pulling out a thrilling victory is almost enough to make you forget manager Ned Yost
basically
did everything in his power
to
lose
the
game
. If that wasn't enough, we even got some fun
"Dewey defeats Truman" moments
out of the whole thing and hot damn, did those classy uniforms look good out there or what?
As a Mets fan, I know pain, but at least the Mets, for all their ineptitude, have made the postseason three times since I've been cognizant and reach the World Series once. For an entire generation-plus of Kansas Citians, watching their team play playoff baseball, experiencing the drama, the pain, the excitement, is all a complete fantasy.
Or at least it was.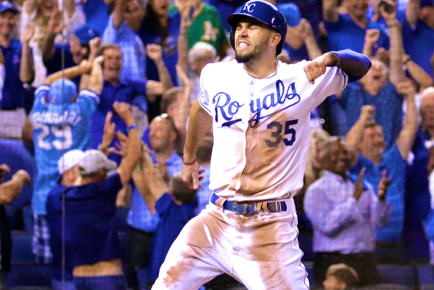 Tuesday night was a taste of what baseball can be, and the ride isn't over. When or if the Royals' postseason ends it will not impact me on nearly the same level as if the royal blue and white uniforms had some orange in them, but I am still going to cross my fingers for the folks in Kansas City I know that are getting to experience something new. For too long, watching the Royals was a pleasant summer night, a social event and the promise of little more. Now it's something different, and if the crowd on Tuesday night was any indication, the fans there have waited long enough for the catharsis.
The Royals are fun, they're exciting and aside from their asinine strategically-antiquated manager, they're pretty damn likable. I'm hoping we get to like them for at least a few more weeks this October.
It's far-fetched, but if they keep this up, maybe the next time I visit Kansas City, the barbecue won't be the only highlight.
Last week: 5-7-0
Season: 23-37-0
GREEN BAY (-8.5) over Minnesota
Houston (+6) over DALLAS
DETROIT (-7) over Buffalo
Cleveland (+2) over TENNESSEE
INDIANAPOLIS (-3.5) over Baltimore
NEW ORLEANS (-10) over Tampa Bay
NY GIANTS (-4) over Atlanta
PHILADELPHIA (-7) over St. Louis
Chicago (+2.5) over CAROLINA
Pittsburgh (-6) over JACKSONVILLE
DENVER (-7) over Arizona
SAN DIEGO (-6.5) over NY Jets
SAN FRANCISCO (-6) over Kansas City
Cincinnati (-1) over NEW ENGLAND
Seattle (-7) over WASHINGTON