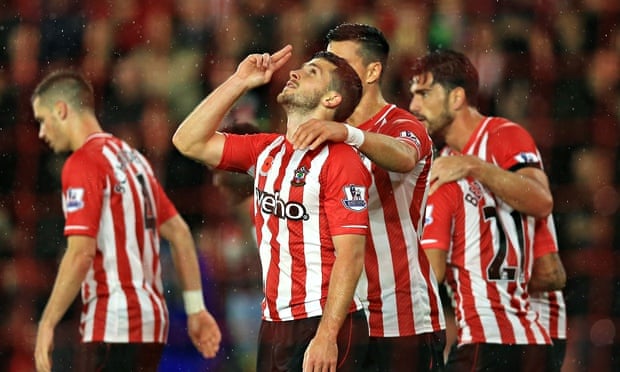 Hey, let's not waste time talking about who did what and who hit whom and who hit that and who slept with whom and who extorted what.
Things happen, ok?
In this case, the thing that happened was I was too busy to come up with anything particularly clever to write about this week, and while seeing all of the terrible America-themed Veterans Day unis that are sprouting up across the college football universe today (
like Purdue's
) are giving me fodder, it's probably best that I just call it quits and show you my NFL picks for these week even though one of those games was already played.
Whatever. I picked it wrong anyway. Shit happens. I think you'll all find a way to survive, and if you're having trouble thinking of the positives with me not writing anything interesting this week, just think about how Southampton is still No. 2 in the BPL table after Shane Long's
two-goal second half against Leicester City
this morning.
See? That fixed the problem. Ok, on with the incorrect weekly picks.
Last week: 6-7-0
Season: 61-72-0
CINCINNATI (-6) over Cleveland
BUFFALO (+2) over Kansas City
DETROIT (-2.5) over Miami
NEW ORLEANS (-5) over San Francisco
Pittsburgh (-5) over NY JETS
TAMPA BAY (+2.5) over Atlanta
Dallas (off) over JACKSONVILLE
BALTIMORE (-9.5) over Tennessee
Denver (-11.5) over OAKLAND
ARIZONA (-7) over St. Louis
NY Giants (+9) over SEATTLE
GREEN BAY (-7) over Chicago
PHILADELPHIA (-6.5) over Carolina