 For the first time in franchise history, the New York Mets have won their first seven games at home. They've also won eight games in a row for the first time in five years and have a 10-3 start that has only been accomplished two other times in franchise history, with each of those seasons (1986, 2006) resulting in at least a division title and in the first case, a World Series championship. Matt Harvey is 3-0, Bartolo Colon is 3-0, Jacob deGrom is 2-1 and the staff's ERA is 3.00 even.
Oh, and the Mets have the best record in the National League.
So look, guys. I know it's early, but even though I expected the Mets to be improved this season, I wasn't quite expecting improvement like this. It's a long season with 149 games remaining and a plummet back to Earth may well be in the offing, but at the moment New York looks like a bonafide postseason contender and, at the moment anyway, in control of the NL East. There's just
one small problem
...
So even as the Mets begin the season tearing up the National League, there's a stockpile of absences that's starting to build up, and despite
my greater hopes that it's just a required bit of adversity
for a truly special season, at some point the chickens are going to come home to roost. To wit, since the start of spring training, the following issues have befallen the Mets' anticipated every-day roster:
1. Anticipated No. 2 starter Zack Wheeler
needs Tommy John surgery
2. Lefty reliever Josh Edgin
also needs Tommy John surgery
3. Closer Jenrry Mejia
is suspended 80 games and any potential postseason games
for taking steroids
4. All-Star third baseman and team captain David Wright
suffers a hamstring injury
5. Reliever Vic Black
has to get an MRI
6. In the span of one inning shutdown reliever Jerry Blevins and hot-hitting catcher Travis d'Arnaud each break bones that
will keep them out six weeks and three weeks, respectively
So yeah, the Mets are looking great and doing great, but what in the name of
Sidd Finch
is going on here?
I'm not sure I have an answer, but as someone who has followed this team for two and a half decades, through all the
late-season
collapses
,
Bobby Bonilla contract negotiations
,
boneheaded trades
and
team bankruptcy
, I can only say that for this team to finally have its return to respectability combined with a spate of potentially debilitating injuries seems pretty appropriate. More important than that, though is the question of whether or not this is in any way sustainable.
The answer, I'm pretty sure, is no.
As of now the rotation has been strong enough to hold the fort, David Wright is due back in the lineup
relatively soon
, Lucas Duda has done his part to carry an offense that will struggle without d'Arnaud's smoking bat in the lineup, catching uber-prospect Kevin Plawecki may well manage to fill the void and Jeurys Familia has been solid filling in for Mejia in a shutdown role out of the pen. Three weeks, however, is a long time for a minor league callup like Plawecki, even a talented one, to sustain major league production.
Blevins had been astonishingly good as a lefty specialist out of the pen considering he was something of a throw-in in the preseason Matt den Dekker trade with the Nationals, with batters going 0-for-15 against him before his injury. Filling his role on the team could be New York's biggest obstacle to holding down leads and locking down games in the late innings as a bridge from the starters to Familia. So far Alex Torres has done a reasonable job of filling in, but do you trust someone
who looks like
they're busy
pretending to destroy a defense shield generator
on the
forest moon of Endor
?
Suffice it to say, I have some concerns. Then again, when was the last time I ever felt the need to have concerns like these (answer: seven years ago). That, in and of itself is good news...but it doesn't really fix the bad news, and right now that bad news has the potential to derail one of the best starts the team has ever had.
Of course, in a season as long, varied and prone to regression to the mean as baseball's I won't sincerely be counting any unhatched chickens, but this unexpected season start already has a similar feel to New York's last great season
in 2006
, when I expected a decent team and saw one that jumped out to 10-2 mark and had at that point, and at the end of the regular season, the best record in baseball. It has been so long since I've experienced a season as exciting as that one in Queens, particularly when one considers I was in college in the midwest at the time, that should I see one again I'm not quite sure how I'll contain myself.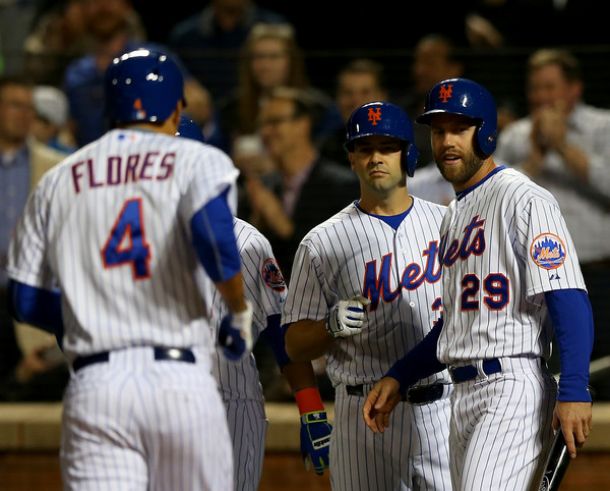 But that's a great problem to have. The 2006 season is one on which I look back at with mixed emotions. I often tell people that the best you can reasonably hope for when you follow a sports team is for them to give you a reason to care. Championships are pure gravy. That team ended its season in absolutely brutal fashion, a fashion that still gives me fits when I think of the ramifications of
blowing a lead in Game 2
or being unable to drive home to leadoff base-runners
in the bottom of the 9th of Game 7
after an shockingly dominant start by Oliver Perez.
And that strike
.
That team made me care, though, and that's more than the Mets have done in the past six years. Right now, it looks like they're capable of making me care again. With the team's track record and its mounting injuries though, one has to wonder, though, if they'll even get the chance.