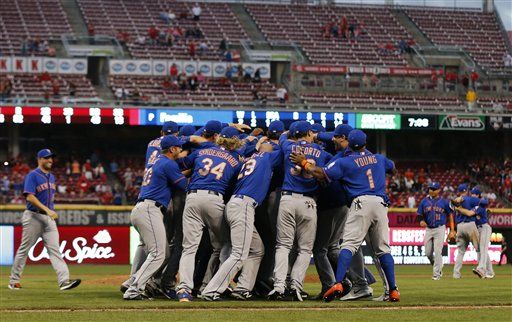 Much has happened in my life since 2006. I've graduated college, moved to New York and worked in a job long enough to vest a pension. I've seen two siblings get married, two cousins and countless friends across the U.S. I've gone on vacations to 21 countries across four continents. I've seen 53 new major league teams in five different sports play home games across 33 cities in four countries over three continents. I've seen the Giants win a Super Bowl unexpectedly, collapse into mediocrity and then unexpectedly win the Super Bowl again. I've seen three of my four favorite North American teams move into new buildings, I've seen Bruce Springsteen in concert six times and I've even become an uncle.
I have not, however, seen the New York Mets play a postseason baseball game.
That drought, mercifully,
will end next week
when the Mets face (and possibly host?) the Los Angeles Dodgers on Oct. 9 in Game 1 of the National League Division Series. That I may be hiking in Glacier National park at the time makes me a bit anxious, but with the magic of modern technology, I'm clinging desperately to the hope that I will still be able to see the magic on a phone or at a local bar. But the fact that it is happening at all, is important. The life of a Mets fan, so often, is an exercise in masochism or, if one wants to believe it ultimately serves a higher purpose,
asceticism
.
I am not one of those people. There is not higher calling or ultimate lifestyle reward for being a Mets fan. In fact, so often there is no reward at all, large or small. That has been particularly true over the past near-decade since Carlos Beltran was
unable to get the bat off his shoulder
(though given the nastiness of a 2006-Adam Wainright curveball I refuse to be one of those who still bears resentment against Beltran). The last nine years of living with the Mets has included two epic collapses, the acquisition of one of the greatest pitchers of his era
only to see him breakdown
over the course of his contract, a
ponzi-scheme fueled bankruptcy
, front office turmoil and, and yes I know I've mentioned this, but it cannot be stressed enough, a high-ranking front office employee who
challenged a clubhouse full of minor leaguers to a fight
.