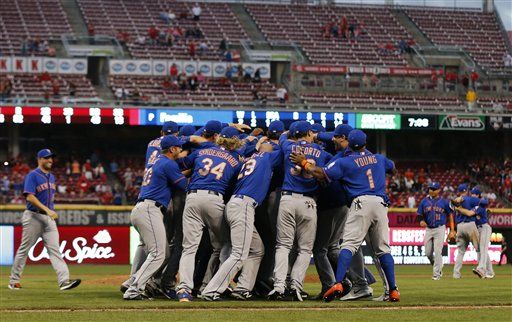 Much has happened in my life since 2006. I've graduated college, moved to New York and worked in a job long enough to vest a pension. I've seen two siblings get married, two cousins and countless friends across the U.S. I've gone on vacations to 21 countries across four continents. I've seen 53 new major league teams in five different sports play home games across 33 cities in four countries over three continents. I've seen the Giants win a Super Bowl unexpectedly, collapse into mediocrity and then unexpectedly win the Super Bowl again. I've seen three of my four favorite North American teams move into new buildings, I've seen Bruce Springsteen in concert six times and I've even become an uncle.
I have not, however, seen the New York Mets play a postseason baseball game.
That drought, mercifully,
will end next week
when the Mets face (and possibly host?) the Los Angeles Dodgers on Oct. 9 in Game 1 of the National League Division Series. That I may be hiking in Glacier National park at the time makes me a bit anxious, but with the magic of modern technology, I'm clinging desperately to the hope that I will still be able to see the magic on a phone or at a local bar. But the fact that it is happening at all, is important. The life of a Mets fan, so often, is an exercise in masochism or, if one wants to believe it ultimately serves a higher purpose,
asceticism
.
I am not one of those people. There is not higher calling or ultimate lifestyle reward for being a Mets fan. In fact, so often there is no reward at all, large or small. That has been particularly true over the past near-decade since Carlos Beltran was
unable to get the bat off his shoulder
(though given the nastiness of a 2006-Adam Wainright curveball I refuse to be one of those who still bears resentment against Beltran). The last nine years of living with the Mets has included two epic collapses, the acquisition of one of the greatest pitchers of his era
only to see him breakdown
over the course of his contract, a
ponzi-scheme fueled bankruptcy
, front office turmoil and, and yes I know I've mentioned this, but it cannot be stressed enough, a high-ranking front office employee who
challenged a clubhouse full of minor leaguers to a fight
.
To live with the Mets since 2006 was to live with constant embarrassment. It is a theme I have pounded at
over
and
over
and
over
again
in the five years I've been writing this blog. The Mets, unsurprisingly in the longest pennant drought of their existence, have delivered nothing but mediocrity on their good days and utter bafflement on their bad days in the past nine years, a stretch in which the best moment was
a no-hitter
that
probably shouldn't have been
.
And so, all of this ran through my head late Saturday afternoon when Jeurys Familia
struck out Jay Bruce
, sealing a
10-2 Mets win
, officially snapping that nine-season postseason drought and clinching the sixth division title in New York's 54 seasons. I, and the rest of my fans, don't actually put in the work of the players over the six-month slog that is baseball season. We don't waste our own sweat trying to rebuild a broken organization like members of the front office do. But the strange thing about sports is that even as we don't put in that physical and mental grind, we still somehow feel its effects. We feel as though our hearts are torn and our minds spent when our hopes are dashed in a way that truly defies description or, frankly, logic.
It is just a game after all.
But after a while, the investment of time, emotion and energy somehow makes it more than that. Being so invested in an even you have practically zero influence on and which only leaves one of 30 entities in the position of ultimate success each year is a fool's errand. But when it happens it can be sweet. Or so I've been told. I've never seen the New York Mets win the World Series, but this is a show I've seen once before, and it has its own special merit. If you follow a team in the National League East and grew up seeing the Braves lock the door on you for more than a decade, winning a division championship carries with it a special kind of satisfaction, as was the case when I watched the Mets' last division clincher nine years ago. I remember where I was, what I was doing and who it was with. It is indelible.
I never thought I would have to wait this long to see it again. Now that I have, however, it will stick with me, as these rare moments do. This one, however, will stay with me more. The Mets haven't yet completed their mission of course, but winning a division title, at least one year ahead of schedule no less, shows that a decade of being mired in the muck is finally at an end. That it required so much patience and time might indicate that Sandy Alderson and the front office did it in the right, sustainable way. It was a strategy built on disciplined signings, a replenished farm system and a stockpile of nasty young arms timed to reach synchronized primes that could give New York the best rotation in baseball for the next decade, after being a mess for the last one.
This strategy is totally different from the Mets' last brush with greatness, meaning that this may be the first division title for the current group, but it will probably not be the last. And with more division titles come more opportunities of achieving the ultimate, years-in-the-making goal.
Watching the Mets win the NL East on Saturday was great. Seeing them go further will be even better, and indeed the ride, one hopes, is not yet over. But after pinning my emotions, however, irrationally, on a combustible, wayward organization, it is deeply gratifying to finally have something the team and its fans can hang their hats on, even if we had nothing to do with it. I've learned since 2006 that these moments don't come often.
If you don't mind me, I'm going to enjoy it for a while. Or at least for 10 more days.