My plan for today was to write about the impending doom that is going to be
Northwestern's 2015 college football season
-- and fear not, I'm sure I will have more than enough to say about that over the next few months -- but as so often happens in "journalism" breaking news is going to take priority. As the minor leagues opened their football season this weekend (and yeah, they're pros, they just don't get paid), the New York Giants decided to cut a link to their past as the NFL's 2015 campaign is about to dawn next week.
In a move that isn't a terrible surprise to anyone who has watched the Giants for the past two season, New York decided to
cut punter Steve Weatherford
on Friday. Normally this isn't the type of personnel move that generates much publicity, and for people that pay attention to other teams, it may only seem noteworthy because of
Weatherford's
famous
physique
rather than his punting. In fact, his punting over most of his Giants career, in which he pinned opponents inside the 20 yard line 24.25 times a season
compared to 42 times in 2010 with the New York Jets
, has been relatively average. Last season he finished 18th in the League in average punting distance and 25th in net average distance. Even if you're a fan favorite and a famous physical freak, average is a bad thing to be when you're a punter with a cap hit of
more than $3 million
in the coming season.
In Weatherford's stead the Giants will apparently be employing Brad Wing as their punter after he
was acquired in a trade with the Pittsburgh Steelers
not long after Weatherford was cut. Wing is far less experienced, with
just one NFL season under his belt
, but his numbers last season were better than Weatherford's and he counts
$2.5 million less against the cap
to boot. I'm actually quite excited for Wing because he's an Aussie who grew up playing
my favorite sport nobody knows about
(apparently
Geelong didn't know about the sport this season either
), and the skills he has as a result of playing footy gives him an extra dimension the Giants could exploit,
as LSU did
during his college days
.
Now, cutting a punter usually flies relatively under the radar, and most fans of a team might be unable to have any emotional reaction whatsoever. After all, punters are one of the most unsung players on the field despite being among the most important
even
if they
shouldn't be
. I tend to find myself heavily in the camp of "coaches punt way too often," but even if I believe that to be the case, I can recognize when a punter is having a good day. And furthermore I can recognize when a punter has a
great
day.
I bring this up, and I feel sentimental about this whole thing, because on January 22, 2012, Steve Weatherford
basically won the 2011 NFC Championship Game for the Giants
.
I know what you're thinking. Bear with me here.
The
2011 NFC Championship Game
between the Giants an 49ers was an absolutely stomach-knotting, gut-twisting endurance trial of a football game. I often demur when people use hyperbole to describe games as "street fights" or "a battle of wills," but anyone who watched this one could see it fit the mold. The Giants eventually won 20-17 in overtime, sending them to
Super Bowl XLVI
, where they would beat the New England Patriots to win a championship for the second time in five seasons.
Eli Manning, too, is deserving of plenty of credit for beating the 49ers that day, particularly for his willingness to stay in the pocket against a ferocious San Francisco pass rush, and for orchestrating several important drives, such as one late in the first half that netted the Giants three crucial points. But in a rainy, muck-filled day in which the field was turned into a 100-yard-long slop patch by the end of overtime, field position was perhaps the most important determinant in the outcome. In today's NFL, flawed as it may be, on a muddy day, nothing can impact field position more than punting. And boy did Weatherford punt.
In a duel with San Francisco's pro bowler Andy Lee, Weatherford had the edge with 12 kicks for a 46.4-yard average compared to Lee's 10 kicks for 45.5 yards. Those numbers do add up, and two of Weatherford's kicks ended up being the most important ones all day, as they resulted in a pair of
game-changing fumbles
by Niners return man Kyle Williams. The second of those set up
Lawrence Tynes' game-winning field goal
, but that, too would never have split the uprights if Weatherford didn't
save Zak DeOssie's low snap and somehow get it in position
in time for Tynes to beat the rush and boot the ball through. If you watch that video through the end of the replay, you'll see the other reason Weatherford holds a place in the hearts of Giants fans as he clearly mouthed on live TV the words we all were thinking.
As I wrote in the aftermath
of that exhausting night, "Weatherford had every right to yell and scream given the gravity of the situation, but on this particular Conference Championship-winning day even more so because Weatherford was easily the second-best player on the Giants after Manning -- and an argument could easily be made that he was the best period."
Without several players on that team, Manning, Victor Cruz, Justin Tuck, Jason Pierre-Paul, the Giants would never have won the Super Bowl that season. But there can be little doubt that without Weatherford, the Giants would not have won the weather-beaten conference title that put them there. Sports are full of legendary performances from players that are somewhat less than legendary on their own right, and in that game Weatherford delivered his.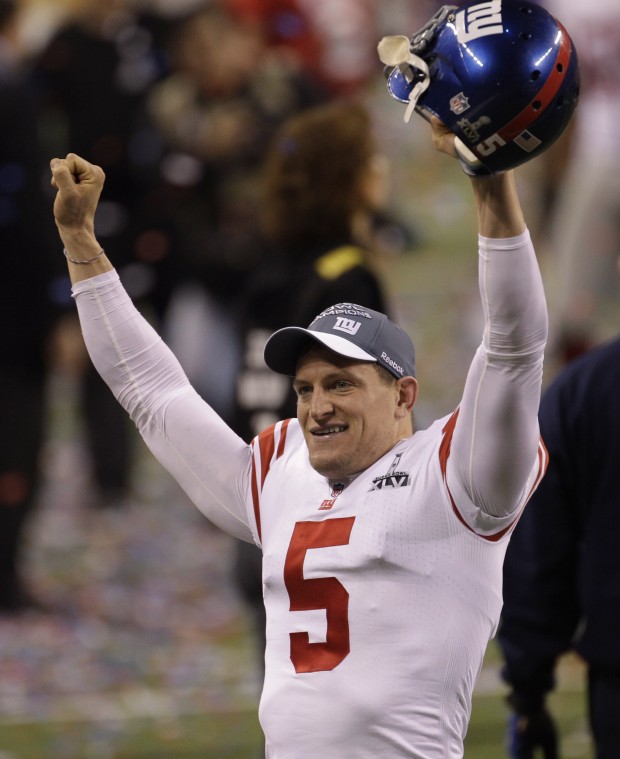 With his performance the past few seasons, Weatherford was probably not worth the money the Giants would have owed him for the coming season. Over his four seasons with them he was not a great player. Sometimes he wasn't a good one. But in 2011 he delivered stability to a special teams unit that was adrift without the retired Jeff Feagles and was still licking its wounds from the turmoil of the
Matt Dodge
era
. And then, on one Sunday in in January of 2012, Weatherford
was
legendary, in the one position in football that probably makes it most difficult to be so. An argument could even be made that
he was just as good two weeks later
. Few punters get to say that, and even fewer people.
Given his performance that day, it shouldn't be a surprise if some Giants fans are wistful, including this one (despite him
having gone to Illinois
). Even if this was the right move for the franchise to make -- and it probably was -- he still played an enormous, if overlooked role in one of the team's great triumphs. No one likes to get cut, but Weatherford is still one of the fortunate few who was truly great in a moment that required it. Even if he never punts again in the NFL, he will always get to say so.