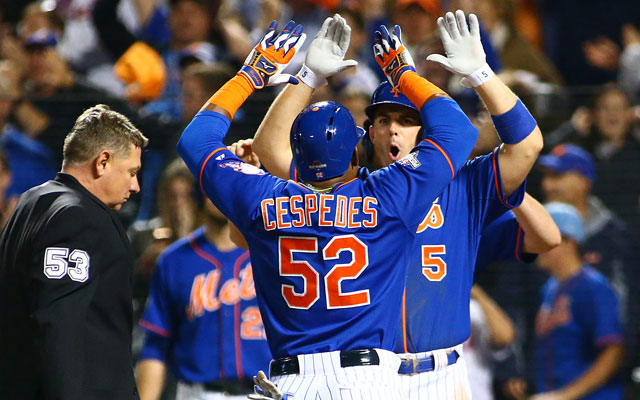 I remember this. The tension, the angst, the agita. It's all coming back to me. Nine years is quite a gap to go without being invested in October baseball, and the way it twists your stomach in knots was long forgotten and yet feels all too familiar. I often tell coworkers of a conversation I had in 2011, when the New Jersey Devils endured their first season without a playoff berth since 1996, when I was just shy of my 11th birthday. As I watched the postseason that spring I told my coworker how I experienced the most bizarre phenomenon during that first round.
I enjoyed it.
This is not unusual. Watching your team play a postseason game is a stressful, nerve-wracking affair, and when it comes to baseball, I had nearly forgotten just how stressful it can be. I was reminded of it this past Friday, when after a long day of hiking around Glacier National Park with two good friends and a heart dinner of grilled buffalo ribeyes in Kalispell, Montana, I settled in in my friends Dave and Caitlin's living room to watch the Mets play the Dodgers in Game 1 of the NLDS with them, my friend Frankie and Dave and Caitlin's black lab mix Bergen. Almost instantaneously, stresses rippled through my body in a way I hadn't experienced since
October 19, 2006
, when the Mets lost Game 7 of the NLCS to St. Louis in what would be their last postseason game for almost a decade.
In this particular instance of course, I was lucky. It was a tiny bit of misfortune that the Mets' first postseason series in nine years happened to fall almost entirely throughout the course of a trip to Montana, but luckily they have technology out there now even if my friends there somehow don't have cable. That first game, a
dominant strikeout-laden win
for Jacob deGrom, though, was relatively stress free.
Game 2
, which I watched partially at a condo in Big Sky and partially at a nearby bar called
The Broken Spoke
, was a less pleasant experience and the night that will be singled out in this series if the Mets don't reach the NLCS because of the
slide heard 'round the world
. I may or may not have made a scene in front of several people I don't know, but on the plus side, the credit card minimum there was only $6 and you still needed to buy two drinks to reach it. Game 3, the most-enjoyable game of the series
for obvious reasons
, I watched at my friends' Sarah and Jeff's place in Missoula, along with their insanely adorable 18-month-old Marshall, who has a knack for industriousness and may or may not be a good luck charm.
And then there's Game 4.
It was a pretty massive issue for me that my flight home from Montana, via Denver, was almost exactly timed to cover the entire period between first pitch and final out, a realization that sent me through an emotional tailspin, which was only exacerbated when I found out Tuesday afternoon my plane was one of the few in the fleet to
not have DirecTV available on it
. There are few things as emotionally torturous as watching your favorite team in a postseason game. But the only thing worse might be not watching.
And so, as I boarded the plane, I constantly conjured up solutions to the problem. The best answer I came up with was to purchase United's mediocre in-flight wi-fi (yes,
I know how obnoxious I sound
), and try desperately to follow a pitch-by-pitch tracker or find a hacked stream that somehow circumvented the airline's firewall against streaming video sites. That isn't to say the solution was flawless. The limited bandwith and the fact that I was, you know, on a plane 37,000 feet in the air meant the connection was choppy at best and I would see 2-3-second bursts of video with very little fluid comprehension of what was happening. But I still did it, damnit. The ultimate trial came in the 7th inning when whomever was running the stream from their computer in some Spanish-speaking country had an error message pop up on their screen and refused to close it.
Finally, as we began our descent with the Mets trailing 3-1, I was forced to put my computer away in the eighth inning. The dark territory this represented was petrifying. As the plane landed I furiously sorted through text messages and twitter just in time to watch the final three outs on my MLB mobile app's gametracker.
It was not pleasant
.
That brings us to today. Tonight is my monthly poker night. Skipping it is not unheard of, but I have skipped it a few times recently. I will not do that this time, but this is largely because I won't be the only Mets fan there and we will have the game on. All that said, I am quickly realizing that betting on two low pairs while I'm distracted by the Mets' first winner-take-all postseason game in nine years is probably a bad recipe, particularly since I don't really know how I'll respond. I've only seen the Mets in this scenario twice, and I
haven't seen them win
in this scenario
in 16 years
. I am pretty sure I'll spend most of the night alternating between wheezing and curling in the fetal position, which I know sounds fun. Being a Mets fan means these situations are rare, and highly pressurized by the fear that they won't come again soon. It is, in short, not fun.
But as I said, the only thing less fun is not being there at all.
Last week: 4-10-0
Season: 38-38-1
Atlanta (-3) over NEW ORLEANS
BUFFALO (+3.5) over Cincinnati
Denver (-4) over CLEVELAND
DETROIT (-3) over Chicago
Miami (+2.5) over TENNESSEE
Kansas City (+4) over MINNESOTA
NY JETS (-6) over Washington
Arizona (-3) over PITTSBURGH
JACKSONVILLE (+1.5) over Houston
SEATTLE (-6.5) over Carolina
GREEN BAY (-10) over San Diego
Baltimore (-2.5) over SAN FRANCISCO
New England (-7.5) over INDIANAPOLIS
NY Giants (+4) over PHILADELPHIA