It has been a long time since a baseball season has left me antsy and anxious for the next go-around to begin starting with the moment the previous one ends. And why is that, you ask? Well, if you've never read this blog or, you know, met me, you may not realize that I made the pivotal lifetime commitment of rooting for the New York Mets, a professional sports franchise that has turned sadistic treatment of its fans into a raison d'etre.
Make no mistake. I love the Mets. My dedication to this team has grown to be an irreplaceable part of my identity. But the last decade has been a trying one, with 97-win team letting the pennant slip through its fingers, back-to-back September collapses and then another half decade in baseball purgatory. I need not recount the pain. If you know me, you know it well.
But after years of walking through the darkness, something strange happened last season. The Mets became fun again.
The 2015 season, despite its painful, error-wracked ending, might have been the most fun I've ever had watching the Mets. It was a campaign so exciting, so packed with unanticipated child-like joy that I actually took a daily three-hour break each morning from my Japanese vacation to keep track of the Amazins' return to relevance. And from the moment that wild ride to the 2015 World Series ended in the early hours of Nov. 2, 2015, one though has remained a constant in my head.
"Is it baseball season yet?"
Well, we aren't quite there, but we're getting close, and after a fun two weeks of watching Yoenis Cespedes arrive to camp in
crazy car
after
crazy car
after
crazy car
after
crazy car
after...
horseback
(?) it's time to finally buckle down and watch some baseball. Today the Mets are playing the Nationals in their first Spring Training game of the 2016 season.
Will be it be thrilling? Tense? Exciting?! Uh, no, probably not. Spring Training is the baseball equivalent of that lackadaisical dry run you do in your brain when you're planning out what groceries to buy after work. But it is still
baseball
, and something about seeing that field, seeing those uniforms and hearing the crack of the baseball as it hits the catcher's mitt makes my heart flutter.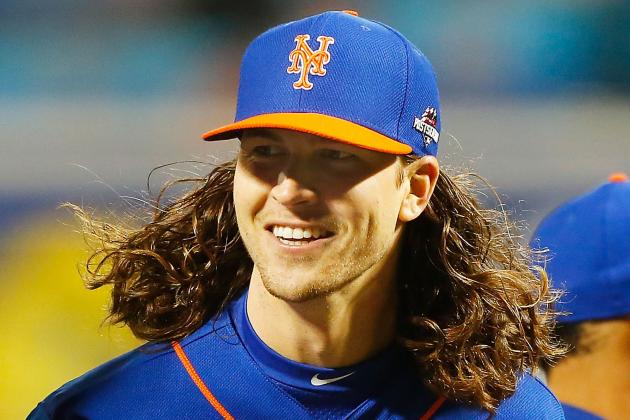 What's more is that for the first time since an eventually-painful 2009 season, I actually have high expectations for the Mets as we enter the new campaign. This is a team with real championship prospects of a much more stable and sustainable variety. There is youth, a dynamic lineup and one of the top rotations on the planet all contained in a clubhouse that, by all accounts,
feels like a family
.
That unity. That talent.
That
hair
.
I can't contain myself. I don't know how the ride will end, or if it will even end well (though I'm cautiously optimistic). But I'm excited to find out, and the ride begins today. I only wish it had started sooner.