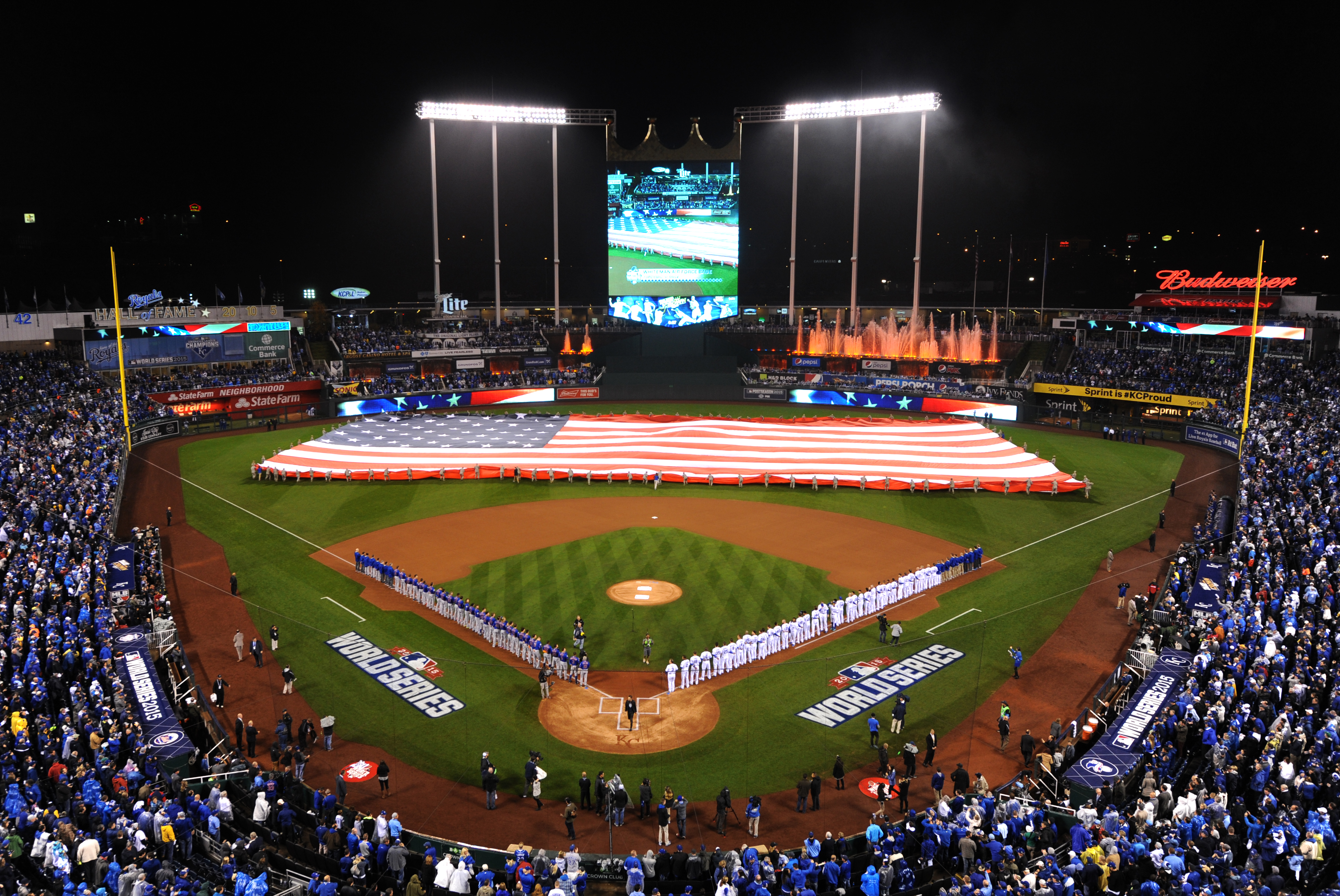 This is now the fourth time I've paid a visit to Kansas City, the Paris of the Plains, the City of Fountains, Cow Town. I like it here. I'm not sure I could really live here, but my friends in town are a good group, the atmosphere is overtly friendly, and as the menu at tonight's restaurant declared in the
most Kansas City-ish of statements
, the food is right up my alley.
If there is one food item it lacks, however, it is a good bagel. I know this because at 6:45 this morning, I went to my
local bagel shop
in Long Island City and bought two dozen of them before immediately boarding a plane for the plains. As I disembarked in Kansas City from a jet filled with dozens of Mets and Royals caps, one of which was worn by Royals fan Rob Riggle, I grabbed the bagels out of the overheard compartment and a young man in a Royals hat next to me asked if that was me fulfilling my end of a bet after last year's World Series. He and his friends wagered the cost of fantasy camp.
He was spot on.
Before the 2015 Fall Classic matchup was set, I had already discussed plans with my KC crew to visit them for the opening series of the 2016 season as it had been announced that the Royals would host the Mets in the first game of the year. What followed was an unexpected chain of events that led the two otherwise unconnected franchises on a collision course with a championship at stake. If you know me, which I assume you must if you're bothering to read this, you know how that went.
I need not re-hash the pain and inner turmoil I experienced when the Mets lost the World Series just five months ago, but I will have to face it this week as I make my way to the K to watch the Mets and Royals open the 2016 Major League Baseball season. I will decide in the next 18 hours if I want to pony up the cash to see the Royals raise their 2015 World Series champions banner on Sunday night with the runner-ups watching from the third base dugout, but I already have tickets to see the Royals receive their rings on Tuesday afternoon, and that might be brutal enough.
On Sunday night the Mets and their fans who made the trek to this town so unlike their own, will come face to face with those three or four moments on which the 2015 World Series turned. Jeurys Familia's ill-advised quick pitch in Game 1. Daniel Murphy's crucial errors in Game 4. Matt Harvey's last pitch and Lucas Duda's errant throw home in the decisive Game 5. They will all flash through our eyes in addition to the Kauffman Stadium scoreboard, and even with the impending excitement of a new season full of promise and potential, these reminders will be harsh, and the belief will hang heavy that it very well could have been the Mets playing this opener with the bragging rights. It could be their fans claiming victory in these silly wagers.