Every year around this time -- and by this time I mean, "on July 14th" -- I complete another trip around the sun and begin to get more and more confused by how high the number gets. After all, in a practical sense you always know you're going to age. You know one day you'll grow older, you'll have gray hairs if you have any at all, you know one day you will no longer by young.
You know that one day, you'll turn 31.
Then again, if you look at my lifestyle, you might question that I've actually gotten this old, but that's an entirely different discussion. I still live in the same apartment as when I was 22 and the growing collection of bobbleheads on my window sill remains a testament to my refusal to grow up completely, but I suppose I'm trying. On that window sill is one bobblehead that may stand out the most, a bobblehead of Mike Piazza acquired a few years ago and long pursued because in the salad days of 2002, bobblehead dolls were limited to those 13 and under, and I was denied a Piazza giveaway at the gates of Shea Stadium.
This is a fact I expect to earn interest from almost none of you and sympathy from even fewer, but I bring this up because when I think of 31, the first -- only -- thing I think of is Mike Piazza. As sports fans, we are most malleable in our youth, most prone to developing loyalties and emotionally connecting with favorite players. We have not yet realized that there is a business side to the game and that players often jump from team to team because rather than aiming to fulfill the emotional bonds you imagine they are often just professionals looking for a job. In my youth, there were very few that entered that exclusive club. Phil Simms, Martin Brodeur, Claude Lemieux and Mike Piazza. And of that group, Piazza stands above them all.
As a result, I have come to playfully calling 31 my "Mike Piazza year". Indeed, in two weeks I will be at Citi Field when Piazza's 31 becomes the fourth number retired in Mets franchise history, and I've insisted to friends that I'm only turning 31 out of tribute and deference to my childhood hero and his fantastic,
always
-
evolving
facial
hair
. Otherwise, I would just make time stop.
But time doesn't stop of course.
It just keeps moving along (and geologically speaking we're virtually never here anyway), but it's inevitable that each time we get to a birthday we start to take stock in what we've done and where we are. After all, 31 isn't old, but it isn't young either. Is my prime still ahead of me? Is it past? If we can look at Mike Piazza as a guide,
his 31st year was pretty damn good
. A .324 average, .398 OBP, 38 home runs, 113 RBI, 1.012 OPS, a third-place finish in the MVP voting and, oh yeah,
a National League championship
(though to be fair that happened about a month after he turned 32).
31 doesn't look so bad when you take all that into account. But then you look at what happened afterward. Piazza remained a solid offensive force for several seasons, of course. But the dropoff, albeit gradual, was real. Piazza never hit as many as 38 home runs again. Never again did he crack 100 RBI. His on-base percentage never again approached 100, his OPS fell 70 points and then continued to drop precipitously, he never reached the top 10 in MVP voting and the Mets wouldn't return to the postseason until a year after his final season in Queens.
Don't worry, I'm not assuming that as Mike Piazza's career arc goes, so goes my own. We are literally in very different fields even if we are in the same industry, and my professional success is not dependent on how limber and strong my lower back stays, which, given how it's felt the past few weeks, is a relief. But my eye must stay on the ball. There is plenty more to accomplish personally and professionally, and since I've been slacking off
way
too much with this here blog over the past two months, let's go over some of the things we've skipped:
Finally, a reason to go to Las Vegas
Unlike most people my age, I see virtually nothing interesting about Las Vegas. It's hot all the time, I don't like loud night clubs and of the few times I've gone to casinos a grand total of zero have ended with a profit. I honestly think I would have been content never visiting, but then the NHL had to go ahead and
announce its first expansion team in almost two decades
.
I suppose I always knew there'd be a day when I'd have to go to Las Vegas, and I wasn't naive enough to think my goal of seeing 122 teams would never nudge up to 123 -- or 124, 125 etc. So, I suppose it's nice to have those two birds killed with one stone. I have no trip to Vegas on the horizon; after all, the team doesn't begin play until the 2017-18 season, but eventually I will make my way there.
I may have bigger fish to fry though because in the meantime...
Even if it's not Vegas, go somewhere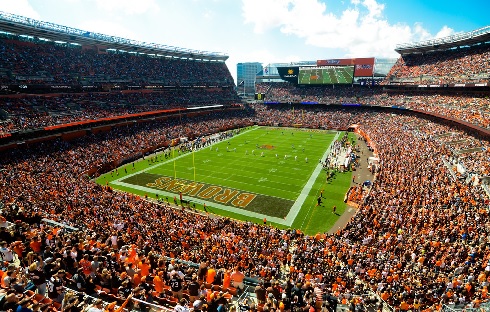 I have gone through more than half of 2016 and not a single new sports team has been seen. This isn't to say I've been lazy and not going anywhere. I've seen the San Francisco Giants and the Oakland A's play home games this year, but that is well-trodden territory at this point. I have failed to get a new name crossed off the list, and given my busy schedule, it could take some time before it happens.
That said, with the fall approaching, I will make a point to get some things done. After all, I very much want to see the Giants play the Browns in Cleveland this November, even if it is Thanksgiving weekend, and a few weeks before then I'll be at a wedding in Chicago. Might a visit to not-so-far Indianapolis so I could see the Pacers be feasible? We shall see, but somewhere, somehow, something is going to get done.
Taking it international once again
My stated goal is only to see all the teams in the four major North American sports leagues, but in recent years I've started to branch out. 18 months ago I went to England and
finally saw Southampton FC play in person
for the first time. Last summer, I
experienced the wonder of Japanese baseball and my first ever sumo tournament
, which, I can not understate, is amazing to watch.
Next month that will continue as I head off the United Kingdom. Not only will I see Southampton play Manchester United in the Theatre of Dreams, but I will also be in Dublin during the playoffs of both the national
Gaelic Football
championships and the national
Hurling
championships.
Have you heard of these sports? Have you
seen
them
? They are so totally insane. I cannot wait.
So yes, I may be getting older, but I'm making a point to keep things exciting. Just because Piazza reached his peak at 31, it doesn't mean the rest of us have to, right? Besides, I just heard my two-and-a-half-year-old nephew sing me happy birthday on the phone and that pretty much tops all birthdays before this anyway.
There is much to do, both this year and next year and the year after that. I hope my 31 is as great as Piazza's 31, but luckily, it doesn't have to end there.
I mean, 31 years is a long time, but I've still never seen the Mets win the World Series. So clearly, I haven't hit my peak yet, right? Well,
maybe athletically I did
. But there's lots excitement left even after so many rotations around the sun.
I just need to keep that in mind 365 days from now when I finish the next one.